CLICK TO SUPPORT OUR SPONSORS

---

---
Sunday, June 24, 2001
[ MAUKA MAKAI ]



Masami Teraoka, a Japan-born artist who established his
reputation in Los Angeles, was one of the artists invited to The
Contemporary Museum's inaugural biennial show in 1993.
He is the first artist to have been chosen twice
for the prestigious exhibit.
---
Unpredictable works
challenge the mind

---


By Suzanne Tswei
stswei@stabulletin.com

It was only a matter of time before Bill and Monica and her infamous blue dress became fodder for the canvas, and the time is now at The Contemporary Museum's fifth Biennial Exhibition.

Clinton is without his pants and Lewinsky is naked except for her beret and the strategically draped blue dress. In Masami Teraoka's huge oil on canvas, "the Tower of Babel," the indiscreet couple takes many different forms - mostly without clothes - with a full cast of Catholic officials and familiar congressional members.

In one corner, Bill and Monica look nothing like themselves. They are merely two naked bodies entwined in microphones and electrical cords. In another corner, elected officials are lined up to slide down a huge cigar into eternal hell.




EXHIBITION OF HAWAI'I ARTISTS

Place: Contemporary Museum
Hours: 10 a.m. to 4 p.m. Tuesday through Saturday, noon to 4 p.m. Sunday, through Aug. 12
Cost: $5
Call: 526-1322




"I think there will be people who will find Masami's painting difficult," says chief curator Jay Jensen, "but I want to show the painting because it's an example of the most interesting work being done in Hawaii."

Teraoka's paintings in this exhibit are considerably different from the watercolors that first earned him critical praise, Jensen said. Teraoka has been in a transitional stage, building upon the thoughtful social commentary and a style that drew upon Japanese aesthetics.

"He's kind of matured into a new body of work that may be challenging for some people. But I feel he's produced some major canvases, and one of which happens to deal with Bill Clinton and Monica Lewinsky," Jensen said.

The aim of the biennial exhibit is to recognize work of "quality, substance and significance," Jensen said. This year, six artists are represented.

"I am always looking for the best work being done, the most interesting work being done, also for things that are not predictable."

Being invited to the biennial should not be thought of as an award, although each artist receives a $1,000 honorarium to help offset the cost of art making, he said.

Collectively, the six artists represent a wide range of contemporary expressions in Hawaii, representing varying viewpoints, ideas, styles, media and techniques that the artists have managed to nourish - remarkably - in a place isolated from other centers of contemporary art.

Masami Teraoka, Oahu.

Teraoka, a Japan-born artist who established his reputation in Los Angeles, was one of the artists invited to the museum's inaugural biennial show in 1993. He is the first artist to have been chosen twice for the prestigious exhibit.

His work now reflects the style of old European paintings rather than his signature style recalling Japanese prints and scroll paintings. But his observations on modern society, in particular American society, are as sharp and funny as ever. Teraoka offers his views on sex, morality, religion, consumerism, cloning and other modern issues (a detail of one piece is shown at left).

The best known of all the artists, Teraoka gained a reputation with a series of watercolors poking fun at American culture. He became known for his series commenting on McDonald's fast-food operations making their way into Japan. After his move to Hawaii, he took on weightier subjects such as the AIDS epidemic and violence.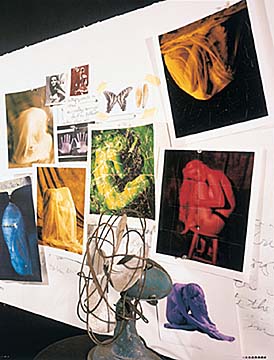 Ben Kikuyama, Maui.

Kikuyama transforms a gallery into a mock crime scene complete with police yellow tape to tell the story behind a young woman's disappearance. Clues are scattered throughout the crime scene, which is the woman's apartment.

A large painting of a blue man, with a sprout growing out of his head, offers the first clue. His eyes are cast to the right, where a giant cocoon made of wire, paper and wax is suspended above a mattress. Pages from the woman's journal are pinned to the wall as evidence. Butterflies and cocoons of all sorts are scattered among the out-of-date and sometimes surreal furnishings.

Kikuyama wants the clues to suggest that the woman has become a butterfly, but there are no right or wrong answers to the mystery. Viewers should experience the art as a journey into the woman's mind and come to their own conclusions.
Suzanne Saylor, Seattle.

Saylor became intrigued by flowers and mementos left at Oahu grave sites while she was a photography student at the University of Hawaii. She began photographing the graves in 1988, and although she's moved to the mainland, she continues to document them during return trips.

Each grave tells a personal story and is a reflection of Hawaii's multicultural background and spirit. Flowers, balloons, toys, bags of favorite snacks and written messages are left as loving tributes.

She did not seek out survivors, but made repeat visits to some graves. Her favorite time for photographing is sunset, when the light is soft.

The photographs are Cibachrome prints, involving a positive-to-positive printing process, which brings out vibrant reds reflective of the red ginger often left at the graves.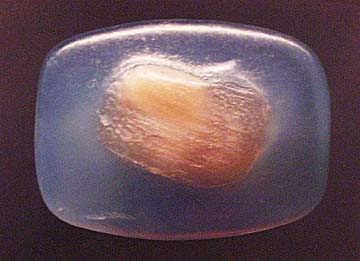 Hugh Russell, Kauai.

Remnants of soap and hairballs from the bathroom drain are Russell's art, except he doesn't call them art. Photographs of the items, as well as a collection of actual hairballs are "the process" of creativity and being alive, the former New York City artist says.

While studying for his master's degree of fine art at Yale University, Russell became struck by the beauty of a sliver of soap glistening in the sun, and that provided the idea to document his used soaps. The tail end of an oatmeal soap tacked onto a fresh bar of rose glycerin soap, then the rose soap mounted onto a block of green Indian soap, and so on, became the subject of his colored photographs. He has also made his own soap with shards of an American flag imbedded in the center, also documented in photos.

As for the hairballs, they document the three romantic interests in his life, one of whom became his wife.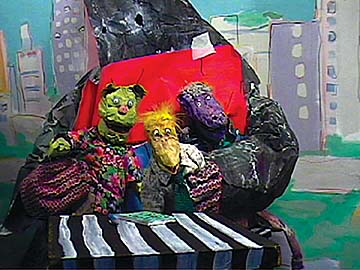 Fae Yamaguchi, Oahu.

Yamaguchi, who studied sculpture at the University of Hawaii, is the first video artist at the biennial. She began experimenting with videos in 1985, and is known primarily as an independent maker of playful and wry vignettes told through puppets.

Her current characters include Frank and Bob, modern alter egos for Laurel and Hardy, who believe everything they read in self-help books. The two meet while interviewing to host a children show.

Yamaguchi's puppets are deliberately crude-looking, and she allows her gloved hands behind the puppets to be visible. She is a one-woman operation, serving as scriptwriter, puppeteer, camera-person, director, vocal talent, creator of sound and special effects, set designer and costumer.

Yamaguchi's work, such as "Touch the Turtle," "The Horse Farm" and "Deadman's Cliff" have been shown on public television and in numerous juried and invitational video festivals on the mainland.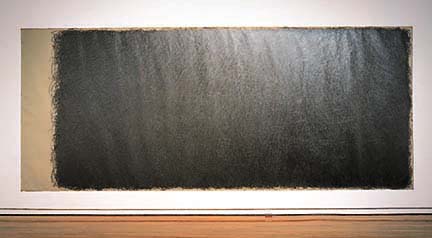 Kaori Ukaji, Big Island.

Ukaji's drawings are practically solid plains of dark gray, painstakingly created with graphite powder and graphite pencil.

Ukaji, who also was born in Japan, says people most often mistakenly think her drawings are meditations. They are not; they represent a deep inner struggle to tear away all that's unnecessary.

"I do in my drawing what I do in my heart. My process of drawing is my process of getting rid of the outer part and finding the most inner part of me," Ukaji says.

She begins by sanding large sheets of paper, then often dusting the paper with graphite powder to lay down a gray foundation before drawing with graphite pencils. Her drawings are large, unframed and untreated. (Works done in graphite traditionally are treated with a surface fixative to prevent the graphite from smearing.)

The drawings are tacked to the walls or unfurled onto the floor. One drawing is rolled up like a scroll, and its edges dipped in tar.





Click for online
calendars and events.
E-mail to Features Editor
---
---
© 2001 Honolulu Star-Bulletin
https://archives.starbulletin.com