CLICK TO SUPPORT OUR SPONSORS

---

---
Island Images



Saturday, June 23, 2001
---
DAD'S SHIRT MAKES A GREAT NAPKIN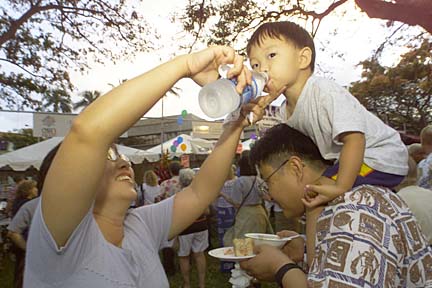 GEORGE F. LEE / GLEE@STARBULLETIN.COM
Janet Kim watered her son Brian Kim as he rode the shoulders of his dad,
Youngkyo Kim, yesterday afternoon, the first afternoon of this year's Taste
of Honolulu on the grounds of Honolulu Hale. The event continues from
noon to 10 p.m. today and from noon to 7 p.m. tomorrow.
---
MAYBE HE'S FROM FRANCE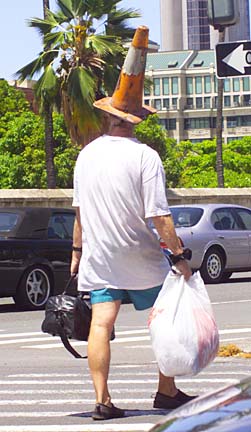 FL MORRIS / FMORRIS@STARBULLETIN.COM
This conehead -- actually, that's a traffic cone on his head -- was
crossing at the intersection of South King and Punchbowl streets Thursday.
---
I THINK I CAN, I THINK I CAN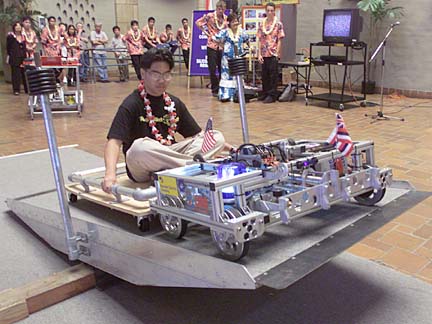 KEN SAKAMOTO / KSAKAMOTO@STARBULLETIN.COM
The FIRST Robotics Competition was held Wednesday at the courtyard
at City Hall. McKinley High School team member Mark DeBlois sat on
a carriage pulled by team robot "Naia 11." Michael Owens was the driver,
and his sister, Elaine, operated the robot arm.
---
E-mail to City Desk
---
---
© 2001 Honolulu Star-Bulletin
https://archives.starbulletin.com