CLICK TO SUPPORT OUR SPONSORS

---

---
Saturday, June 23, 2001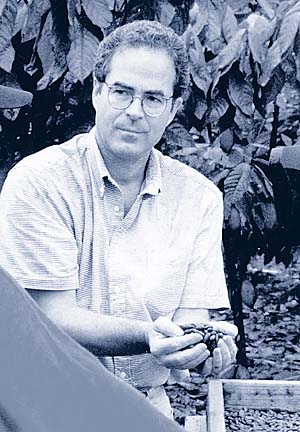 COURTESY OF HAWAIIAN VINTAGE CHOCOLATE CO.
Hawaiian Vintage Chocolate Chairman and CEO Jim Walsh
scoops up a handful of cocoa beans at a company plantation.
---
Hawaiian Vintage
Chocolate seeking
recipe for success


It's already linked up with a
grower and is pursuing product
development and distribution deals

---

By Dave Segal
dsegal@starbulletin.com

Consumers always seem to have a sweet tooth for chocolate.

But whether investors can develop a craving for a confection company's stock is a question that can't be answered by a recipe book.

For Hawaiian Vintage Chocolate Co. Chairman and Chief Executive Officer Jim Walsh, it has been an enlightening 15 years since he founded the company.

He's endured weather devastation to his trees, opened and closed a prototype store adjacent to the University of Illinois in Champaign/Urbana, and sought out operation and marketing partnerships.

Through it all, Walsh has developed a product that he calls "the most intense chocolate you can eat without being bitter."

The company's thinly traded stock, which was delisted from the Over The Counter Bulletin Board May 31, is down 40.6 percent for the year and now trades for 13 cents on the less-regulated Pink Sheets. It was dropped from the bulletin board for failing to comply with a Nasdaq regulation requiring the filing of timely financial reports with the Securities and Exchange Commission. Hawaiian Vintage's last filing was for the third quarter of 2000.

Walsh cautioned not to read too much into the delisting. He said the company is refocusing itself and decided the $150,000 a year it was spending on auditors -- not to mention the corporate time involved -- was not worth the money or effort since the stock still can be traded on the Pink Sheets.

"The way I see it, the stock price and the business are not necessarily related to each other," Walsh said. "Sometimes, a lot more time is focused on the stock price than the underlying business. That's a lesson you learn as you move along as a public company. From a business standpoint, we've been a development company for the last seven years. We're focused on chocolate products, chocolate formulations and farm genetics, and our business plan has been finding the best place to maximize those things.

"Last fall we made a fundamental decision to focus on what we do well, which is making fine chocolate. Think of us as a biotech company, which is creating a series of new drugs for the pipeline. Our job now is to find the right partner or right venue for new drugs.

"We've gone from the OTC Bulletin Board to the OTC exchange primarily because we want to invest the time and money building the bottom-line revenues of the company, which is the only sure way to raise the stock price because we're a speculative company. One of our objectives this year is to increase the revenue stream and profit stream for next year in order to have it qualify for the small-cap Nasdaq Market."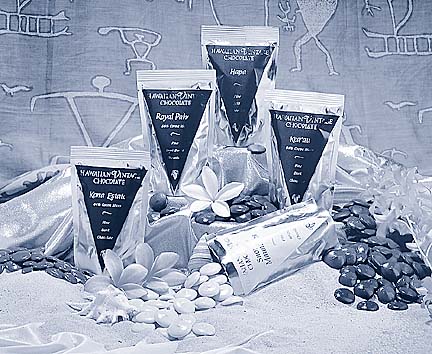 COURTESY OF HAWAIIAN VINTAGE CHOCOLATE CO.
Hawaiian Vintage Chocolate appear in retail outlets in gold foil bags.
---
Walsh said Hawaiian Vintage's business plan entails not trying to do everything itself.

"We aren't going to be an agricultural retailer, wholesaler and manufacturer all wrapped up into one company," he said. "What we're doing is teaming up with people who are invested in these things, who already have distribution systems, so we reap the benefits of their research and innovations. We've been focused on that since last fall and we expect to bear fruit from that this year."

One part of Hawaiian Vintage's three-pronged strategy involves aligning itself with an agricultural limited liability corporation that will manage and grow the trees on the Big Island for Honolulu-headquartered Hawaiian Vintage.

The first such partnership was formed two months ago and Walsh said the company plans at least two more deals. The arrangement gives the chocolate company the right to buy the products that come off those trees.

"Planting trees today will give us relief three years from now," Walsh said. "In 18 months you really see the crop but it takes three years to be fully mature. We lost 250,000 trees (due to weather) on the Hamakua side of the Big Island in '97 and '98 and that really threw us behind for having the supply of chocolate that we intended to make. It became very clear when those things happen that you have to be focused on the ag business."

Walsh said the company, which now gets most of its cocoa beans from outside Hawaii, will continue to do so until the partnership is "up and running."

On the retail side, Walsh said the company is in the middle of finishing an agreement with a major U.S. food company for product development in a joint venture he expects to announce by the end of the summer. The arrangement would be for the distribution and branding of a line of body-enhancing chocolate products.

"An example of that would be the "Love Truffle" we introduced last year," he said. "It was primarily designed to bump up the libido. It makes you warm and tingly and gives you the tendency to be more friendly. It's not Viagra but it bumps up that portion of the brain stimulus. Chocolate has been known for years as a nice treat and we want to emphasize the good things about it."

The third part of Hawaiian Vintage's business plan involves entering a food-service distribution partnership with a large national distributor to expand the company's products.

"Our upscale chocolate has been sold to the Alan Wongs of the world and the chefs have been our test kitchen," Walsh said. "They've been our biggest supporters and the best place to have feedback. We're in negotiations right now with a national distributor to sell it in the industrial food chain and promote the high-end gourmet chocolate product for chefs, confectioners and bakery products."

Hawaiian Vintage, whose stock began trading over the counter in December 1997, hit an all-time high of $4 on May 19, 1998. In August 1999, with the shares trading at just under $2 at the time, the company announced that two investment fund managers had taken significant positions in the stock.

The company said that Kennedy Capital Management of St. Louis, Mo., which has $1.7 billion in assets, and Financial & Investment Management Group Ltd., of Michigan and Maui, with more than $100 million under management, had purchased more than 6 percent of the company's common stock.

Kennedy Capital sold its stake in the first quarter of 2000 while Financial & Investment currently holds 318,985 shares, or 3.36 percent, of the company's 9.5 million shares that were outstanding in Hawaiian Vintage's last available SEC filing on Sept. 30.

Paul Sutherland, president of Financial & Investment, said that he is limited in what he can say about Hawaiian Vintage since the management firm has subsequently become an insider of the company. The arrangement gives Financial & Investment undisclosed infor- mation about Hawaiian Vintage but the firm is restricted in buying or selling Hawaiian Vintage stock. Sutherland expressed concern about the stock price but reaffirmed his belief in the investment.

"I thought their product and their product strategy seemed really compelling," Sutherland said. "We felt that management had the competency in making money on a local product and expanding it nationally. I still have faith in the product and the product strategy is appropriate, but there's always financial risk with these smaller companies."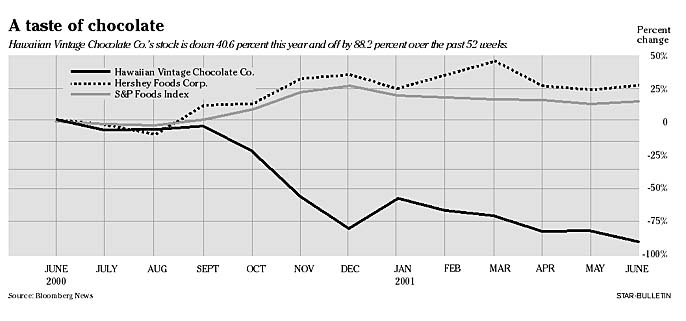 Meanwhile, Hawaiian Vintage, which in September 1999 opened its mainland prototype store in the Campustown district adjacent to the University of Illinois, closed its store in December 2000. At the time of the launch, Walsh said the store was going to be the model of a national retail rollout with Las Vegas, Orlando, Fla., and New York targeted to be the first of an additional 30 new locations.

"We thought we'd do a series of chocolate stores and open the prototype one in a market with the demographics that we wanted," said Walsh, who said the venture ultimately turned out to be a break-even proposition. "We said, 'Let's put together a Starbucks of cocoa and learn from that experience, learn what the college kids want and see if it has the ability to be franchised or licensed out.' We kept the store open a year and a half and learned which products do well and what people like to eat. We also learned that we're not retail store managers and that's why we got out of it."

Miriam Booth, the real estate broker who leased Hawaiian Vintage the space, said that lack of marketing and high prices might have been the store's undoing.

"Their chocolate, coffee, pastries and baked goods were quite good actually," Booth said. "It probably was a little pricier than campus students normally pay. I don't think they had a good marketing campaign and that people were aware of it."

Another idea Walsh had was to build a factory in Hawaii that would include a visitor education and tour center. The plan was announced more than two years ago but Walsh said that conversations remain in the "informative stage."

Despite the fact that the company has never made a profit, Walsh isn't concerned about running out of cash.

"We've got it down to the point where it's not a very expensive business to run and we've reduced all our overhead," he said. "The cash requirements are very few to maintain the business but are high for developing new areas of revenue.

"This (prototype store) has been pretty much put to bed and the food service (business) doesn't take much cash on our part. I don't see the risk of running out of cash on an everyday basis but the (pending) retail licensing deal may require more financing."

Hawaiian Vintage, which competes against Hershey, Mars and Godiva, currently makes five types of basic chocolate -- white chocolate, milk chocolate, semisweet chocolate, 56 percent cocoa mass and 64 percent cocoa mass. The chocolate gets progressively darker as the cocoa mass gets higher. The chocolate is made with a blend of beans from around the world.

"In 1986 we went around to all (the main cocoa-producing areas) but Africa because of a viral disease there," Walsh said. "We brought back varieties from the major producing countries and planted those and did field selections and crossbreedings with parent trees of Hawaiian Vintage Chocolate.

"The flavor note is really driven by the flavor bean in our case. Hawaiian chocolate is like the flavor added to champagne after it's fermented. When you taste it, you taste something different about it. That's why it's added to the formula so you can have your signature on it."
E-mail to Business Editor
---
---
© 2001 Honolulu Star-Bulletin
https://archives.starbulletin.com