CLICK TO SUPPORT OUR SPONSORS

---

---
Friday, June 22, 2001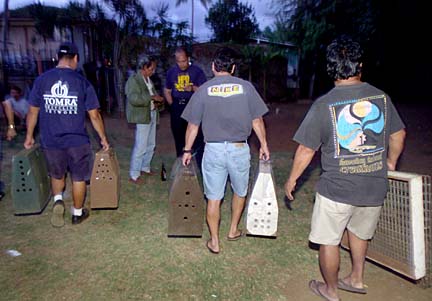 DENNIS ODA / DODA@STARBULLETIN.COM
Cockfight participants packed up boxes, some with live
roosters, some with dead ones.
---
Repeated Waipahu
raids send message
against neighborhood
cockfights


The fights are part of the
culture and will persist,
a resident says

---

By Rosemarie Bernardo
rbernardo@starbulletin.com

Spectators scurried through side yards of homes on Pahu Street in Waipahu after police officers were seen. The dirty lot was empty, except for a dead white rooster lying in the middle of a residential area with blood splattered on its wing -- the result of a cockfight.

Waipahu resident Mike Benicta, who watched police raid the Wednesday cockfight, said matter-of-factly, "It's not going to stop."

Sgt. Aaron Farias of Operation Weed & Seed agreed that cockfights will continue on Oahu.

But cockfights are linked to illegal crimes of gambling, drug dealing and weapons, Farias said. "We want to take care of it before it gets established."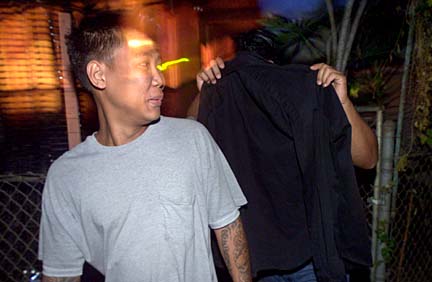 DENNIS ODA / DODA@STARBULLETIN.COM
After the Pahu Street raid Wednesday night, "spectators" left a house.
Above is Mike Benicta. Police made no arrests since no gaffs
were found, which are needed to make an arrest.
---
Police conducted their second cockfight raid on Pahu Street in two months as part of Operation Weed & Seed, a collaborative strategy among law enforcement, social service agencies, private businesses and residents to reclaim and rebuild their neighborhood.

The raid took place before 7 p.m. in a former playground surrounded by 65 residential units called Pearl Harbor Gardens, located at 94-125 Pahu St. off Farrington Highway near Kapakahi Stream. About 100 to 120 people attended the cockfight, Farias said. Police described it as a "back-yard chicken fight among friends and neighbors."

No arrests were made or gaffs (sharp metal spurs attached to the leg of a gamecock) found, but four roosters were left in wooden boxes. An undercover police officer, who did not want to give his name, said, "It's obvious the rooster had some wound from another rooster." A slash was found under its right wing, he said.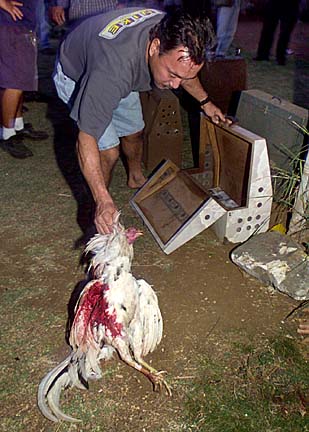 DENNIS ODA / DODA@STARBULLETIN.COM
A dead, bloody rooster is packed away.
---
Police informed owners of the fighting roosters that they could face a fine of up to $2,000 if they possess a gaff or if one is found attached to the animal, giving officers evidence to arrest people for conspiracy to commit cruelty to animals.

Benicta said the cockfight will continue because it's part of the culture. "Ever since I was 7, my grandpa would take me to chicken fights," he said.

Benicta believes cockfighting should be legalized, saying it's similar to watching sports such as boxing. Even though Benicta is aware that cockfights are an act of cruelty to animals, he said, "People are going to find a way to set up chicken fights."

Officers from Operation Weed & Seed and the Narcotics/Vice Division's gambling detail first raided Pearl Harbor Gardens on April 8. Three men were arrested for gambling-related offenses, possession of a gaff and conspiracy to commit cruelty to animals. Twenty-nine gaffs were recovered as evidence from the April raid.

Complaints of noise, cars blocking residents' driveways and fights breaking out during the cockfight were made to police officers. "Most of these residents don't appreciate it," Farias said.

On Wednesday night, "we gave them a message that we're not going to tolerate it," he said. "If need be, we'll be back again."
E-mail to City Desk
---
---
© 2001 Honolulu Star-Bulletin
https://archives.starbulletin.com