CLICK TO SUPPORT OUR SPONSORS

---

---
Friday, June 22, 2001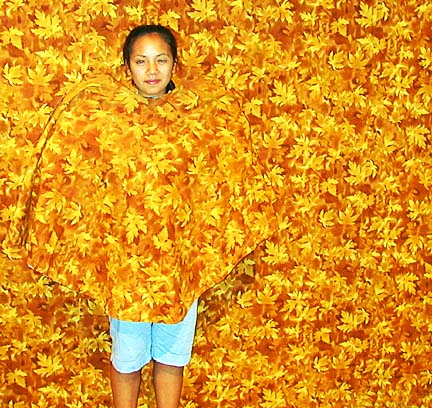 BURL BURLINGAME / BBURLINGAME@STARBULLETIN.COM
Christina Marzo, 15, of Punahou, shows how
chameleons camouflage themselves.
---
Natural born
robots


A Bishop Museum exhibit
explores nature's
engineering marvels

---

Review By Burl Burlingame
bburlingame@starbulletin.com

The "Robot Zoo" exhibit at Bishop Museum is a well-traveled and popular show based on an intriguing premise: What if nature had to function as an engineer? Every bit of the body becomes a mechanical nightmare. Muscles are pistons, intestines are sumps, brains are computers, tongues are telescoping rods, skin becomes a television screen.

"Robot Zoo," unlike many traveling exhibits that were created at parent museums and then sent out on the road, was built as a road show from the outset. BBH Inc. of Texas created two identical exhibits that are hitting more than 30 museums around the country.




Robot Zoo

Where: Bishop Museum, 1525 Bernice St.
When: 9 a.m. to 5 p.m. daily through Sept. 3
Admission: $14.95 for adults, $11.95 for children ages 4 to 12, and free to ages 3 and younger. Resident, military and senior discounts are available.
Call: 847-3511





The role model for this exhibit was a British book of the same title, and sponsors included Time magazine and Silicon Graphics. Local sponsors include Bank of Hawaii and Verizon.

The theme is how nature bio-engineered the odd things animals do, like change colors or walk on ceilings. What we have here are eight giant animal-robots, plus more than a dozen hands-on activities.

The hands-on aspect gets the kids going, and for that reason science exhibits seem to draw more folks than cultural exhibits. You get to poke and play and prod and, in general, interact.

Despite all the miles this show has put on, it looks pretty good. It's obviously built to travel and is well taken care of.

The giant robots are interesting and colorful, if a little scary. These include:

>> A housefly the size of a Volkswagen New Bug, demonstrating how to suck up nutrients, and a quick-reaction game where you try to swat light-up flies (not real educational, but challenging).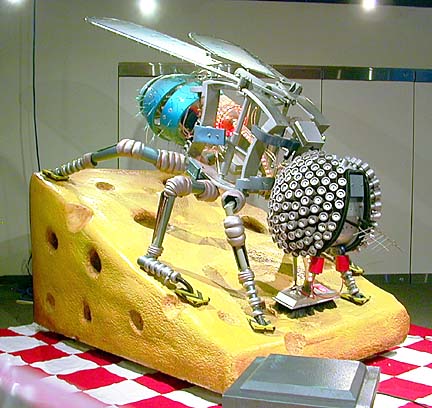 BURL BURLINGAME / BBURLINGAME@STARBULLETIN.COM
This huge housefly shows how nature engineered them for different roles and skills.
---
>> A grasshopper with piston-powered hopping legs that reach up to the ceiling.

>> A platypus, just to confuse you with nature's whimsy. The robot looks very Jules Verne-ish. The interactive part includes a platypus body with snap-on animal parts.

>> A massive rhino, under construction, looking like a battleship in dry dock, a notion reinforced by controls that allow the head to be lifted into position like a gun turret.

>> A bat, hanging upside down, and sonar-hunting insects. (Hang from a bar wired to a clock to test your own "hang time," or aim a sonar-equipped "bat head" at various targets.)

>> A giraffe -- well, actually just the head and neck of a giraffe -- with a cutaway esophagus, showing how difficult it must be to swallow when your neck is 10 feet long.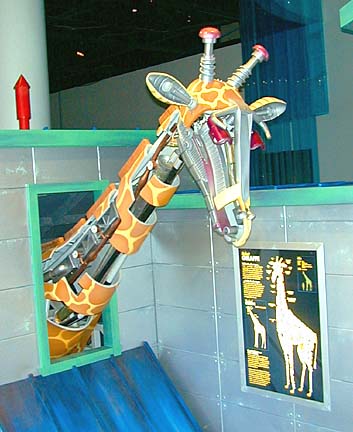 BURL BURLINGAME / BBURLINGAME@STARBULLETIN.COM
Robot giraffe
---
>> A squid, with its many arms and jet propulsion. The effect is displayed via a slick Silicon Graphics workstation and takes a bit of wrist-English to make it happen, and so isn't as physically satisfying as the other interactives. This exhibit is plumb center in the prime spot of the Castle Building, and the museum has hung interesting blue plastic curtains around it to give a deep-sea feel, but it's more like the sneeze guard at a salad counter. The squid, the giraffe and the rhino are somewhat life-size, by the way.

>> A chameleon, the quality of which dominates the exhibit. Not only does it features a skin of television monitors that mimic the changing background, there's a camouflage wall where you can do the same with a cape (and see it on a TV screen) and a kind of game in which you aim the chameleon head to ping insect targets with a rapid-deployment tongue.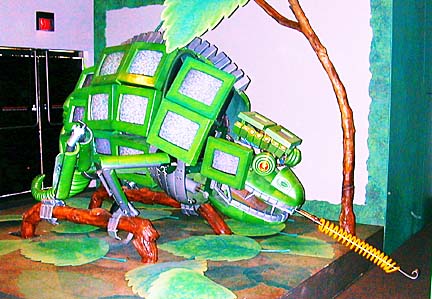 BURL BURLINGAME / BBURLINGAME@STARBULLETIN.COM
This huge chameleon shows how nature engineered them for different roles and skills.
---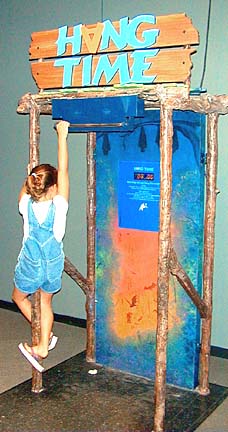 BURL BURLINGAME / BBURLINGAME@STARBULLETIN.COM
Lindsay Fujimoto, 8, of Mililani, tests her "hang time" in the bat cave.
---
This is a fun exhibit. The museum has added a section where you can meet the notorious green mice from the University of Hawaii. It's well designed and robust -- everything seemed to be working -- and accomplishes the goal of making you think about engineering solutions to nature's creations ... and how nature got it right the first time, in elegant fashion.





Click for online
calendars and events.
E-mail to Features Editor
---
---
© 2001 Honolulu Star-Bulletin
https://archives.starbulletin.com