CLICK TO SUPPORT OUR SPONSORS

---

---
Friday, June 22, 2001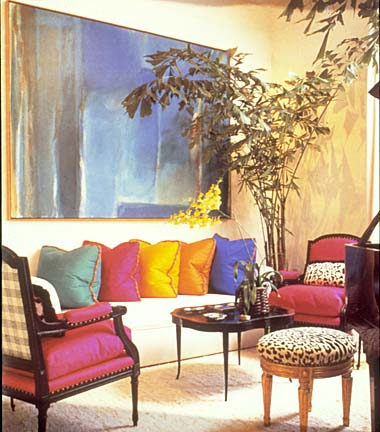 KAREN BAROZZI
Pillows that cover a spectrum of color perk up a neutral background.
---



Don't be afraid to stray from
white, but pick your hues with
their attendant mood in mind

---

By Suzanne Tswei
stswei@starbulletin.com

You know what they say about the color red: it'll turn you into the center of attention, giving you an aura of power and fearlessness. That's because red is a dynamic color full of zest and passion. But too much of a good thing can make you nuts.

Wearing red and having your living room walls painted red can produce very different results, says interior designer Karren Barozzi. When it comes to a powerful color like red, a little can go a long way when you are living with it in your home.

"We are drawn to certain colors. Red may be your favorite color and it can give you a dose of energy, but living with it 24 hours a day can drive you up the wall," Barozzi says.

Unless you are one of the rare few for whom going overboard with one color is the right choice, like the late, legendary Vogue magazine editor Diana Vreeland. She was a tall, commanding woman who covered her chic Manhattan apartment entirely in burning red.

"We have an emotional reaction, or psychological reaction toward colors. We either like a color or we don't. It's a personal choice, and if red is your color and you want it on your walls and floors and furniture, then that might work for you," Barozzi said.

However, for most people, using neutrals for backgrounds, like walls and floors, and reserving stronger colors for accents are the sensible routes to happy and comfy interiors, she said.

Colors, when used appropriately, can help create a sophisticated home as well as promote a sense of well being. But most people are afraid to use them in their homes, relying, instead, on white for everything.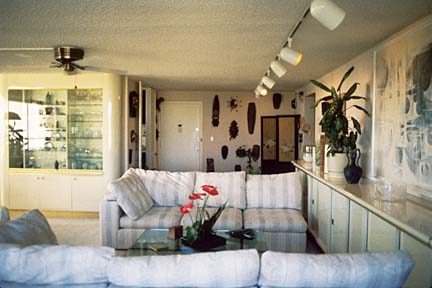 KAREN BAROZZI
The art work and anthurium take centerstage in this Honolulu condominium.
---
"That's a pet peeve of mine. We have too many white condos in Hawaii. The walls are white, the floors are white, the furniture is white, everything is white.

"We need color in our lives," said Barozzi, who gave a lecture last week on choosing colors for the home at the Home & Garden Show at Blaisdell Exhibition Hall.

Each color is associated with certain feelings, and all colors are nourishing: green represents harmony and peace; yellow, joy and happiness; blue, contemplation and faith; orange stands for warmth and kindness, and so on.

"Color is one of the most powerful aspects of interior space," Barozzi said. "It affects the mood, the unity, the light reflection as well as the maintenance of a space."

When people choose colors for their home, their biggest mistake is not developing an overall color scheme first, Barozzi said. Most people focus on choosing a color for a specific item, like picking a color for the walls, then a color for the floors, then a color for the sofa. People should select a color scheme for a space and then move onto individual colors for specific items, she said.

Selecting colors can be tricky -- it's more than just going with your favorite color. You should also take into consideration the textures and finishes of the surfaces, which can alter the color. The value (darkness and lightness) and intensity (brightness and dullness) of colors also are important.

"Even when you are choosing white, you need to be careful. There are different kinds of whites. There are whites with yellow in it, or gray, or pink, and that can throw off the whole color scheme for the room," Barozzi said.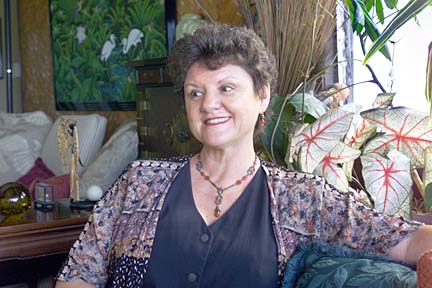 FL MORRIS / FMORRIS@STARBULLETIN.COM
Textures and finishes could alter colors selected so should be
taken into consideration when choosing tones says interior
decorator Karen Barozzi, above, in her Kaneohe home.
---
It's best to consult a professional, she said. Barozzi, who operates Barozzi Design, Inc., out of her Windward home and is Hawaii president-elect of American Society of Interior Designers, said she always begins showing fabric swatches and other color samples to get a true sense of the colors her clients prefer.

"People sometimes say they like a certain color, but when I show them samples, we discover they really like some other color. Besides, color isn't the same for everybody. Green for one person may not really be green to another," Barozzi said.

Colors for interiors, like fashion, come and go and usually stay on a 10-year cycle, she said. And like fashion where there are fewer rules, there are no must-have colors now, although colors are becoming more complex and looking more aged. The one trend she spotted is the move away from cool neutrals, like grays, to warm neutrals, like beiges and creams.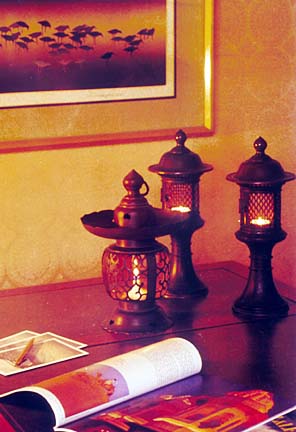 FL MORRIS / FMORRIS@STARBULLETIN.COM
Warm reddish tones of these Asian accents add warmth to the room.
---
The safe bet is to use neutrals for things that are expected to last a long time, like ceramic tile floors or counters. Save colors for things that have a shorter life span, like upholstery, pillows, curtains. Walls are perfect for a punch of color, Barozzi said, because painting is easy and inexpensive.

"Let's say you like blue; you don't have to paint the whole room blue. Just painting one wall may be the solution. And if you don't like it, or get tired of it, you can paint it white or some other color," Barozzi said.

There are no hard and fast rules in using colors in the home, Barozzi said. She likes to use every color, instead of just one favorite color. In Hawaii, because of our tropical climate, cool colors generally are better choices than warm colors. Neutral colors are good for major pieces of furniture, and medium brown or multi-colored carpets or flooring are easy to maintain.

Use of color depends on your personal situation, she said. Black and white generally are bad choices because dirt and lint and all sorts of debris stand out in those colors. But if you have a big, black dog that sheds, then black carpeting isn't a bad idea.





Click for online
calendars and events.
E-mail to Features Editor
---
---
© 2001 Honolulu Star-Bulletin
https://archives.starbulletin.com