CLICK TO SUPPORT OUR SPONSORS

---

---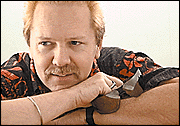 Island Mele



Friday, June 22, 2001
By John Berger
---
"Young Generation"

All Star Band Way
Out West Enterprises
(WOWCD2101)

An innovative arrangement of "Opae E" is the brightest gem in this anthology by the KCCN FM100 All Star Band and a cavalcade of guests. The band is represented primarily by producer "Radical Rob" Onekea, who did the programming and sequencing. FM100's Davey D and Michael Low join him in backing Lina Girl and Sudden Rush on a version of "Opae E" that juxtaposes the original Hawaiian lyrics with a modern Hawaiian nationalist message.

Similar nationalist themes are shared in the title track and "Come Together," as well.

A reworking of "Chapel of Love," featuring Ilona Irvine, is the most substantive of five Jawaiian remakes. Almost all of the original songs are also arranged to fit smoothly into the familiar FM100/Way Out West Jawaiian format. Sales benefit the March of Dimes.

www.olindaroad.com

---

"Greatest Hits ... and then some"

Danny Estocado
Hana's Own Productions

Danny Estocado is a self-styled "Hawaiian cowboy" who lives in Las Vegas and records in Nashville. His album is an ambitious hodgepodge of island favorites, the national chart hits of other artists, and three originals. He can't claim to have personally made these songs hits, and this isn't quite the full-bodied modern country music of national country stars like Toby Keith or Travis Tritt, but one of his originals, "Lean on Me," has the potential to become a national country hit.

Estocado's "Heart of Hawaiian Music" is sincere but obtuse. Here's an artist who chooses not to play traditional Hawaiian music asking, "What happened to traditional Hawaiian music?" Say what?

Guitarist/arranger T. Wild's imaginative reworking of Henry Kapono's "Stand in the Light" as country gospel is well executed.

www.olindaroad.com

---

"Still Pounding: The Best of Poi Pounder Records Vol. 1"

Various artists
(Poi Pounder PPR 7005)

Sean Na'auao has come into his own in recent years as a solo recording artist and as the head of his own record label. This anthology is a fine overview of his output to date. It includes "Punani Patrol" as a memento of his bachelor days, a strong remix version of "Fish & Poi" and enough liner notes to provide a sense of where he's coming from as an artist and producer.

The puzzle here is why most of the new songs he's done for the album are routine Jawaiian remakes. A solo version of "96 Degrees in the Shade" makes sense since Mana'o Company's remake of the reggae standard was the band's biggest hit when Na'auao was a member. As for the others, Na'auao moved beyond remakes with his "Neutralize It" album last year. He's strong enough as a writer and performer that he doesn't need to do remakes to get radio play.

www.olindaroad.com

---





---




John Berger, who has covered the local
entertainment scene since 1972, writes reviews of recordings
produced by Hawaii artists. See the Star-Bulletin's Today
section on Fridays for the latest reviews.
E-mail to Features Editor
---
---
© 2001 Honolulu Star-Bulletin
https://archives.starbulletin.com