CLICK TO SUPPORT OUR SPONSORS

---

---
Thursday, June 21, 2001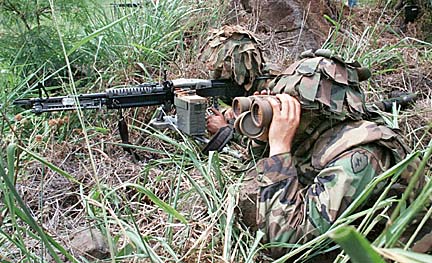 KEN SAKAMOTO / KSAKAMOTO@STARBULLETIN.COM
Above left, the Army's "Wolfhounds" division conducted live-fire
training at Makua range in 1996, before the ban on
military training there.
---
Earthjustice demands
full study for Makua

Training threatens 30
endangered species and causes
wildfires, the group says

---

By Gregg K. Kakesako
gkakesako@starbulletin.com

Live-fire training cannot resume at Makua Valley "without posing a substantial threat of sparking fires that risk driving dozens of critically endangered species to extinction and of destroying irreplaceable cultural sites," an environmental group claims.

In a 29-page brief supporting its request for a federal preliminary injunction, Earthjustice Legal Defense Fund, representing Malama Makua, said the valley is prone to fires -- many caused by the Army in its training missions -- and a full environmental impact statement must be completed before soldiers are allowed to return to the valley.

Federal Judge Susan Mollway will hear arguments on Earthjustice's request at 8:30 a.m. July 9.

Earthjustice maintains that Mollway should impose a preliminary injunction to fulfill the National Environmental Policy Act's fundamental purpose to insure that environmental information is available before decisions are made and actions are taken.

That can only be done by forcing the Army to complete an environmental impact statement, Earthjustice maintains.

No soldiers have been allowed to fire their rifles or other weapons in the valley since 1998, and the Army had hoped to return there this year under a modified training plan allowing only 150 soldiers at a time and banning the use of TOW missiles and highly incendiary weapons. It proposes to limit training to only 457 of the more than 4,190 acres in Makua Valley.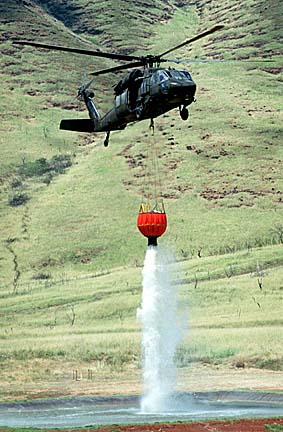 KEN SAKAMOTO / KSAKAMOTO@STARBULLETIN.COM
A helicopter was used to fight fires at the Makua
Training Range, also in 1996.
---
The Army argues that an EIS could take up to four years to complete and cost as much as $3 million. During that time the 25th Infantry Division's future would be placed in jeopardy since it could not properly prepare its soldiers for combat, its generals have argued.

Earthjustice rejected claims in the Army's current $500,000 supplemental environmental assessment that the modified training will not cause any significant impact to the threatened and endangered species in the valley. More than 30 endangered plants and animals inhabit Makua, mostly in the upper regions of the Leeward Oahu valley.

"The significant and ever-present threat of catastrophic wildfires that live-training inherently poses to 30 endangered species in the Makua Military reservation action area for which the loss of even one individual could doom to extinction, 'no matter what management actions are taken for the remaining individuals,' provides more than adequate grounds for injunctive relief," Earthjustice's brief states.

Earthjustice also rejected the Army's arguments that delay in resuming training would compromise the readiness of the 25th Infantry Division. Earthjustice said the real issue here is money and not the lack of training alternatives since the Army's environmental assessment lists three mainland facilities in California, Louisiana and Washington.

In the past, courts have rejected the suggestion that economic injury could justify the denial of injunctive relief, Earthjustice maintains.

The environmental group also argued that the Army's current $19 billion operating budget was drafted with the knowledge that training would not be resumed in Makua until environmental concerns were met and "thus, presumably factored in the need to train elsewhere."

Even if this was not the case, Earthjustice said the Army's budget concerns are not legitimate grounds for denying the injunctive relief.

In addition, Earthjustice maintains that the Army's proposed plan to protect the valley's endangered species is faulty and that not enough is known about what the training could do to contaminate the Waianae community's water supply.

The Army already has announced that it plans to spend more than $500,000 to sink four test wells in Makua. It also argues that the U.S. Fish and Wildlife Service is satisfied with the Army's plan to protect the valley's endangered species.

Makua Valley has been a military training and bombing range since the Japanese attack on Pearl Harbor on Dec. 7, 1941.
E-mail to City Desk
---
---
© 2001 Honolulu Star-Bulletin
https://archives.starbulletin.com