CLICK TO SUPPORT OUR SPONSORS

---

---
Wednesday, June 20, 2001
[THE PASSING OF LIBERTY HOUSE]
---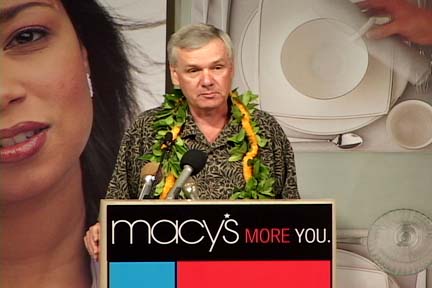 COURTESY OF LIBERTY HOUSE
Macy's West Chairman Jerry Sullivan announces the purchase
of Liberty House, Hawaii's oldest department store.
---
Shoppers won't
mourn store's passing
for long, say analysts


Macy's plans to offer Hawaii
merchandise in its new stores

Liberty House through the years
Deal rocks island retail

---

By Tim Ruel
truel@starbulletin.com

The sale of Liberty House to Cincinnati's Federated Department Stores Inc. was widely expected by local observers, who praised the move and said it brings Hawaii's retail scene into the 21st century.

Hawaii shoppers used to say they would never go anywhere other than Liberty House, said Karon Chang, who co-owns Jeff Chang Pottery & Red Door Gallery, a former vendor of Liberty House.

But the three years of Liberty House's bankruptcy proceedings made it all too clear that the kamaaina retailer was no longer owned locally, said Chang.

"We all knew it was coming, so now it's over, finally," said Marty Plotnick, president of research firm Creative Resources Inc.

"As much as you want tradition, the tradition carries a lot of baggage," said retail analyst Stephany Sofos. When Liberty House filed for bankruptcy protection in 1998, its debts stood at $248 million. The company lost touch with Hawaii consumers when it went after Eastern tourists in the early 1990s, and fell upon the Asian financial crisis of 1997.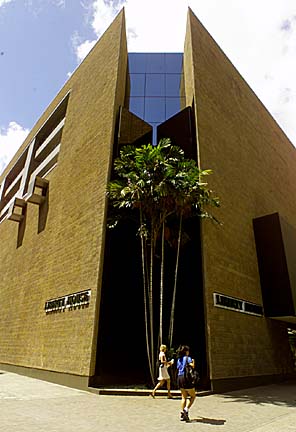 KEN IGE / STAR-BULLETIN
Shoppers head to Liberty House's downtown store
yesterday afternoon.
---
The retailer has since remade itself -- shedding resort stores and appealing to Hawaii consumers with local merchandise -- but the Liberty House name would have always carried the slings of its past, Sofos said.

Under the purchase, which is expected to close next month, Liberty House will be folded into the Macy's West division of Federated, based in San Francisco. All 12 Liberty House department stores and seven of its resort and specialty shops -- from Kailua to Waikiki to Guam -- will be renamed Macy's.

It is a shame that Hawaii is losing a piece of its history, but the tears won't last long, Sofos said. A quality shopping experience has become more important to consumers than holding onto a unique brand, Sofos said.

"We all talk about uniqueness, but the reality is we all want the simplicity of sameness," Sofos said.

Macy's is familiar with selling to a mix of locals and visitors in San Francisco, but will test new ground with Hawaii's foreign tourism market, Plotnick said.

For the first time, Macy's will pick up local merchandise along with the major national brands it plans to bring in. The company declined to specify the exact mix of local and mainland brands, but said it will review all of Liberty House's current material.

"We are fascinated by the amount of merchandise that is here -- that is island-specific -- and frankly we don't want to screw it up," said Jerry Sullivan, chairman of Macy's West.

John Monahan, who is stepping down as Liberty House president, said yesterday that the new Macy's stores have a bright future ahead, backed with the financial muscle of a major mainland company.

"Liberty House has never been owned by a retailer, unless you go back to the Heinrich Hackfeld days, back in the very beginning," Monahan said. "We've never had ownership whose sole focus was retailing."

Deena Nichols, who has worked with Federated on the mainland for 15 years and for Macy's since 1996, will become senior vice president of Hawaii operations for Macy's.

"Hawaii is new to me," Nichols said. However, after walking through Liberty House stores, she said she was impressed by the warmth and friendliness of the employees. Her goal is to preserve the heritage of customer service at Liberty House, while living up to the profit expectations of Macy's.




Liberty House

Founded: 1849 as Hackfeld's Dry Goods in Honolulu. Became H. Hackfeld & Co. in 1898. Renamed Liberty House in 1918. Opened flagship Ala Moana store in 1966
Headquarters: Honolulu
Owners: Oaktree Capital Management and DDJ Capital Management
Stores: Seven on Oahu, one each Maui, Kauai, Kona, Hilo, Guam plus seven specialty shops in tourist locations
Employees: About 3,000
Financials: Profit of $8.9 million in 2000 on sales of $289 million


---




Federated Department Stores Inc.

Founded: 1929, but its stores date to 1830
Headquarters: Cincinnati, Ohio
Stores: 432 in 33 states and Puerto Rico
Employees: 129,000
Store brands: Bloomingdale's, the Bon Marche, Burdines, Goldsmith's, Lazarus, Macy's, Rich's
Internet sales: www.bloomingdales.com, www.macys.com
Financials: Loss of $184 million in 2000 on sales of $18.4 billion




---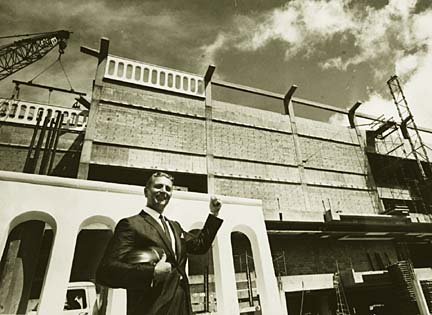 STAR-BULLETIN FILE PHOTO
In April 1966, then general manager of Liberty House
stores in Hawaii, Edmund A Attebury leads a hard-hat
tour of the Ala Moana store.
---
Liberty House
throughout the
years (1849-2001)

Oct. 1, 1849 -- Hackfeld's Dry Goods, Liberty House's predecessor, opens on Queen Street.

1850 -- Land is purchased on Fort Street for a two-story building.

1852 -- The store is re-named B.F. Ehlers, for the new owner.

1897 -- The Fort Street store is destroyed by fire, but a new two-story store is built.

1898 -- Becomes H. Hackfeld & Co.

1918 -- Hackfeld & Co. is confiscated when the United States enters World War I and sold to a consortium called American Factors Ltd. The stores are renamed the more patriotic "The Liberty House" to clarify American ownership. The new name is selected in a contest, with the winner receiving a $50 prize. A third floor is added to The Liberty House Fort Street store for $143,000.

1924 -- May's Market, a grocer, is acquired and renamed Liberty House May's Market.

1925 -- The Liberty House Fort Street store expands to an annex building.

1937 -- The Liberty House opens its second store, in Waikiki.

1946 -- A Kailua store opens.

1947 -- The Liberty House takes ownership of the Waikiki Drug Co. on Kalakaua Avenue.

1957 -- "The" is dropped from the company name.

1958 -- The Kahala store opens.

1966 -- Flagship store opens at the Ala Moana Shopping Center.

1967 -- American Factors shortens name to Amfac Inc.

1971 -- Opens a store at Pearlridge Center.

1974 -- First mainland Liberty House store opened, in San Francisco.

1982 -- Opens Kaneohe store.

1984 -- Amfac begins divest its 10 mainland Liberty House stores.

1988 -- JMB Realty Corp. buys Amfac.

1994 -- Liberty House Expands to Guam.

March 19, 1998 -- Liberty House declares bankruptcy, listing assets of $284.2 million and liabilities of $248.4 million. It is the largest bankruptcy in Hawaii history.

May 1999 -- The Internal Revenue Service files a $138.2 million tax claim against JMB affiliate Northbrook Corp. Northbrook filed consolidated tax returns for a group of subsidiaries including Liberty House.

January 2001 -- U.S. bankruptcy Judge Lloyd King approves a reorganization plan for Liberty House, whereby two mainland venture capital funds would control 80 percent of the company. King also caps Liberty House's liability for back taxes at $14 million.

March 1, 2001 -- Liberty House emerges from the most expensive bankruptcy case ever in Hawaii, after three years of litigation and bitter fighting among creditors and owner JMB. It is now owned by Oaktree Capital Management LLC and DDJ Capital Management LLC. JMB gets a $13.6 million payout. Over the course of its restructuring, Liberty House closed more than 20 outlets and cut 1,300 jobs.

June 19, 2001 -- Federated Department Stores Inc. announces it will buy Liberty House for an undisclosed price and change the stores to Macy's. One small outlet will be closed and as many as 400 jobs are in limbo.
E-mail to Business Editor
---
---
© 2001 Honolulu Star-Bulletin
https://archives.starbulletin.com