CLICK TO SUPPORT OUR SPONSORS

---

---
Sunday, June 17, 2001




[ ALOHA STATE GAMES ]

---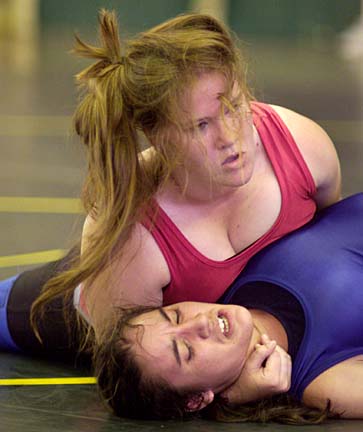 DENNIS ODA /doda@starbulletin.com
Radford High School graduate Stephanie Bolton, top, worked on
trying to pin Moanalua High's Kuuiini Johnson in this Aloha State
Games freestyle wrestling match yesterday. Bolton is a freshman
at Cumberland College in Kentucky.
---
Wrestling with
summer


For Hawaii grapplers home
from college, the only chance
to get a workout is the
Aloha State Games

---

By Kalani Simpson
ksimpson@starbulletin.com

He was only a sophomore, so he was sitting out. And across the gym, in the middle of this wrestling tournament an ocean and half a continent away from home, was another young sophomore who wasn't in the lineup either. That other guy caught Chris Rufo's attention. Rufo kept looking over, past the action on the mat, to this guy. "He looks familiar," Rufo thought.

On a mainland winter day on the frozen plains, there isn't very much that looks familiar to a Hawaii boy.

But the other guy turned out to be Vail Minn from Iolani School, a member of the University of Southern Colorado wrestling squad.

And he and Rufo, a North Dakota State wrestler from Moanalua High School, would go on to cross paths every so often on the NCAA Division II circuit.

Last season, Rufo's Bison were national champions. Minn's Thunderwolves were champs of the Rocky Mountain Athletic Conference.

And yesterday, at the Aloha State Games freestyle tournament at Leilehua High School, they met up again. By now, as friends and supporters. Local boys made good. College guys come home.

Minn and Rufo were joined by Katie Kunimoto and Stephanie Bolton of Cumberland College's women's team as Hawaii collegiate wrestlers taking part in the state games. Yesterday's action gave all four a much needed chance at a difficult task -- staying sharp over the summer.

"It's kind of hard to stay in shape with the weather," Rufo said. "There are a lot of distractions."

Sure, there are other things to do in the islands than lock yourself in a wrestling room for hours at a time. But Rufo and Minn see a definite difference in the level of wrestling enthusiasm between Hawaii and the mainland. The sport is simply bigger in other parts of the country.

"Hawaii kids are probably just as talented, or more," Minn said. But their mainland counterparts start sooner and develop faster.

"They start real young," Rufo said. "When our team does camps, there are some real small kids and they're pretty good already."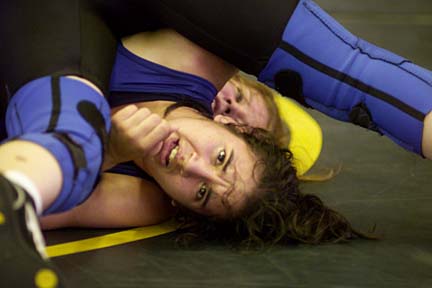 DENNIS ODA /doda@starbulletin.com
Stephanie Bolton, back, tries to pin Kuuiini Johnson, front,
in an Aloha State Games freestyle wrestling match.
Bolton eventually won 12-5.
---
Rufo and Minn do their best to find high school wrestlers to work with while they're home, they said, to stay ready for their return to their college teams. But the Aloha State Games offered the only "game" action of the summer for many.

Kunimoto, a former United States Girls Wrestling Association national champion, and Bolton, a former runner up, were also at the games to polish skills and get a match in. Cumberland College is one of the few schools in the country to offer women's wrestling as a varsity sport, and travels far and wide to also take on opponents from club teams or in open competition.

Kunimoto, a Castle High School graduate, says she gave up a spot on the University of Hawaii cheerleading squad to wrestle at Cumberland. She had done both in high school. But while helping coach her old alma mater, Kunimoto knew she had to get back on the mat.

And so she transferred from UH, and set out for Kentucky.

Bolton, a Radford High School graduate, had no such decision to make. "No, I was strictly wrestling," she said. The only question was where.

Like the men, Kunimoto and Bolton also see the Aloha State Games as one of the highlights of their summer training. They need to wrestle whenever they can, and they'll take it when they can get it.

"It's hard when we're home," Kunimoto said. There were no brackets yesterday. Each had only one match, one shot. To get better, they'll need more.

"Just to get more mat time in," Bolton said.

"The more matches you have," Kunimoto said. "This is a good time to try your moves."

Three-time state champion Travis Lee, a recent St. Louis Schools graduate headed for Cornell, took part in the games and took his chance to talk about college wrestling with those that had been there. All the high school accomplishments don't mean much now, he was told, because everyone on the team has them.

Lee smiled at that. "It's OK," he said. "I'm ready to start over."

Lee will practice at the United States Olympic Training Center at Colorado Springs from July 1-8. Then he leaves July 18 for the Junior Nationals tournament.

And in the fall, he becomes a college wrestler himself.
E-mail to Sports Editor
---
---
© 2001 Honolulu Star-Bulletin
https://archives.starbulletin.com