CLICK TO SUPPORT OUR SPONSORS

---
---
Sunday, June 17, 2001
[ MAUKA MAKAI ]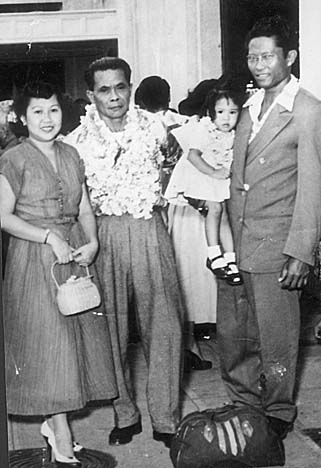 Emme Tomimbang is a 2-year-old in the arms of her father,
Eutiquio. Her mother, Nina, and grandfather, Nicholas
Tampon, stand beside them.
---



A simple man from Aala Park
made the role of 'Mr. Mom'
his life's devotion

---


By Emme Tomimbang
Special to the Star-Bulletin

EACH YEAR I dream of sending my dad a Father's Day card, but I just can't get Heaven's complete address and ZIP code. So each year, I write up a note, letter or a simple paragraph just to let my dad know I'm thinking of him.

This year, I thought I'd write up a tribute to my dad, who was ahead of his time in being a single parent and a "Mr. Mom" before anyone thought of putting those two words together.

My father, Eutiquio "Tommy" Tomimbang, was a simple man. He came to Hawaii as an immigrant from the Philippines in the '40s and worked as a laborer on Maui and Kahuku plantations. He drove a taxi during the war while being dubbed the "Ed Sullivan of Filipino entertainment" in various plantation camps around Oahu.

I grew up living a colorful life in the '50s, being shuttled between my dad's odd jobs. He delivered laundry for Davenroy Cleaners, sold and delivered sweet bread for Dee-Lite Bakery, sold insurance for Hawaiian Life, dabbled in old-time Aala Park political organizing rallies, and operated a secondhand furniture and appliance store at Hotel and River streets.
COVER STORY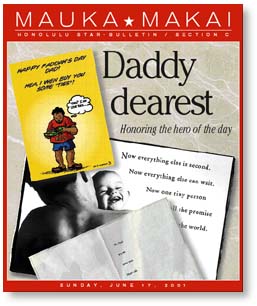 He did all that while raising me from the age of 3. It was an odd circumstance for an immigrant man in those times, when most people believed children needed to be with their mothers.

It wasn't until I became an adult that I learned that it was my mother's sacrifice which would alter my childhood destiny. After my parents' divorce, my mom was about to remarry and start her new life. She saw that my dad and I were inseparable and chose not to interfere with that relationship. So, she reluctantly gave me up to my dad. And I thank her for that.

A judge had awarded custody to my mother. Although he knew the "personal arrangement" between my father and mother, he did not interfere with it. That decision made my father even more determined to be the perfect parent.

He was there at crucial moments such as bringing me to kindergarten that first day of school and promising that he would come back to pick me up. That promise each day meant a lot to a young girl whose father was BOTH a mom and dad.

Growing up was not always easy. I wondered why everyone else had two parents while I had only one. And yet, I never thought he was inadequate or an ill provider. In fact, he went overboard. He never left me too long with babysitters. And he always took jobs that were flexible so he could create a schedule that would accommodate a young child's needs.

In elementary school, dad had to learn how to buy me appropriate garments so my dresses weren't transparent. And he was there for my first menstrual cycle. As if to compensate for an something he couldn't completely understand, he bought boxes and boxes of much needed necessities. It was a riot!

Dad pioneered Filipino television on KHON-TV in the '50s, when the station was known as KONA-TV. He had a variety show featuring many Filipino string bands and orchestras. It was like a "Battle of the Filipino Camp Bands." I remember singing Filipino songs to mammoth television cameras at the age of 4, when show biz was beginning to become a part of my life.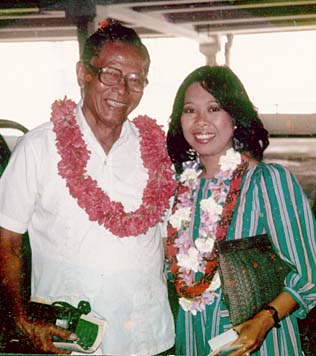 Emme and her dad, Eutiquio "Tommy" Tomimbang in 1984.
---
But life was not all glitter and glamour. I remember all the laundry and sweet bread deliveries to the rural plantation camps in Aiea, Waipahu, Wahiawa, Kahuku. The best part of our long drives was staying for the crowded back-yard Filipino parties, complete with singing, dancing and the joy of eating!

At Aala Park, Dad organized political rallies. At age 10, while living in Kakaako, it was my job to buy lei at Cindy's Lei shop on Maunakea Street for politicians such as Frank Fasi, Andy Anderson, U.S. Senator Oren E. Long, Mayor Neal Blaisdell and Sen. Hiram Fong, just to name a few.

In my pre-teen years, I learned a lot about life in the streets while living above our secondhand store. My dad was adamant that I grow up "open minded" about people from all walks of life. He taught me to respect everyone.

Our first family crisis came when he forced me to break up with my first teen-age love. It seemed mean and senseless. With his Filipino accent and his voice shaking, he told me it was important to concentrate on my studies and plan for college. Reluctantly and painfully, I did as he asked out of respect for his wishes. He saw much further into my future than I ever could.

During my adult years, he continued to guide me with his wisdom. He taught me to be fearless, curious and to always accept gifts with graciousness. He emphasized appreciation for the simple life, hard work and the notion that I should always remember "where we came from."

In his final years, he slipped away quickly. Once in a while he was able to reminisce about our life together. We would sing Filipino songs at the nursing home and cry at the memories and moments we shared.

My father has been gone for eight years now. I know he was proud of his daughter. And I can still remember his favorite way of expressing his joy. He would look at me, smile, and say " not bad for an Aala Park Girl."

Well, I would say, Dad, "I'm so proud to have been your daughter. Thank you for giving me the most loving, colorful and enriching childhood. Your love was more than two people could give. Everything that I am today is in part because of you and your life's lessons. I pay tribute to you each Father's Day because each year you are gone, I remember more.

And I do miss you so very much."

To all single parents, I pay tribute to you, too, for the struggles, decisions and sacrifices you make to love and give your child or children the best opportunities in life. I know what it's like to be on the receiving end. And it wasn't so bad. My life turned out pretty good.

---

Emme Tomimbang was a news reporter/anchor in Hawaii for 18 years and is now president of EMME INC., Emme Tomimbang Multi-Media Enterprises, executive producer "Emme's Island Moments" and host/producer of "Emme and Friends," a weekly summer talk show that debuts at 6:30 p.m. Saturday on KGMB/CBS with an interview with June Jones.





Click for online
calendars and events.
E-mail to Features Editor
---
---
© 2001 Honolulu Star-Bulletin
https://archives.starbulletin.com