CLICK TO SUPPORT OUR SPONSORS

---

---
Sunday, June 17, 2001
Slow Summer


Temperatures are heating up
but tourism is slowing down

---

By Russ Lynch
rlynch@starbulletin.com

Japanese "office ladies" springing for sprees at Gucci are giving way to tourist families wielding one-day passes at Costco, a sign both of Japan's economic problems at home and a new dynamic of Hawaii's visitor industry.

The economizing is typical of changing spending patterns and a tighter hold on billfolds that doesn't apply only to the Japanese. Tourism officials say spending is just one of the changes they are dealing with in a challenging year that is evaluated against last year's across-the-board economic records enabled by the skyrocketing mainland economy.

Not least of the challenges is a real worry about the fall season, with very few bookings in hand after what looks like a flat summer, and concerns that marketing may have to be stepped up sharply to counter a decline brought on by economic worries on the mainland and in Japan.

But close observers of the tourist industry say that with all the uncertainty, one fact should be kept in mind: 2000 was a record year for Hawaii, with more tourists, longer visits and higher hotel room rates than ever before.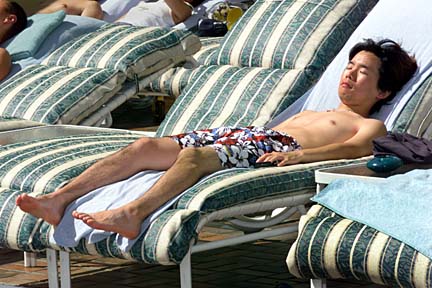 FL MORRIS / FMORRIS@STARBULLETIN.COM
A Japanese visitor soaks up sun poolside at the Hyatt Regency Waikiki
Resort and Spa. While the visitor industry looks at a tough year, it is not
far behind record numbers set in 2000.
---
Just staying even with that would not be a bad accomplishment, the positive thinkers say.

Even if the tourist business slips a little this year, that's still not bad, said hotel industry consultant Joseph Toy, president and chief executive officer of Honolulu-based Hospitality Advisors.

"Last year was a record year. We generated $2.7 billion in room revenues, an 11 percent increase over the prior year. That shows how unusually strong last year was," he said.

Further, a slip in the visitor count can be made up for by bigger spending, Toy said.

"The way travelers behave really has an impact on the bottom line of a hotel. You don't necessarily need to have more bodies. Sometimes it's better to run a hotel at 75 percent occupancy and have a very high yield," Toy said.

Another prominent hotel industry consultant, Ernie Watari, chairman and CEO of PKF Hawaii LLC, said that while all that may be true, there are negative indicators this year.

"We've been checking around, hearing that it is going to be soft for the summer as well as the rest of the year," Watari said. "From what we can see now in our trending, we obviously see a downward trend going and I don't see anything that's going to turn things around."

With the downturn in the U.S. economy, travelers are beginning to feel the pinch as businesses downsize and workers get laid off, Watari said.

The Japanese market is a big concern because, after years of steady growth, it has become uncertain.




By the numbers

Year-to-date visitors statistics, measured through the end of April, in comparison to previous years. Total visitors

Year
Arrivals
% change
2001
2,281,912
-1
2000
2,294,966
+3.5
1999*
2,256,540
-0.1
Domestic visitors
2001
1,450,916
+0.1
2000
1,448,864
+6
1999*
1,495,000
+5.1
International
2001
830,996
-1.8
2000
846,102
-0.5
1999*
761,540
-8.9

*Measured as westbound or eastbound. Source: DBEDT




Not only is the number of visitors flat, the spending habits of the Japanese who do come are different from the past.

From Gucci to Costco

That is pretty easy to see in Waikiki, Watari said.

Think back to just a few years ago, he said, and you'll remember Japanese tourists carrying shopping bags with Gucci and other international-brand labels, jammed with luxury purchases to take home.

"Then they switched over to ABC stores and now I see them with Kmart bags," Watari said.

And they're at Costco with one-day passes. The big-box warehouse store said it issues one-day passes to Japanese tour groups. The shoppers don't pay a fee to shop but they do get charged an extra 5 percent of what they spend.

Apparently they still find the prices more attractive than regular retail stores.

"There's been a year and a half of uncertainty in Japan," said Sharon Weiner, group vice president-administration at DFS Hawaii, which has a major tourist retailing presence in the islands as well as the exclusive right to run international duty-free sales at the airports.

"We're battening down the hatches," Weiner said. "We don't have specific projections (but) we're not optimistic."

Hawaii is being hit by a "triple whammy," she said. First, Hawaii is losing its share of the growing Japanese travel market to competing destinations, such as cheaper, closer points in Asia like Korea and Hong Kong.

Second, Japanese spending habits are changing. "We used to get the OLs, the 'office ladies' with plenty of disposable income. Now it's families, with less to spend," Weiner said.

Third is the uncertainty of what the yen can buy in a dollar economy.

"This year is a very tough year, which most of the industry never expected" until a big decrease in Japanese travel started becoming visible in late January, said Yujio Kuwabara, manager of tour planning and development at JTB Hawaii, the local arm of Japan's biggest travel agency.

Worries about the Japanese economy and the yen-dollar exchange rate began keeping people closer to home, he said. Another factor keeping the Hawaii summer down, he said, is that Japanese school vacations don't start until the last week in July, well into our summer.

"Our count is maybe three points below last year," he said, but he expects that things will turn around and the level of business for all of 2001 will end up pretty close to that of 2000.

The short booking window does create uncertainty, however.

Last-minute decisions

"It used to be that a trip to Hawaii was a very big thing," booked many months in advance, Kuwabara said.

The Japanese want to travel, but they're holding off the decision on where to go, watching a whole range of factors, he said.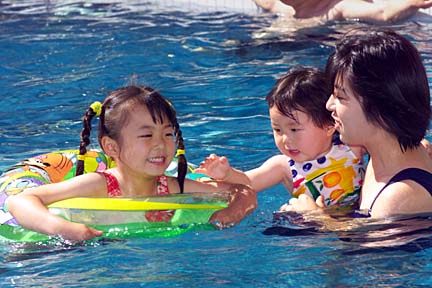 FL MORRIS / FMORRIS@STARBULLETIN.COM
Katsuki and Shiori Hashimoto enjoy the Hyatt pool with mom, Yoko.
---
Now the customers are deciding on their tours at the very last minute.

"They're just waiting to decide whether it will be Korea, Vietnam, Singapore, Thailand and so one," he said. "Our competitor is the Asian market."

It is too early to talk about the late part of the year, for all those reasons, he said.

Regardless of the worries about the Japanese, who make up about one-third of the total number of tourists coming here, there are mixed reports from the U.S. market, with general agreement that the summer will be soft and the fall a big unknown.

The Hawaii Visitors & Convention Bureau is moving forward some of its promotional programs originally planned for later in the year and changing its approach to aim at a more immediate effect, said Bob Fishman, chief executive of the Hawaii Tourism Authority, which provides most of the bureau's funding.

In addition, the authority is considering asking the state Legislature, early next year, to appropriate money over and above the $61 million a year the authority is currently allowed to draw from hotel room tax funds.

"For planning purposes, we are looking at a $5 million proposal," Fishman said.

The visitors bureau is reasonably positive about the North American market.

"The feedback, the comments I'm getting from major (tour) wholesalers and the hotels, is that this summer we may see some modest growth over last year," said David K. Preece, the bureau's senior vice president for the North American market.

Ups and downs

"We're not going to see any substantial growth over last year. In fact, it may be somewhat flat," Preece said. "But in the context of last year being a record year, flat is probably acceptable."

Roberts Hawaii, which runs tour buses, submarines, overnight tours to other islands and many other tourist activities, said its business depends on tour wholesalers, which is uncertain for the rest of the year.

"We're hanging in," said Roberts spokeswoman Helen "Sam" Shenkus, "because 2000 was a record year and we're happy to be hanging in."

Pleasant Hawaiian Holidays, the Westlake Village, Calif., company that brings some 400,000 mainland tourists to Hawaii each year, said its business has been good this year, up about 9.9 percent in revenue through May.

"We had a very big increase in the spring. The summer has been a concern, obviously, to the entire state, but the indications we are getting are for a recent and somewhat significant surge for the summer," said Ken Phillips, Pleasant's public relations manager,

"The fall is still a question. People are booking (only) 15 to 30 days out so it's hard to predict," Phillips said.




Filling up

Hotel occupancy is down in some major areas this year, but room rates held. The tourism industry worry now is what the pace will be like throughout the fall.

Hotel occupancy through April.
State
Oahu
Hawaii
Maui
Kauai
Molokai
2001
79%
80%
76.7%
81.6%
70.6%
59.7%
2000
79.2%
78.3%
78.2%
82.9%
73.7%
56.7%
Average room rate through April
2001
$165.13
$126.29
$189.24
$219.49
$177.48
$93.27
2000
$157.13
$120.23
$189.55
$199.85
$174.74
$84.05

Source: PKF Hawaii LLP




Still, his company is projecting a revenue increase of 8 percent to 10 percent for the year, he said, stressing that revenue is more important than the total number of travelers.

Pleasant is stepping up its marketing in the Midwest and on the East Coast, he said, and that is bringing in a bigger-spending, longer-staying clientele.

"Our main growth is the luxury area, so the dollar revenue is higher," he said.

"This year all of Hawaii is a little down," said Joe Fusco, who manages Hawaii for New Jersey tour packager Perillo Tours.

Hawaii business for his company is down about 4 percent, he said, but he doesn't see that as bad given the strong market last year.

He said 2001 will come out about the same as 1999.

Dennis Odom of Blue Sky Tours in Albuquerque, N.M., said his company's Hawaii summer business is slightly ahead of last year.

"The fall is still a little bit in the future, but it's looking pretty positive," he said.

Some travel executives have pointed to high mainland-Hawaii air fares as a possible drag on travel, but others, including Odom, say flights are full, so demand is obviously strong.

"We thought that the high fares for the summer would diminish traffic, but it looks like the summer is holding despite what really are pretty high fares, $100 to $200 higher than last year," Odom said.

"Last year was a boom year," he said. "Across the board we saw a 20 to 25 percent increase, all year in all categories and in all islands."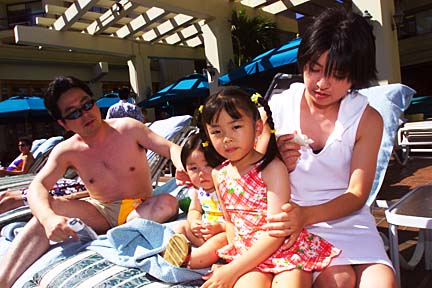 FL MORRIS / FMORRIS@STARBULLETIN.COM
Yoko Hashimoto applies sunscreen to daughter Katsuki. Along with father
Kenji and sister Shiori, the family spent time poolside at the Hyatt Regency
Waikiki Resort and Spa. Families visiting from Japan this year are replacing
trips by "office ladies" who spent time shopping for upscale goods.
---
Marriott International Hotels said the shorter booking window, particularly for the Japanese, is not as much of a concern as it would have been a decade or more ago, because businesses are now flexible enough to handle it.

Anyway, a little flat or downturn period won't be so bad, said Stan Brown, Marriott International vice president for the Pacific islands area.

"Last year, of course, was a banner year, the best year all of our hotels in Hawaii had in history," Brown said.

"This year is clearly softer, there's no question about that."
E-mail to Business Editor
---
---
© 2001 Honolulu Star-Bulletin
https://archives.starbulletin.com