CLICK TO SUPPORT OUR SPONSORS

---

---


Whatever
Happened...
An update on past news
Saturday, June 16, 2001
---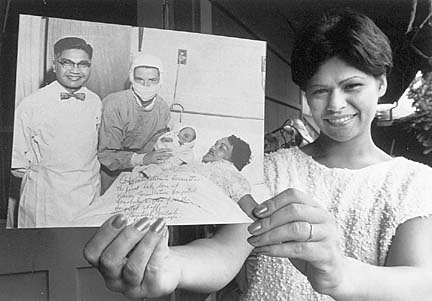 STAR-BULLETIN / 1986
Henrietta Kaiserleen Bellefeuille, 27 at the time of this photo,
was the first baby born at Kaiser Hospital on Ala Moana.
---
Kaiser firstborns
share hospital namesake

Question: What ever happened to the first baby born at Kaiser Hospital at Ala Moana, Kaiserleen?

Answer: Actually, there were two babies, both girls, who were the first born at their respective Kaiser hospitals and named with the founder of the health system in mind.

Henrietta Kaiserleen Bellefeuille, whose married name is now Moike, was born on Nov. 26, 1958, shortly after Kaiser Hospital opened in Waikiki, while Kaiserlyn Toreka-Malo Sataraka was born Sept. 29, 1985, soon after Kaiser's Moanalua Medical Center began taking patients, according to Kaiser spokeswoman Jan Kagehiro.

Moike, a mother of three, lives in Keaau on the Big Island, where she is "mostly a housewife" but also does legal paperwork for the Kingdom of Hawaii.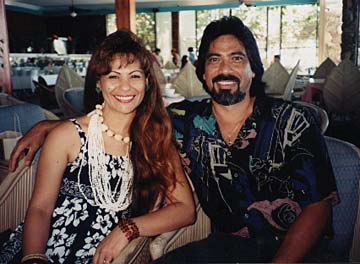 COURTESY PHOTO
Henrietta Kaiserleen Bellefeuille Moike,
with her husband, Raymond.
---
Explaining how she came to be named after Henry Kaiser often elicits a few surprised remarks. "My middle name is just such an unusual name, I've never had any real problems with it," she said. "But people do trip out when they find out why my name's Henrietta."

Elizabeth Sataraka said she was well aware of the name's history when she gave birth to her daughter, Kaiserlyn, who will be a sophomore next year at Aiea High School.

"We called her that because she was the first baby born there," the mother said. "Now when people ask her about it, she has a story to tell."

The two families actually met in 1985, shortly after Kaiserlyn's birth.

"When the first baby was born in the new hospital, they had asked me to come in because, I think, it was going to be on TV," Moike said. "I didn't realize that they named the baby Kaiserlyn until I was in pediatrics one day with my daughter and I heard someone, I think it was her grandmother, calling on a girl, Kaiserlyn.

"It was just exciting for me to meet somebody else who has the same name as me."





---




Ever wonder what happened to a person, event or issue
that has been in the news? We'll try to find out
for you if you call the City Desk
at 529-4747, email to citydesk@starbulletin.com or write us at
605 Ala Moana Blvd., Suite 7-210, Honolulu, HI 96813.
Whatever happened to . . . runs Wednesdays.
E-mail to City Desk
---
---
© 2001 Honolulu Star-Bulletin
https://archives.starbulletin.com