CLICK TO SUPPORT OUR SPONSORS

---

---
Saturday, June 16, 2001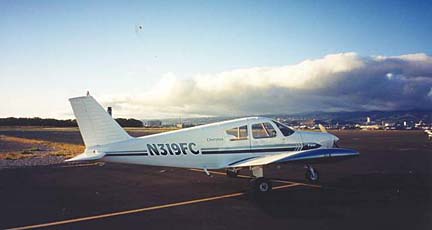 COURTESY PHOTO
This is the Piper Cherokee, owned by Mueller Aviation, that
crashed early yesterday on Lanai. The student pilot was
killed; the flight instructor remains hospitalized.
---
Emergency
beacon first led
rescuers away from
crashed plane


The Piper Cherokee's signal
originally directed rescuers
out to open ocean

---

By Rod Antone
Star-Bulletin

Coast Guard officials said the survivor of a plane crash yesterday morning on Lanai was not found right away because the rescue beacon relayed from the plane sent rescuers to search the open ocean.

The Piper Cherokee PA 28-140 aircraft actually crashed on a plateau 41/2 miles northwest of Lanai Airport, but the rescue beacon directed the Coast Guard to search six miles southeast of Lanai.

"The beacon was picked up by satellite at about 12:15 a.m., but our helicopter contacted a sailing vessel in the area who reported seeing nothing," said Chief Petty Officer Gary Openshaw. "Then the crew flew to Lanai Airport to see if someone had set off a beacon accidentally."

Openshaw said that when the crew got to the airport, they lost the signal. The crew took off to search again, and it was then that a crew member wearing night-vision goggles spotted a flashlight beam about three to four miles away.

"The survivor aimed a flashlight at the fuselage, and that's how they were able to find the wreckage so fast," said Openshaw.

He said the rescuers first found one victim, who was dead. "The other one, the survivor, was heard yelling, and after a search was found 250 yards away."

The victim who died was identified as Matthew Monczynski, 22, from Kaneohe.

When asked why the beacon sent rescuers off course, Openshaw said it is a problem that happens sometimes when a satellite relays the signal.

"They're just that inaccurate," said Openshaw. "It was pretty unusual. If (the rescuers) hadn't spotted that flashlight, they would have started searching six miles out to sea."

A Coast Guard medic treated the survivor, 22-year-old Matthew McGurk, for injuries to his head and leg before transporting him to Oahu. McGurk, a certified flight instructor, was listed in satisfactory condition at the Queen's Medical Center, where family members said he will undergo surgery tomorrow.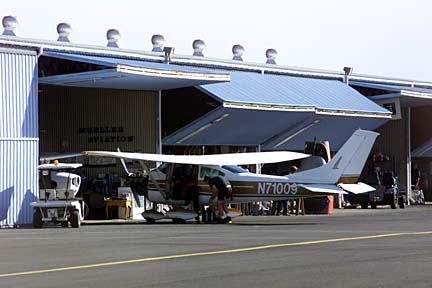 GEORGE F. LEE / STAR-BULLETIN
A flight that originated at Mueller Aviation, above, ended in
tragedy yesterday when a single-engine Piper Cherokee crashed
on Lanai. The student pilot was killed in the accident.
---
"He's totally out of it," said McGurk's father, Robert McGurk. "Just a lot of scar tissue, a lot of stitches.

"I'm not doing so well myself," he added.

Monczynski was believed to have been a student pilot.

The aircraft is registered under Jahn Mueller, owner and operator of Mueller Aviation of Oahu.

"We really can't say anything right now," Mueller said yesterday. Company officials said Mueller Aviation has been in business at its Lagoon Drive location since 1992.

According to its Web site, Mueller Aviation offers instruction for private pilot certification, instrument rating, multi-engine pilot certification, commercial and air transport pilot certification.

Steven Dahlen, FAA Flight Standards District Office acting manager, said whatever happened, it does not appear to be a maintenance problem with the plane because there was no distress call.

"What we think happened is, they flew from Honolulu to Kahului. For that they had a flight plan," said Dahlen, adding that no flight plan was filed for the return trip.

"They were coming back to Honolulu from Maui and flying over Lanai," said Dahlen. "This side of the island (Lanai), depending on how high they were, they might not have been able to see many lights."

Dahlen said investigators are interested in the plane's altitude before it crashed, whether it was a moonlit night and whether there were adequate ground references. "That's something we're going to want to ask the guy who survived," he said.

"He's a very lucky individual," said Openshaw. "We're very sorry about the student pilot, but fortunately we were able to take hours off of the search time, thanks to some good detective work."

Investigators from the National Transportation and Safety Board are expected to arrive on Lanai today to inspect the wreckage and crash site.
E-mail to City Desk
---
---
© 2001 Honolulu Star-Bulletin
https://archives.starbulletin.com