CLICK TO SUPPORT OUR SPONSORS

---

---
Saturday, June 16, 2001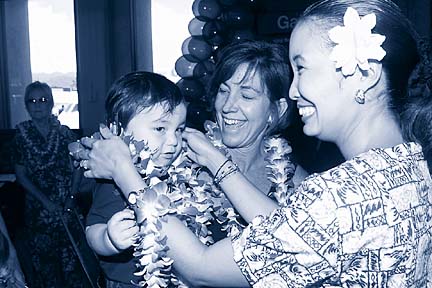 CRAIG T. KOJIMA / STAR-BULLETIN
San Diegans Christopher Lee and his mom, Sue, get leis from
Hawaiian Airlines' Shelly Awaya at Honolulu Airport yesterday
after arriving on the carrier's inaugural flight from that city.
---
Hawaiian Airlines
flying high


It's phasing in a new fleet,
has added service to San Diego
and has seen its stock rise 76.6%

---

By Dave Segal
Star-Bulletin

Hawaiian Airlines Flight 31 descended from the clouds yesterday to a welcoming contingent at Honolulu Airport that played music and offered flower leis to Gov. Ben Cayetano and his fellow passengers.

The festivities marked the arrival of the carrier's inaugural nonstop flight from San Diego.

Investors, though, hope Hawaiian's high-flying stock never touches down.

The once-dormant shares, which had been on autopilot in the $2 range for 21/2 years and were at $1.81 when 2001 began, suddenly have taken off. They have climbed 76.6 percent this year to $3.20 at yesterday's close.

This has been a transition period, or as one analyst puts its, "a wild-card year," for the state's oldest carrier.

The once-bankrupt airline, which filed for Chapter 11 in 1993 and emerged from reorganization the following year, has been undergoing a makeover as it phases out its aging fleet.

The company is in the process of acquiring 13 Boeing 717-200 aircraft, with an option to buy 13 more, to replace its McDonnell Douglas DC-9s for interisland travel. It has agreed to lease seven widebody Boeing 767-300ER twinjets to take the place of its McDonnell Douglas DC-10s for trans-Pacific routes. And then, of course, there was yesterday's celebration of its nonstop San Diego-Honolulu service. The San Diego flight is the airline's latest addition to its daily mainland service that includes Los Angeles, San Francisco, Seattle, Las Vegas and Portland, Ore.

Hawaiian Chairman John W. Adams, who is the largest individual shareholder with a 54 percent stake, said investors are starting to recognize the increased worth of the company.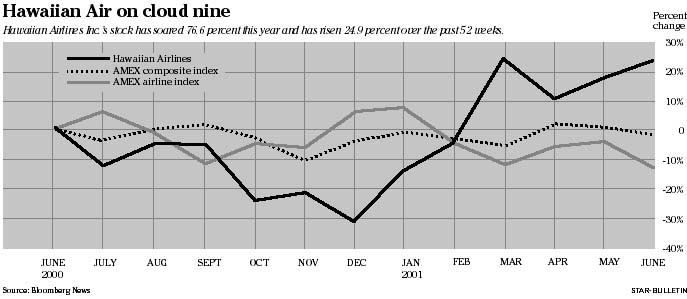 "I think generally that the stock market follows value -- although it's not a perfect measure -- and I believe this (rise in the stock) reflects that a number of people in the market believe that Hawaiian Airlines' stock has a greater underlying value than the investors believed the last couple years," said Adams, president of New York-based private investment firm Smith Management LLC.

"But, of course, the stock market is an imperfect measure of the fundamental values of companies," Adams added. "So you can never fully rationalize why it was trading at 2 a year ago and why it's trading at 3 today."

RedChip Review analyst Lantz Stringham, who follows the company for the Portland-based equity-research firm, rated the company a "B" (equivalent to a "buy" rating) and had a long-term target price of $3.50 in his April 11 report. His report referred to 2001 as a "wild-card year" and said there was "a potential for upside if most of the pieces (economy, fleet transition, fuel costs) fall into place this year."

While his next report on the company won't come out until mid-July, he said this week that he very likely may be raising his target price in light of Hawaiian's recent stock move.

"I still need to speak with management and look more closely at what's happened during the last four to six weeks, but at this point it's a possibility," Stringham said. "Hawaiian's earnings performance has been inconsistent. That's to be expected to a certain degree due to seasonal factors. There might be some expectation in the market now that the interisland fleet will give the airline a more cost-efficient operating structure that would allow for greater earnings consistency."

Hawaiian, which received 51.9 percent of its revenues from its trans-Pacific market and 30.2 percent from interisland service in 2000, expects to see substantial fuel savings due to the new fleet.

"The fleet transition over to the 717 should allow the airline to be more efficient in terms of maintenance and fuel costs," Stringham said. "I would expect if you look at their interisland flights, and separate that from their trans-Pacific routes, I would expect maintenance and fuel-cost savings to be about 10 percent and perhaps as much as 20 percent as it relates to the interisland fleet."

Keoni Wager, Hawaiian's senior director of corporate communications, said that fuel prices peaked in December at well in excess of $1 a gallon, dropped slightly in January and have stabilized to just above $1 a gallon.

The airline, which has a $430 million agreement with Boeing for the 717s, already has four of the jets in operation with a fifth due to come on line at the beginning of July. It is scheduled to have all 13 in tow by mid-December. The 717s, which have eight first-class seats and 115 in coach, have 10 fewer coach seats than the DC-9s.

The 767s, which will replace the DC-10s on the long-distance routes, also will seat fewer than their predecessor. The 767 seats 18 in first class and 234 in coach while the majority of the airline's DC-10s seat 34 in first class and 270 in coach. Three of the 767s will be delivered in each of the final three months of this year with the remaining four to be delivered in the first two quarters of next year.

Robert Mann, an airline analyst and president of R.W. Mann & Co. in Port Washington, N.Y., said the new long-distance fleet will help Hawaiian in more ways than just reducing fuel costs.

"It really has a double set of benefits in replacing what is generally older aircraft with newer aircraft," Mann said. "The maintenance costs improve dramatically with new aircraft because it's pretty much a maintenance holiday. Also, the ontime and the flight completion percentage generally rise with newer aircraft. It will improve their customer service, which is reflected with (Department of Transportation) statistics. Because 767s generally are smaller than DC-10s, you reduce the (seating) capacity while maintaining the current level of flight frequency. That pays off in terms of airline revenue management.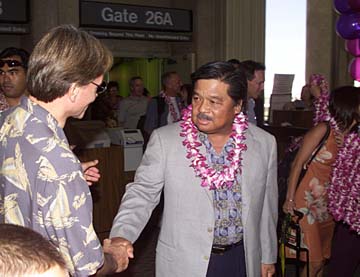 CRAIG T. KOJIMA / STAR-BULLETIN
Gov. Ben Cayetano is greeted by a well-wisher upon arriving
on Oahu yesterday on Hawaiian's inaugural San Diego flight.
---
"When airlines have excess seats they discount them, and in discounting, some people who would have purchased higher (priced) tickets find lower-priced tickets available. If the right capacity is used in the beginning, it provides the right price for the right customer at the right time, thereby maximizing revenue."

Wagner said the San Diego service has been well received and doesn't appear to have been affected by the U.S. economic slowdown.

"We're very full through summer (on the flight)," he said. "Advance bookings on this flight have been very, very strong. We see (an economic slowdown) in our other markets to some degree, but it hasn't been pronounced yet. As far as San Diego is concerned, there's no indication of any slowdown at this point.

"What often happens with a new route is that it takes time for the marketplace to recognize we've got a new service and to begin filling the flight. But because we're opening a new route where there's not another carrier providing nonstop service to Hawaii, and because there's been a lot of promotion of the new service prior to the startup, we're looking at very strong demand from day one."

Wagner said runway and aircraft equipment restrictions at San Diego International Airport's Lindbergh Field had dissuaded the carrier from making the move before now. San Diego's growth, though, made making the move at this time a natural, Wagner said.

"The San Diego area has had an explosion of high-tech and biotech," he said. "The city has done a great job in diversifying its economy and there's just a lot of growth happening in the city and the surrounding areas."

Hawaiian, which shares roughly half of the interisland market with state rival Aloha Airlines, is launching its San Diego service about six weeks after Aloha began serving Orange County's John Wayne Airport. Aloha began flying to the West Coast in February 2000 and currently provides daily service to Oakland, with a continuing leg to Las Vegas.

Hawaiian also serves American Samoa and Tahiti and operates charter flights to Anchorage, Alaska, and Las Vegas. Aloha serves Johnston, Midway, Christmas and the Marshall islands and is a major cargo transporter.

"I think both carriers clearly are making interesting forays into the trans-Pacific market -- both to the mainland and to some of the other islands outside Hawaii," Mann said. "I think it's a question of the carriers maintaining the ability to be self-sufficient should they need to be and not relying purely on mainland partners."

Hawaiian has code-sharing agreements with American, Northwest, Continental and others while Aloha has an alliance with United.

"What you see Hawaiian doing is continuing to fragment what historically has been a mainland market serving gateways," Mann said. "A lot of traffic used to travel San Diego-Los Angeles-Honolulu. Now they can travel nonstop. There's an opportunity for Hawaiian to participate in the general industry trend of fragmenting or segmenting gateway markets."

Besides the fleet transition and the San Diego launch, it's also been a busy time for Hawaiian on the labor front. In December, the airline reached agreement on a contract with the Air Line Pilots Association and then in March agreed to a pact with the Association of Flight Attendants. It currently is in negotiations with its machinists, transport workers and communications unions.

The airline also has seemingly put behind it the potential takeover distractions of last year when the company announced that potential acquirers had explored purchasing the carrier.

"There's nothing further that I didn't say last spring ... when we had indicated at that time publicly that there had been a number of inquiries about the availability of the company with our investment banker Lazard," Adams said. "There has been no concerted attempt to shop or market the company and, clearly, nothing came of those inquiries.

"We have been focusing (this year) simply on putting together and implementing a corporate strategy and have not at all dealt with any corporate transactions of the nature of selling the company. I don't know of any interest or haven't spent any time dealing with any interest."