CLICK TO SUPPORT OUR SPONSORS

---

---
Friday, June 15, 2001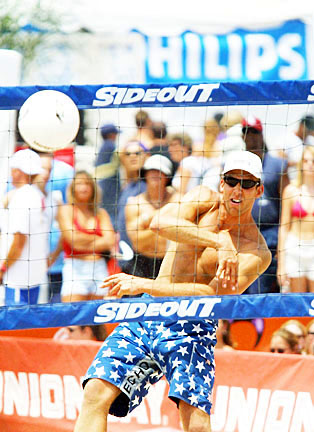 Courtesy of AVP
Stein Metzger smashed one at a recent tourney.
---
Buddies hit
the beach


Wong and Metzger have
teamed up to win the
ultimate title in every
level they've played

---

By Grace Wen
Star-Bulletin

Playing volleyball together is nothing new for Kevin Wong and Stein Metzger.

The two won a state high school title together at Punahou School. And at UCLA, the three-year starters won two national championships --in 1993 and 1995.

But playing together on the beach professionally is new. It was all a matter of time ... and timing.

"We were sick of each other," Wong said in a phone call from Los Angeles this week. "We spent a lot of time together (the two were roommates for a year) and it's good to go out on your own.

"It was also partly because I was pursuing the international tour and he was focusing on the domestic one. It's kind of come full circle a little bit. Our games are a lot more polished right now than they were a couple of years ago."

Said Metzger: "We didn't always get along, see eye-to-eye in college but we've both matured and grown as individuals. And now we're able to be good friends on and off the court. Our past and our background, including our families being friends, has helped us create a nice bond and really good chemistry on the court."

The chemistry was evident last weekend when the two finished third at the AVP stop in Hermosa Beach, Calif. This week, Wong and Metzger are one of four U.S. teams competing in the FIVB Beach Volleyball World Tour opener at Tenerife, Canary Islands.

Although Wong and partner Rob Heidger qualified as the No. 1 U.S. team in the Sydney Olympics, Wong said the team lacked the balance between speed and size.

With Metzger, Wong said the balance is there.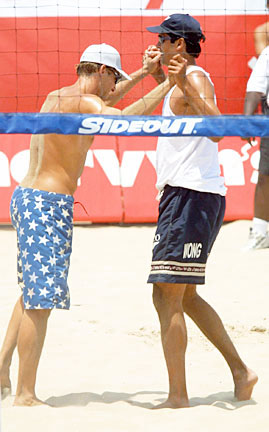 Courtesy of AVP
Stein Metzger and Kevin Wong are together again.
---
At 6-foot-7, Wong puts up an intimidating block, while the 6-4 Metzger, a former setter, has solid all-around skills. Their strength on defense is an advantage; the new shortened court favors longer rallies and greater scoring opportunities for defense-oriented teams.

The two also complement each other emotionally on the court.

"We're a really good fit because he's more of a calm, thinking player and I'm more of a let-loose, emotional player," Metzger said. "At times when he is thinking too much, I get him to just get excited and really go for it. When I'm a little bit overboard, he tends to calm me down and keep me focused."

Both also share the same desire: a commitment to qualify for the 2004 Olympics.

"I think Athens is our focus right now," Wong said. "We're both really excited about our past history together and the fact that we're both from Hawaii because we both want to move back (from California) and move our training base there.

"This is the first time I've had a new partnership on the beach tour that I knew was going to work. We've been beating good teams and we don't have bad games. I know what to expect from him. It's going to work, I know it. It's going to be successful."

Wong, a veteran of the international tour and a participant in the Sydney Olympics, had enough points to be placed into the main draw of events. But, because he and Metzger do not have enough points as a team, the two have to play in the qualifiers for the FIVB.
E-mail to Sports Editor
---
---
© 2001 Honolulu Star-Bulletin
https://archives.starbulletin.com