CLICK TO SUPPORT OUR SPONSORS

---

---
Friday, June 15, 2001
Plane crashes
on Lanai


The small aircraft goes
down in a remote area

---

By Gregg K. Kakesako
Star-Bulletin

One man was killed and another hospitalized after their 33-year-old single-engine plane crashed in a remote area of Lanai early this morning.

The Coast Guard was alerted when the plane's emergency transponder went off at 12:50 a.m.

The Piper Cherokee PA-28 crashed four miles northwest of Lanai airport, a Coast Guard spokesman said.

A Coast Guard H-65 Dolphin helicopter was dispatched from Barbers Point, arriving on the scene just after 2:15 a.m.

"The helicopter had a rough time landing," a spokesman said. "It was pretty rugged."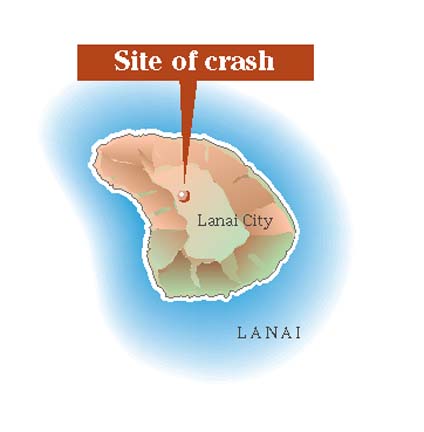 Rescue workers said the wreckage was located on a rocky, dusty area on the top of a plateau. The plane did not catch on fire.

The Federal Aviation Administration said the plane had left Honolulu with a pilot and a student pilot.

Coast Guard rescue specialists found the body of the first victim, believed to be the student pilot, outside of the downed aircraft. His body was taken to the Maui police station for identification.

The second man, 22, believed to be the instructor pilot, was found 250 yards southeast of the aircraft. He was taken to Queen's Medical Center, where he was reported in satisfactory condition. Queen's was unable to say what type of injuries he suffered.

The National Transportation Safety Board, which was established in 1967 to conduct independent investigations of all civil aviation accidents in the U.S., had sent investigators to Lanai.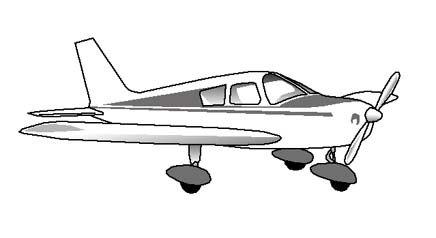 A Piper Cherokee
Records from a check of the tail number show the aircraft is registered to Jahn Mueller.

There was no answer this morning at Mueller Aviation, a flight school and aircraft maintenance operation located at Lagoon Drive at the Honolulu International Airport.

The last plane crash in Hawaii occurred on May 18 when a private, twin-engine tour plane ditched off the Big Island's rugged Hamakua coast, but no one was killed. The pilot and four passengers survived and were picked up by Big Island Fire Department helicopters and taken to North Hawaii Community Hospital in Waimea.

The twin-engine Cessna 337, owned by Mokulele Flight Service in Kona, ditched about 100 yards off Paauilo, about 29 miles northwest of Hilo, in about 100 feet of water.
E-mail to City Desk
---
---
© 2001 Honolulu Star-Bulletin
https://archives.starbulletin.com