CLICK TO SUPPORT OUR SPONSORS

---

---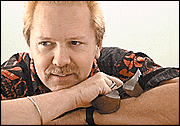 Island Mele



Friday, June 15, 2001
By John Berger
---
"Local Girls"

Keahiwai
Island Groove Productions (IGPD2015)

Keahiwai -- Mailani Makainai and Lei Melket -- debuts as heiresses-apparent to the Jawaiian-pop spot once held by Reality. Keahiwai is less polished than Reality was in 1998, and their music much more organic, but the two duos are similar in that both are more than "eye candy" and both have plenty of original songs to share.

Originality is always welcome in local music, but the young duo and their producers use the same doleful harmonies and one skank-fits-all rhythm on song after song. The lyric theme is usually "You broke my heart but I don't need you anyway" expressed in an expository style that ignores conventional principles of rhyme and meter. Even so, credit Makainai and Melket with a promising first effort.

Two remakes give respite from the cookie-cutter formula. The duo's rendition of "Waikiki" is beautifully done, indicating potential.

www.islandgroove.com

---




"He Makana O Na Lei Nani"

Blaine Kamalani Kia
Ohia Lehua Hawaii (OLH CD-7317)

This is the long-awaited second pressing of Blaine Kia's newest Hawaiian language album. Kia was horrified when the album arrived in March without the extensive annotation he had prepared. He took over and ordered a second pressing (look for copies naming 'Ohi'a Lehua Hawai'i/Haku Entertainment as executive producers).

Most of the songs are written for hula. Some tell of spiritual traditions or suggest nationalist sentiments. Others are risque ("He Loli Pu'ipu'i" allegedly celebrates the attributes of large sea cucumbers).

"Kamali'i O Ka Po" combines enigmatic lyrics by Kawaikapuokalani Hewett with a stirring arrangement. Kia's powerful acoustic performance of a John Kaimikaua chant is another highlight. Kia's skillful use of other styles of music further makes this album a memorable showcase.

---




"Hawaiian Style"

The Kahauanu Lake Trio
Hula (CDHS-508)

Hula Records has been making a great contribution to island music with perfect value-added rereleases of classic Hawaiian albums. The recently released "Party Hulas" album, featuring Genoa Keawe, was one such gem. This rerelease of the 1964 debut album by the Kahauanu Lake Trio is another. The music is exquisite and the presentation enhances it. This is a perfect introduction to the one of the great Hawaiian trios of the last century.

The K-Lake Trio were staunch traditionalists but, with "Mr. K" at the helm, offered innovation as well. He played a custom-made baritone ukulele, took the art of strumming to virtuoso levels and reestablished the uke as a lead instrument in Hawaiian music. All this contributed to the distinctive sound that made the K-Lake Trio Waikiki icons for almost 30 years.

Historical knowledge isn't needed to enjoy the smooth harmonies and clean acoustic arrangements but anyone interested in Hawaiian music will find Jean Sullivan's annotation of additional help.

www.Hawaii-Calls.com





---




John Berger, who has covered the local
entertainment scene since 1972, writes reviews of recordings
produced by Hawaii artists. See the Star-Bulletin's Today
section on Fridays for the latest reviews.
E-mail to Features Editor
---
---
© 2001 Honolulu Star-Bulletin
https://archives.starbulletin.com