CLICK TO SUPPORT OUR SPONSORS

---

---
Thursday, June 14, 2001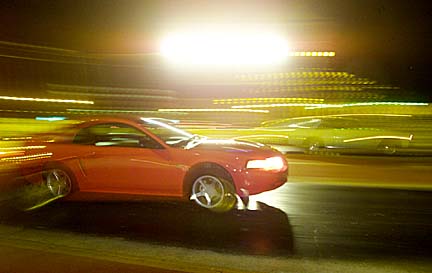 DENNIS ODA / STAR-BULLETIN
Cars blaze down the quarter-mile track during racing
at Hawaii Raceway Park last night.
---
Racing in
the safer lane


Oahu's Hawaii Raceway Park
gives teens the thrill of speed --
and it's legal and no one has died

---

By Rod Antone
Star-Bulletin

At Hawaii Raceway Park, the setting sun brings out those wanting to feed their need for speed. The gates open up at 6 p.m., and soon the racetrack and parking lot turn into an open-air auditorium where it is almost impossible to speak over growling engines and peeling rubber.

"There he goes!" shouts an announcer overlooking the quarter-mile track from a tower. The race is over in no time after a '93 Mazda RX-7 hits 107 miles a hour and crosses the finish line in 13.57 seconds.

"I'm just looking to sell my car, and this seemed like the place to do it," said the RX-7's owner, 26-year-old Alaun Buckley. "Guys are always asking me, 'How fast does it go?' and now I know."

Many racers bring their families, and some even set up picnic tables.

"Oh yeah, it's better to race here than on the highway," said Waialua resident Roy Eublera, who owns a '91 Honda Accord. "Guys always pulling up next to me, revving their engine, telling me they like 'go.'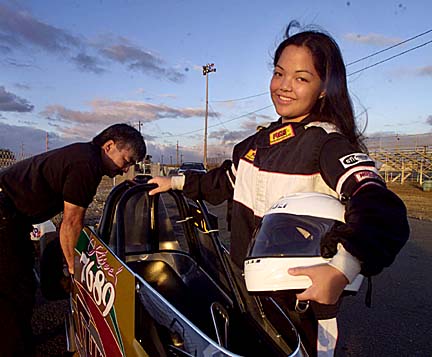 DENNIS ODA / STAR-BULLETIN
Kiree Higa, 16, stands alongside her racer as her dad,
Frank Higa, tunes the engine. She has been racing
for three years.
---
"But my wife and my kid are in the car, too. It's not right, especially when I heard about the accident."

The "accident" Eublera referred to involved the death of 18-year-old Kalani High School graduate Logan Fujimoto, who police said was racing with another car in Kahala before crashing.

Witnesses told police that Fujimoto and another driver in a white Volkswagen Jetta were racing along the H-1 freeway eastbound Saturday when Fujimoto lost control, crashed through a guardrail and landed about 40 feet below the freeway on Waialae Avenue.

Eublera said he often gets "called out" by those wanting to race against him. He said sometimes a driver will pull in front of him and turn on his hazard lights as a signal to start the freeway race.

"You get tempted but I try not to," Eublera said.

Royce Guthrie, a 17-year-old Leilehua High School graduate, said he gets tempted, too, but that his father has already talked him out of it.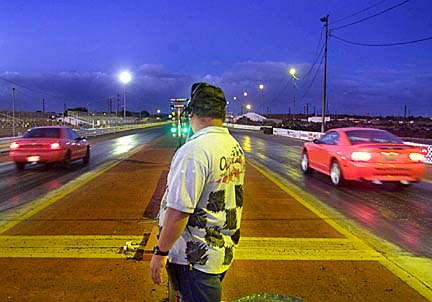 DENNIS ODA / STAR-BULLETIN
Head linesman Chris Cariaga, above, starts a drag race.
---
"He said, 'Give me $7,000 for the car and another $7,000 for the funeral, and go race all you like,'" said Guthrie. "I knew he was just joking, but I got the idea."

Guthrie's father, Roy, was doing the racing last night, with a '67 Chevy Camaro that he has worked on for the past two years.

"I don't know how much money I've put into it -- I lost count already," said the elder Guthrie.

He said street races were a part of his teen years, too, but he feels that times have changed and young drivers need to change also.

"Back in my day we had a lot of muscle cars, big cars that could go fast but couldn't take the turns, and we knew they couldn't take the turns," he said. "But now with these little Hondas, the kids can take the turns. The trouble is, they're still going beyond the cars' limits and getting into worse accidents."

Hawaii Raceway Park operator Paul Giovanetti said there have been occasional accidents at the raceway but nothing major.

This is the only legal place to race, right here," he said. "Definitely no one has died here."

Still, Roy Guthrie noted: "You can talk and talk and talk to kids about coming down here and racing, but it's not going to stop, because it's been going on forever.

"I know this isn't the same as whipping down those turns on the freeway, but you have to consider the risks."
E-mail to City Desk
---
---
© 2001 Honolulu Star-Bulletin
https://archives.starbulletin.com