CLICK TO SUPPORT OUR SPONSORS

---

---
Thursday, June 14, 2001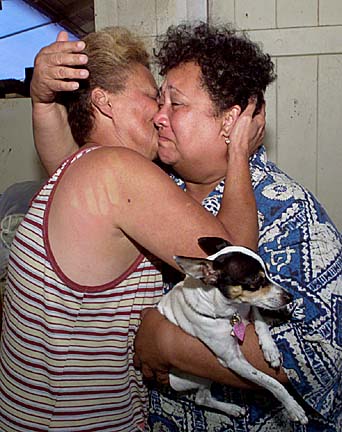 GEORGE F. LEE / STAR-BULLETIN
Melissa Miyamura, right, hugged Lana Keliihoomalu yesterday
for helping her and her family after their house burned. Three
family members escaped the Waimanalo home. Their dog,
Princess, helped alert the family to the fire.
---
House fire
brings out the best
in Waimanalo


Neighbors pitch in to help
a family of 8 whose home
was gutted by a fire

How to help

---


By Lisa Asato
Star-Bulletin

Maile Makalii stood outside her home of 38 years -- now warped and gutted from a fire yesterday morning -- and thanked God.

Makalii was thankful for her neighbors, who helped save and shelter her and other family members left homeless by the blaze.

She and two family members were sleeping in their Waimanalo home when one of their dogs, Princess, began barking and a neighbor started screaming: "Hello! Hello! Hello! Your house is on fire!"

Another neighbor up the road entered the burning house to see if anyone was inside, family members said.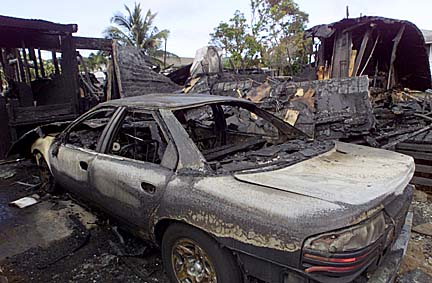 GEORGE F. LEE / STAR-BULLETIN
A family car destroyed in the blaze.
---
Everything happened so quickly they could not identify the man, said Makalii's sister Melissa Miyamura. That man also saved two family dogs, Pookela and Buddy, by throwing their kennels into an adjacent yard, she said, adding that two other family dogs were also unhurt.

"When I passed my sister the fire extinguisher, I saw that man (inside the house)," Miyamura said. "He did a good job. He saved those animals and us. I haven't seen him since."

The early-morning blaze left eight members of the extended Makalii family homeless.

But Makalii said she was thankful her 16-year-old daughter Shayna was sleeping at a friend's home and that her own mother was in Kihei blessing the home of another daughter. Her mother, the Rev. Edna Makalii, had a stroke years ago and gets around in a wheelchair, she said.

Makalii said that the Keliihoomalus, neighbors who live across the street, immediately provided shelter for her, Miyamura and their aunty Rebecca Kauo, who is visiting from Oakland, Calif.

"Thank goodness for the Keliihoomalus," Makalii said. "They let us use the phone, let us sit down and opened up their house to us."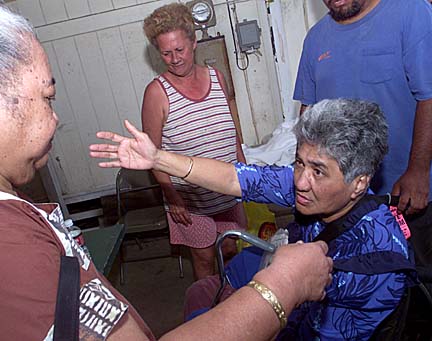 GEORGE F. LEE / STAR-BULLETIN
The Rev. Edna Makalii, at right, reached out to thank
neighbor Miriam Smythe for all she and Lana
Keliihoomalu, center, had done for her and her
daughters after yesterday's fire that
destroyed Makalii's home.
---
About six hours after the blaze, on a long table outside the Keliihoomalu home, Miyamura sat surrounded by her aunty Rebecca, relatives who drove in from Ewa Beach and Lanna Keliihoomalu, who made a pork laulau and egg breakfast for the family.

Makalii's co-workers from the Waimanalo Health Center spilled out into the street. The Naipos had brought doughnuts.

"Keliihoomalu means 'place of peace,' so we came here and got peace. ... It's wonderful having good neighbors," Miyamura said.

Firefighters arriving at the scene of the 5:53 a.m. alarm at 41-175 Nalu St. found the home engulfed in flames. They got the fire under control by 6:20 a.m., but by then the roof had collapsed in the middle of the wooden structure. No one was hurt.

Fire Capt. Richard Soo said the fire began in the back bedroom in the main part of the house. The fire gutted the home, with $175,000 damage to the building and $80,000 to its contents, including $3,000 in home entertainment equipment and $35,000 for three cars destroyed.

Miyamura said she owned two of the cars and was still paying off one of them, a 1997 Intrepid she bought in January.

Soo said the cause of the fire is under investigation. "They haven't eliminated any causes," he said.

The Hawaii State Chapter of the American Red Cross gave the family vouchers for shoes, clothes, toiletries and a two-night stay at the Pagoda Hotel and Restaurant, where they intended to stay last night and tonight, Makalii said.

The family did not have fire insurance on the Hawaiian homestead property, Miyamura said.

They hope to raze the structure and rebuild with the help of the state Department of Hawaiian Home Lands, she said.

"Right now, it's in the air," she said. "We can't even guess. We're just hoping it's possible we can do that. It's our home -- that's where we all gather, you know."




How to help

The Waimanalo Health Center has initiated a Waimanalo Fire Victims Fund to help the Makalii family.

Donations may be made at any American Savings Bank to account number 80009-24531. Donations of canned goods, clothes or gift certificates may be made at the American Savings Bank Hawaii Kai branch at 7192 Kalanianaole Hwy. and at the Waimanalo Health Center at 41-1347 Kalanianaole Hwy.



E-mail to City Desk
---
---
© 2001 Honolulu Star-Bulletin
https://archives.starbulletin.com