CLICK TO SUPPORT OUR SPONSORS

---

---
Monday, June 11, 2001



[ PADDLING ]
---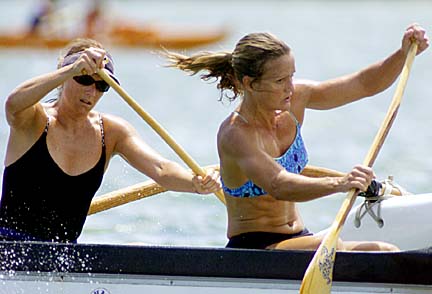 GEORGE F. LEE STAR-BULLETIN
The senior women from Lokahi won their 1 1/2 mile
race by 43 seconds over Waikiki Yacht Club.
---
Kaneohe kids help
key 'road' win


Host Lokahi suffers
a key disqualification
and falls by 3 points

---

By Grace Wen
Star-Bulletin

Home waters have not been advantageous in the early going of the Hui Wa'a paddling season.

A week after the Lokahi Canoe Club won the regatta hosted by Kaneohe Canoe Club, Kaneohe responded with a win of its own at the regatta hosted by Lokahi at Keehi Lagoon.

Kaneohe edged Lokahi yesterday, 74-71. Manu O Ke Kai (42 points), Kamehameha (39) and the Waikiki Yacht Club (29) rounded out the top five in the AA Division.

With five races left in the day, Kaneohe clung to a 65-64 point lead over Lokahi. At that point, Kaneohe coach Clint Anderson said the regatta could be decided by a mistake.

His words were prophetic.

In the very next race -- the women's Open 4 -- Lokahi was disqualified for a false start after finishing second.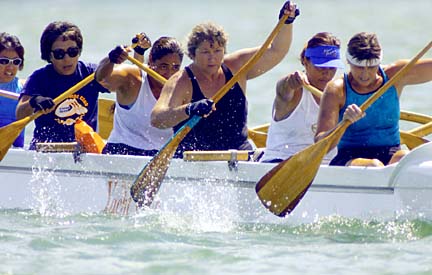 GEORGE F. LEE STAR-BULLETIN
Waikiki Yacht Club senior masters women competed
in a half-mile race, finishing second to Kalihi Kai
by just over a minute.
---
"We caught up to a point and then we had a DQ (disqualification) that made about a four-point swing," Lokahi coach Wayne Babineau said. "That thing cost us a second-place finish which is three points. It bumped Kaneohe from third place to second place so that's a four-point swing. You just can't mistakes like that when the competition is this close."

Anderson said Kaneohe made errors, too, but not as critical.

"What happened today (with the disqualification) was interesting. It could happen to us," Anderson said. "We just made our mistakes in the beginning with the misplacing of kids. What happened was that some of our girls got sick and then we had to scramble for other girls."

Despite the illnesses, the Kaneohe kids managed a strong start. The girls' and boys' 14-and-under, the boys' 12-and-under, and the girls' 15-and-under crews all won their races.

"They started off with the kids stronger than usual," Babineau said. "We expect them to do well with the kids. (But) they did better with their kids than they did last week. ... We're always playing catch-up (at the beginning)."

Lokahi had a chance at the end when it won the men's masters and scored five points. But Kaneohe's men's masters crew finished second to earn the three points needed for the win.

In the A Division (clubs that field16 crews or less) Koa Kai recovered from a fourth-place finish last week to triumph by a point over Ka Mo'i, last week's A Division winner.

They were tied going into the last race of the day, the men's masters. Koa Kai battled with Ka Mo'i stroke for stroke before pulling ahead for the fourth-place finish and the single point needed for victory.

"We got spanked last week by the team we beat by one point today," Koa Kai coach Joe Kim said. "We all trained hard."

Lanikai takes OHCRA: Defending state champion Lanikai won the first event of the day, the last event of the day and 10 other races in between en route to claiming the King Kamehameha Regatta at Kailua Beach.

Lanikai finished with 87 points in the second Oahu Hawaiian Canoe Racing Association regatta of the season. Outrigger was second at 70 and host Kailua third with 68.

Waikiki Surf Club won the A Division title with 16 points with Keahiakahoe 14.
E-mail to Sports Editor
---
---
© 2001 Honolulu Star-Bulletin
https://archives.starbulletin.com