CLICK TO SUPPORT OUR SPONSORS

---

---
Monday, June 11, 2001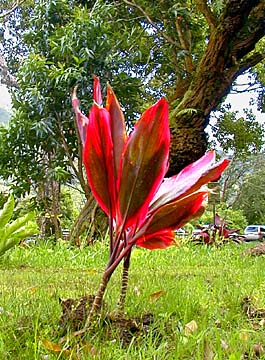 BURL BURLINGAME / STAR-BULLETIN
Red ti plants planted on the Pali may signal good luck for travelers.
---
Ti plants add a touch
of red to green Pali

Say what you will about the Pali, it certainly is green from top to bottom. But lately, little bits of red are beginning to show up.

Red-leaved ti plants are sprouting up along the edges of the highway in carefully managed groups, like foreign nationals on a packaged holiday.

Although the Department of Transportation didn't get back to us, this is almost certainly the work of DOT landscapers. Not only does the red ti provide color -- and if you look closer, there's green ti there as well -- the plant, sacred to Hawaiians, is a potent good-luck symbol, particularly when traveling.

Kahuna wore ti-leaf lei as an emblem of rank and power. To this day, many believe that "ki" will keep away evil spirits. And the roots were ground by ancient Hawaiians to make a kind of beer. Dude!

And let's not forget that pork laulau is wrapped in ti. So if you're hauling pork over the Pali at midnight, stop and turn it into laulau.

That explains that. The DOT landscapers are either making the Pali prettier -- talk about gilding a lily! -- or are watching out for our fortune as travelers. Or the plants are being placed by those mysterious bowmen with the camouflaged faces running around Nuuanu.

What's up with that?

---




Burl Burlingame

---

Curious about something you've seen or heard? Write "Wat Dat?" 7 Waterfront Plaza, Suite 210, Honolulu 96813; or e-mail watdat@starbulletin.com






Click for online
calendars and events.





---





Send WatDat? questions, stories
or any other story ideas or comments to:
Features, Honolulu Star-Bulletin, P.O. Box 3080,
Honolulu, HI 96802 or send a fax to 523-8509
or E-mail to features@starbulletin.com.
Please include your phone number.
E-mail to Features Editor
---
---
© 2001 Honolulu Star-Bulletin
https://archives.starbulletin.com