CLICK TO SUPPORT OUR SPONSORS

---

---
Saturday, June 9, 2001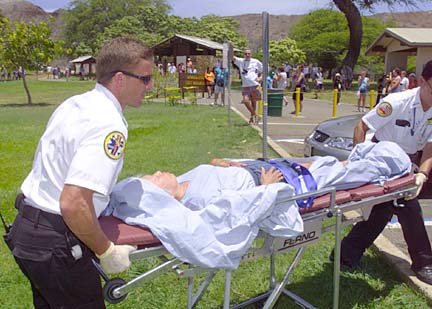 FL MORRIS / STAR-BULLETIN
Paramedics took one of two heat-exhaustion victims to an
ambulance yesterday from the Diamond Head Trail.
---
2 Diamond Head hikers
airlifted after suffering
heat exhaustion

---

By Rod Antone
Star-Bulletin

Honolulu fire rescue crews plucked two women off the Diamond Head Trail yesterday after both suffered heat exhaustion while hiking.

The call came in at 10:40 a.m. and involved a 15-year-old Iowa girl and a 71-year-old woman from Pearl City.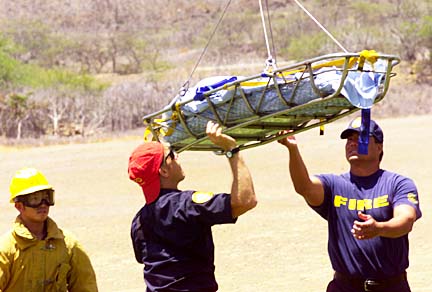 FL MORRIS / STAR-BULLETIN
Jane Fujimoto, 71, was the second person airlifted yesterday
from the trail by helicopter. Her rescue was unrelated to that
of a girl, 15, also assisted off the trail.
---
A fire rescue helicopter from the Pawaa station airlifted both of them off the trail. Others on the trail said the Pearl City woman collapsed first, then the teenager.

While rescuers said it is common to have heat exhaustion cases on the Diamond Head Trail, it is rare to have to rescue more than one person at a time.

Firefighters said the problem is that many people do not realize that Diamond Head is a steep trail, and said hikers should bring water and wear proper shoes and clothing.
E-mail to City Desk
---
---
© 2001 Honolulu Star-Bulletin
https://archives.starbulletin.com