CLICK TO SUPPORT OUR SPONSORS

---

---
Saturday, June 9, 2001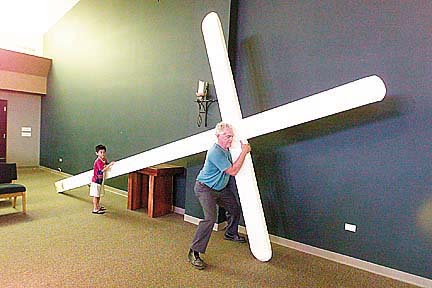 GEORGE F. LEE / STAR-BULLETIN
St. Jude Catholic Church parishioners Ray Datzman and
6-year-old Ryan Mun moved the heavy 20-foot cross inside
the church yesterday after it was moved there from
its outdoor location.
---
City may alter law
to allow crosses


A proposal would allow
symbols at certain
'meeting places'

---

By Gordon Y.K. Pang
Star-Bulletin

The 20-foot cross outside St. Jude Catholic Church in Makakilo has gone indoors -- at least for now -- as city officials consider a change to the land use ordinance that could bring it back.

Meanwhile, applications to place outdoor symbols honoring Satanism and homosexuality will proceed even with indications that they will not be approved.

The cross was removed Thursday after discussions between Catholic Bishop Francis X. DiLorenzo and St. Jude's pastor, the Rev. Roland Pacudan.

Planning and Permitting Director Randall Fujiki said late yesterday, however, that the city is looking at an amendment that would allow symbols only on properties designated "meeting facilities."

Meeting facilities, under city ordinances, must have a minimum of 20,000 square feet and fulfill other conditions.

The plan would need a thumbs-up by the City Council but may be applied, without Council approval, on an interim basis, Fujiki said.

That could, effectively, allow the St. Jude cross back up but bar the other two symbols.

Fujiki acknowledged that the request for new symbols played a role in the city's decision to consider new rules.

"We are concerned about the possible proliferation of symbols on smaller properties," he said.

Patrick Downes, a spokesman for the Catholic Church, said St. Jude's removed the cross on its own on Thursday.

"We were free to put it up and were free to take it down," Downes said, "and we're free to put it back up again if we wish."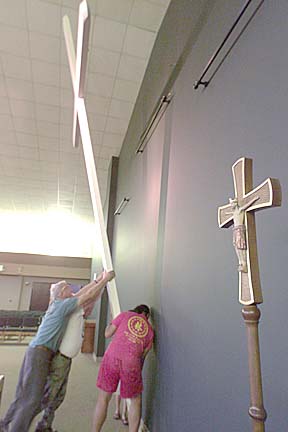 GEORGE F. LEE / STAR-BULLETIN
St. Jude Catholic Church parishioners Ray Datzman,
Jesse Duke and Kawika Ganitano erected the 20-foot
white cross inside the church yesterday.
---
He said, however, that there is no immediate intent to put it back up.

Parishioners yesterday were looking for the best place in the church sanctuary to put the cross.

The Hawaii Citizens for the Separation of State and Church sought removal of the sign on the grounds that it violated city ordinances, which state a ground sign cannot exceed 16 feet in height.

City officials said that under an old interpretation, the cross is a symbol and not a sign.

That prompted Manoa resident Andrew Crothier to apply for a building permit to erect a 20-foot symbol of Satanism on his residential property and Michael Golojuch Jr. of Makakilo to apply for a 20-foot symbol representing homosexuality on his lot.

Both men, now represented by the American Civil Liberties Union, are members of the Hawaii Citizens for the Separation of State and Church.

"I wouldn't say I'm happy the cross is down," said Brent White, legal director for the ACLU. "What's important is that the city adopts a fair policy."

White, who was unaware of the city's new plans, said the two permit applications are proceeding.

The city cannot have a different set of rules for one religion over other religions, or religious groups over nonreligious groups, White said.

"What (the city) has is an informal policy that has just evolved over the years, and in it, it was decided it would not be subject to crosses with respect to height limitations to signs," he said.

"It's that policy which is offensive to the separation of church and state."

Mitchell Kahle, president of the Hawaii Citizens for the Separation of State and Church, said he doubts the city will grant the permits.

"Approving the permits would effectively rewrite the law," he said. "The consequence of that is to open it up to everyone, and I think they have more common sense than that."

Mary Steiner, chief executive officer for the Outdoor Circle, said her group believes "these symbols are all signs, regardless of content."

The group, which has fought to keep billboards out of Hawaii, has not discussed the issue in details, Steiner said, but she doubts it would be in favor of loosening city ordinances to allow for symbols.
E-mail to City Desk
---
---
© 2001 Honolulu Star-Bulletin
https://archives.starbulletin.com