CLICK TO SUPPORT OUR SPONSORS

---

---
Wednesday, June 6, 2001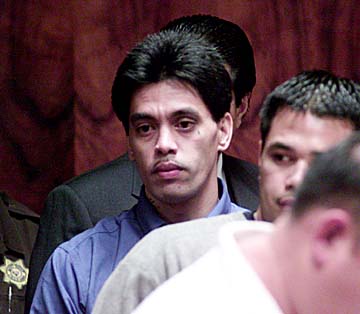 CRAIG T. KOJIMA / STAR-BULLETIN
At Circuit Court, Joseph Poomaihealani was
on trial for murdering Bernadino Arado.
---
Stories conflict
at murder trial for
Bernadino Arado


Each defendant says
the other is to blame
for the brutal attack

---

By Debra Barayuga
Star-Bulletin

Nearly a year ago, on Aug. 12, 2000, Bernadino Arado went to his neighbor's house to find out what all the commotion was about. He never made it home alive.

Arado, 38, had been shot in the heart at point-blank range, another man was severely beaten and another was in fear for his life, said Deputy Prosecutor Chris Van Marter during opening statements yesterday in the murder trial of Joseph Poomaihealani.

"Joseph shot and killed the good Samaritan," Van Marter said.

Poomaihealani's motive, according to the state, was because he felt Arado would have told police what he had seen and who he had seen leaving.

On trial with Poomaihealani, 30, are his 19-year-old brother John and John's friend, Brandon Lizardo. Both are charged with first-degree assault and first-degree terroristic threatening.

Lizardo had driven the brothers and their girlfriends to the Waimakua Drive home in Waipio that night to visit a former coworker, Daniel Keola. Instead they got into a confrontation with tenant Brian Chamberlain.

Lizardo is accused of holding a 9mm gun to Chamberlain's neck and threatening to blow his head off before striking the smaller man with so much force that he was knocked unconscious.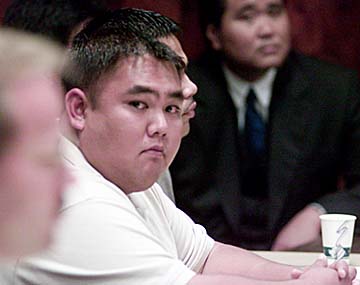 CRAIG T. KOJIMA / STAR-BULLETIN
Brandon Lizardo was on trial for assault and terroristic threatening.
---
The Poomaihealani brothers, both convicted felons, are accused of joining Lizardo in punching, kicking and bashing the unconscious Chamberlain's head on the side of the house before fleeing.

When Keola tried to help Chamberlain, John Poomaihealani allegedly took the gun given him by Lizardo, and pointed it Keola, who backed off, Van Marter said.

As they piled into Lizardo's car, Joseph Poomaihealani pulled out the gun, aimed at the chest of the advancing Arado who was yelling, "What's going on?" and fired once, said Van Marter.

Joseph Poomaihealani does not dispute that he shot Arado, who is described as about 6-foot-1 and 200-pounds and was holding a golf club. But Poomaihealani contends he acted in self-defense after Arado disregarded his warnings to stay away, said his attorney Keith Shigetomi.

While tragic, Arado's death resulted from Poomaihealani "acting to protect himself and others." Poomaihealani also did not beat Chamberlain, but went to his rescue when he saw him being pistol-whipped by Lizardo, Shigetomi said.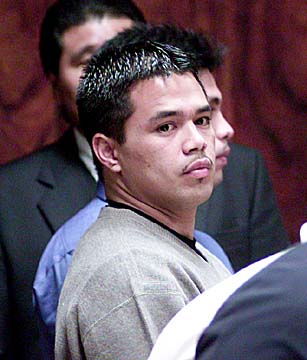 CRAIG T. KOJIMA / STAR-BULLETIN
John Poomaihealani also faced charges of
assault and terroristic threatening.
---
John Poomaihealani contends that it was Lizardo, not he who beat Chamberlain.

It was Lizardo who kicked Chamberlain so hard as he lay on the ground that blood splattered on Lizardo's pants, said John Poomaihealani's public defender, Walter Rodby. And it was Lizardo whose fist looked like "hamburger" following the vicious assault.

Lizardo's attorney, Richard Gronna said Chamberlain's "crummy attitude" is what caused the tragic sequence of events.

Chamberlain goaded Lizardo, using expletives and getting into his face that moved Lizardo to protect himself by throwing a punch, Gronna said. "Brandon didn't want to hit him but he felt he had no choice."

Lizardo denies putting a gun to Chamberlain's neck. Lizardo and John Poomaihealani face 10 years if convicted of first-degree assault. If convicted of second-degree murder, Joseph Poomaihealani faces life with the possibility of parole. The trial resumes tomorrow.
E-mail to City Desk
---
---
© 2001 Honolulu Star-Bulletin
https://archives.starbulletin.com