CLICK TO SUPPORT OUR SPONSORS

---

---
Wednesday, June 6, 2001

GEORGE F. LEE / STAR-BULLETIN
Wallace Bailey crossed Kapahu Street in the rainstorm that
left a Toyota Corolla, owned by Miles Takiguchi of
Makiki, dead in the water yesterday.
---
More rain possible


Rare thunderstorms bring record
rainfall and ease the drought
for West Molokai

---

By Rosemarie Bernardo
and Helen Altonn
Star-Bulletin

More thunderstorm activity was possible today and tomorrow after a drenching that set at least one 24-hour record, the National Weather Service said.

"Once we get some daytime heating on the ground, we're looking for the possibility of thunderstorm activity again in the afternoon," said hydrologist Kevin Kodama.

When tourists ask him the best time to come to Hawaii, he said he tells them June because it's usually nice, with fairly persistent trades and not a whole lot of rainfall or tropical cyclone activity. But an upper level low pressure system moving very slowly the past couple days just to the north of the Hawaiian Islands has shaken things up.

A rare thunderstorm slammed Oahu yesterday afternoon tying up traffic, knocking out power sporadically, and causing minor flooding.

One death was blamed on a rain-related freeway crash near Mililani.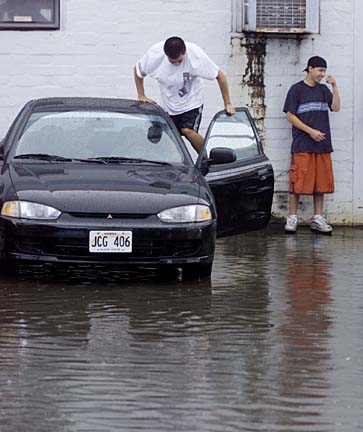 GEORGE F. LEE / STAR-BULLETIN
Howard Caires went to great lengths to avoid getting his feet wet
while exiting a Kona Street business after yesterday's rain.
---
Nearly an inch of rain (.99) fell at Honolulu Airport in 24 hours, setting a record for the date. The last record of .23 of an inch was set in 1978. The record rainfall for June was 2.28 inches, set in 1967.

The storm mostly hit the middle islands, with thunderstorms briefly flaring up in parts of Maui and Lanai and a sizable thunderstorm in Western Molokai, Kodama said.

HE SAID it was a rain West Molokai needed, but it might have been a little too much at one time.

"If it's too much at once, it will erode the topsoil and most will go into the ocean as runoff. It's not the effective rain farmers like, but anything helps. They would rather have this type of rain than no rain at all."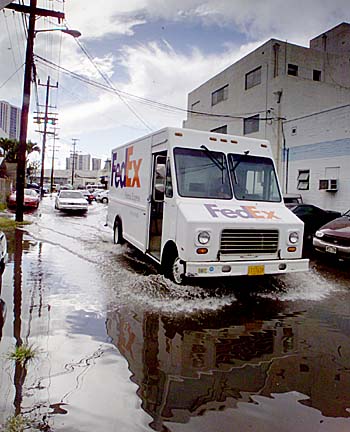 DENNIS ODA / STAR-BULLETIN
A FedEx truck finds it slow going as it travels on Kona Street
toward Pensacola after yesterday's heavy rain had subsided.
---
Oahu had a number of accidents during the storm, including one on H-2 freeway in which a 63-year-old woman died. Witnesses told police it was raining heavily at the time.

The Toyota Camry that the woman was driving north crossed the median and collided head-on with a white van a half mile south of Meheula Parkway. Police said a 39-year-old man was taken to Wahiawa General Hospital and was listed in stable condition last night with two broken legs.

A total of four vehicles were involved in the accident.

In just 15 minutes yesterday, a total of .62 inches of rain fell in Manoa, said weather service meteorologist Tom Heffner.

An urban and small-stream flood advisory was issued for Lanai, West Molokai and West Maui yesterday from 12:45 to 3:15 p.m., and for Oahu from 1:55 to 4:55 p.m. A flash flood warning was issued from 2:50 to 4 p.m. for Oahu only.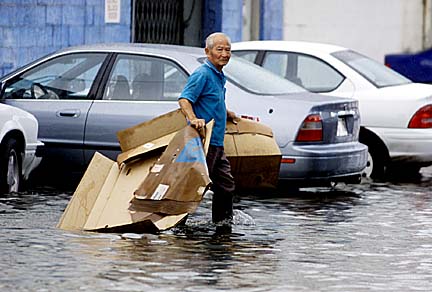 GEORGE F. LEE / STAR-BULLETIN
United Auto Body employee Thomas Uechi crossed Kona
Street yesterday after torrential rain flooded parts of Oahu.
---
IN A 24-HOUR PERIOD yesterday, there were 4.22 inches of rain in Manoa, 3.46 inches in Nuuanu Water Supply and 1.87 inches at Wilson Tunnel. In Maunawili, there was 2.37 inches reported, 1.56 inches in Luluku and 1.56 inches in Ahuimanu Loop, the weather service said.

The Manoa Stream rose to about 7 feet, Heffner said.

Small hail was reported in Kaneohe and on Maui in higher elevation areas, he said.

"It was like rocks falling on the roof," said Olinda resident Linda Tocho. She said hail about the size of a quarter fell for about 15 minutes at about 1:30 p.m. yesterday. The hail did not cause any damage at her property.

Thunderstorms aren't common in Hawaii, with an average of only about 10 a year, mostly during the winter months, Heffner said.

Across Oahu, as motorists were stuck in gridlock, some residents were left in the dark.

Intermittent power outages were reported, said Fred Kobashikawa, spokesman for the Hawaiian Electric Co.

At 2:12 p.m., about 3,000 residents along Victoria Street, Prospect Street, Iolani Avenue and Ward Avenue were affected by an outage. Crew members discovered a downed power line on Prospect Street. Crew members, who re-attached the power line to the utility pole, believe the pole was struck by lightning, Kobashikawa said. Power was restored at 3:54 p.m.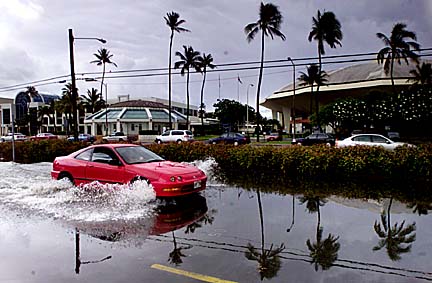 DENNIS ODA / STAR-BULLETIN
After the heavy rains yesterday afternoon, a calm settled over
the city. This car left a partially-flooded parking lot on the
corner of Kapiolani Boulevard and Ward Avenue.
---
At 2:29 p.m., HECO officials received calls of another power outage for Salt Lake Boulevard, Ala Lilikoi, Likini Street, Ala Napuaa Place, Arizona Road, Ala Ilima, Ala Napunani Street and sections of Puuloa Road. About 700 people were affected by the outage, Kobashikawa said. Power was restored at 5:20 p.m.

Additionally, there were reports of the lights flickering in Kaimuki and Kaneohe.

Gail Tiwanak, spokeswoman for The Queen's Medical Center, said water rushing down Punchbowl Street created ponding in the open parking lot fronting the hospital.

The excess took about a half-an-hour to drain, Tiwanak said.

Bobby Greene, owner of Tanya Automotive Specialists at 1146 Kona St., was upset about water that seeped into his store as cars drove by. Greene said there were about 5 inches of water in front of his store.

"As the cars go by, it makes like a wave and the water comes inside," said Greene.

---

Maui correspondent Gary Kubota contributed to this story.
E-mail to City Desk
---
---
© 2001 Honolulu Star-Bulletin
https://archives.starbulletin.com