CLICK TO SUPPORT OUR SPONSORS

---

---
Wednesday, June 6, 2001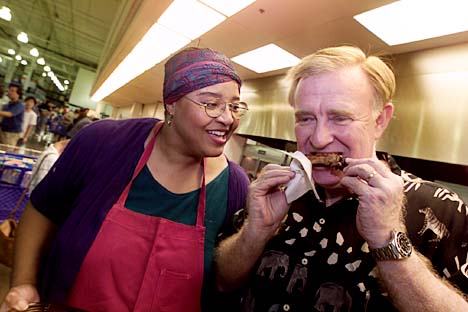 DENNIS ODA / STAR-BULLETIN
Michael E. O'Neill, chairman and chief executive officer for
Bank of Hawaii, chomps down one of Debra Hopkins'
ribs at Sam's Club.
---
A rib-roaring success


The owner of a tiny soul-food
joint in Kailua is ready
for the big time

---

By Betty Shimabukuro
Star-Bulletin

Great food isn't the half of it If that were all it took to achieve culinary success, imagine all the chefs in Hawaii who'd be millionaires.

No, great food isn't the half of it. Shrewd business sense counts for plenty, and never underestimate sheer force of personality.

Observe, for example, Debra Hopkins, in the deli department of Sam's Club on a recent Saturday. "Deb's Southern Comfort Old School Soul Food, right here at Sam's Club," she sings out, in the manner of a carnival hawker. "My restaurant's in Kailua ... pure butter pound cake, pan-fried pork chops, fried Southern country-style chicken, Mississippi farm-raised, cornmeal-fried catfish ... hopefully opening soon at Restaurant Row ... don't go there yet, you won't get no food."

What she's selling, back at the rear of the warehouse store, are ribs. Deb's Southern Comfort, etc., etc., ribs, the original recipe that won the Star-Bulletin's rib competition by a huge margin in 1999.

At the time, Hopkins was working two jobs, as an operating room scrub technician and restaurant owner, using her hospital paychecks to keep her new business running. Her life was a continuous cycle of work, shopping, deliveries, surgeries, work ... Sleep was a rare thing, but she was achieving her dream -- to run a soul food restaurant in paradise.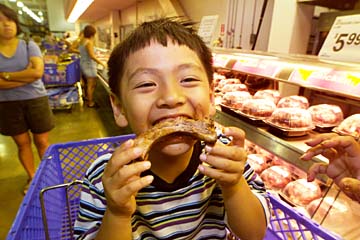 DENNIS ODA / STAR-BULLETIN
Jason Torikawa, age 6, bites into a rib. He ate every bit of the meat
and got his mother, Val Domingo, to buy a slab to take home.
Sam's normally sells about 145 orders of ribs daily. Debra
Hopkins' ribs sold more than 250 in one day.
---
Then, as now, Hopkins was possessed of an endless store of energy, with all the forward momentum needed to drive her product. It has carried her to Sam's, which has just begun using her recipe to produce its rotisserie ribs, and plans to carry her line of sauces and prepared meals. Distribution to outlets on the mainland is a possibility, Sam's general manager John Cruz says.

Hopkins says her restaurant -- located inside D'Coys Sports Bar and Grill at the Pali Lanes bowling alley -- still struggles to get by, but she feels she is on the verge. "I opened with $800 and I still feel like I'm operating with $800. It's still a struggle until something happens." And things are happening. "I think the $800 egg is hatching."

Much of that must be credited to Hopkins herself. How many small-business owners do you know who could get the chairman and chief executive officer of Bank of Hawaii to schlep on over to Sam's Club on a Saturday afternoon?

Yet here he is, Michael E. O'Neill, chewing on ribs and assuring her of his support. Also here, Miles Saito, assistant general manager of Food Solutions International, the company that packages food for the Zippy's chain and is close to an agreement to package and market Hopkins' food products statewide.

"I feel as if I'm going through the desert and I have a half gallon of water in my hand," Hopkins says, describing all the pending negotiations and agreements. "It's so precious I don't want to spill any of it."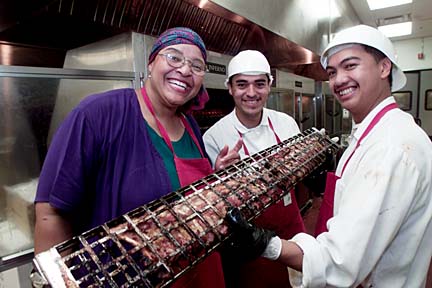 DENNIS ODA / STAR-BULLETIN
Debra Hopkins, Juan Rivas, center, and William Montero
remove a rack of ribs from the rotisserie.
---
O'Neill met Hopkins in a conference room at a local television station where both were awaiting interviews. She shared her portfolio with him, a collection of newspaper clippings and awards. He was impressed, O'Neill recalls, by her "very energetic, positive personality." He was even more intrigued to learn she was a longtime customer of his bank.

"Her energy and willpower and our financial advice have proven a good partnership," he says. It's one he believes will continue as Hopkins expands.

Hopkins works the floor at Sam's in a flowing, ankle-length teal dress with deep purple overblouse, bright red apron and well-worn tennis shoes. Her copper-colored hair is wrapped in a pink and blue bandana. She's all brightness in this stainless-steel, industrial setting, offering up samples and constant chatter: "You ain't got to stand by the barbecue and sweat up a storm. I'll do that for you. Put these on the grill and let people think you made them yourself. Doesn't matter."

It's unlikely a person could walk by without making eye contact and taking a free rib. Even the vegetarians.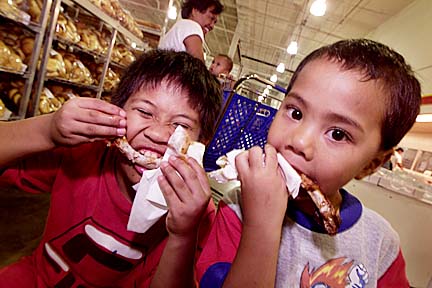 DENNIS ODA / STAR-BULLETIN
Jestonoy Cabagua, left, 8, and his cousin, Boboy Tom, 4, enjoy
free samples of Deb's Ribs that were given out at Sam's Club.
---
Saito says Food Solutions is still working with Hopkins to fix the financial details -- how much her products would sell for and how much she'd earn as the company markets her food to local stores. Once that's settled, she'll turn over her recipes (until now she's shared her recipes with no one).

The partnership would represent a new direction for Food Solutions as well, Saito says. The company is looking to expand to represent "name" chefs, mass-producing and packaging their signature sauces, dressings and home replacement meals.

The company should have plenty to deal with in Hopkins. She hopes to market not just her sauces and ribs, but also her collard greens, macaroni and cheese, sweet potato pie, peach cobbler, catfish, hush puppies and fried okra. She wants to publish a cookbook, have a television show teaching basic cooking foods, bring her food line to every supermarket. "I also want a chain of restaurants."

Debra Hopkins' dream function simply does not have an off switch. "If I dropped dead right now I would have to be resurrected right now," she says. "Because I'm not finished."





Click for online
calendars and events.
E-mail to Features Editor
---
---
© 2001 Honolulu Star-Bulletin
https://archives.starbulletin.com