CLICK TO SUPPORT OUR SPONSORS

---

---
Monday, June 4, 2001
Kauai hiker rescued
after rescuers are, too

A helicopter crashes in Hanalei Valley;
hiker is the only one injured

---

Star-Bulletin staff

LIHUE >> A Kauai Fire Department rescue team had to be rescued by the U.S. Coast Guard yesterday after the helicopter in which the firefighters were riding lost power and crashed in a remote area of Hanalei Valley.

None of the four people on board -- the pilot and three Kauai Fire Department rescue personnel -- was injured, said Neal Hosaka, speaking for the department.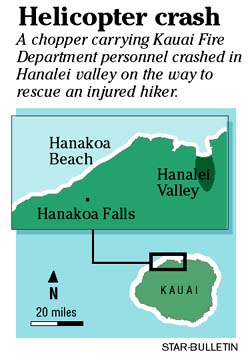 But the injured hiker the Fire Department went out to rescue was left on the Kalalau Trail overnight because priority was given to rescuing the rescue team. The hiker, who had a broken ankle, was picked up this morning by another department helicopter and went to Wilcox Hospital.

Fire Department officials said the initial rescue helicopter was forced down at about 4:30 p.m. at the south end of Hanalei Valley after its engine suddenly quit. The rescue personnel called for help using cell phones and two-way radios.

A Coast Guard helicopter from Barber's Point flew all four survivors to Princeville airport. They were taken to Wilcox Hospital, where they were treated and released.

The initial chopper was owned by a private firm and contracted by Kauai County.
E-mail to City Desk
---
---
© 2001 Honolulu Star-Bulletin
https://archives.starbulletin.com