CLICK TO SUPPORT OUR SPONSORS

---

---
Monday, June 4, 2001
THE SEARCH FOR SIGNS
OF HAWAIIAN LIFE

---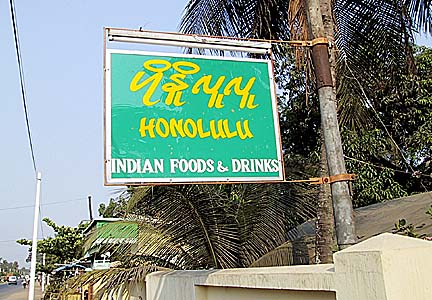 Tom & Tookie Perkins of Waipahu, on their way to Bago,
Myanmar, passed though the town of Hlegu, and this sign
convinced them to stop and have a cool one, "However, it
was siesta time, and in Myanmar most everything closes down,"
notes Tom. "Even those places where the U.S. government
does not want you to vacation in, Hawaii is there anyway."
---
---

"The Search for Signs of Hawaiian Life in the Universe" is just that: We're looking for evidence of Hawaiiana everywhere but Hawaii. Send snapshots and a description to TSFSOHLITU, Honolulu Star-Bulletin, 500 Ala Moana, Suite 7-210, Honolulu, HI 96813, or e-mail JPEGs or TIFFs to HiLife@starbulletin.com.





Click for online
calendars and events.
E-mail to Features Editor
---
---
© 2001 Honolulu Star-Bulletin
https://archives.starbulletin.com