CLICK TO SUPPORT OUR SPONSORS

---

---
Monday, June 4, 2001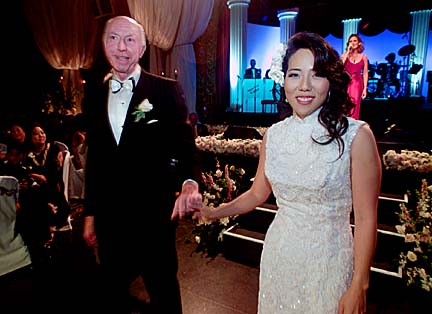 DENNIS ODA / STAR-BULLETIN
Al Masini and bride Charlyn Honda hit the dance floor
to music by Nueva Vida and Anita Hall.
---
The Al and
Charlyn show


The man behind 'Lifestyles of
the Rich' stages his own opulent
wedding ceremony in Waikiki

---


By Tim Ryan
Star-Bulletin

Life imitated art -- at least the TV variety -- when on Saturday producer/entrepreneur Al Masini married local film editor Charlyn Honda at a wedding attended by 350 of the state's most notable at the Royal Hawaiian Hotel.

"I've never seen anything like this; it's like one fantastic dream sequence that keeps getting better and better," said C. Brewer & Co.'s Doc Buyers between bites of ice cream and dances with his wife, actress Elizabeth Lindsey.

Masini, creator and producer of such shows as "Lifestyles of the Rich & Famous," "Entertainment Tonight," "Star Search" and the 1998 "Miss Universe Pageant" in Hawaii, created a theatrical spectacle following a 40-page script. The wedding, themed "Love in Paradise," even had its own 4-by-5-foot color "movie poster" featuring the newlyweds as photographed by Ric Noyle. Several smaller posters of the same image were in the hotel lobby and Monarch Room where the six-hour reception was held.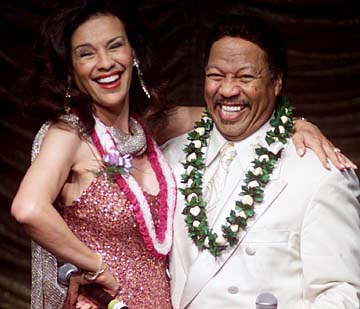 DENNIS ODA / STAR-BULLETIN
Marilyn McCoo and Bill Davis Jr. sang a medley of
Fifth Dimension hits for the newlyweds during
the reception.
---
The poster featured Honda, 29, in a sarong, wrapped in the arms of Masini, 71, in a beach scene reminiscent of old Hollywood film depictions of Hawaii. Each guest received an 8-by-10 version of the poster in a silver frame.

Most wedding receptions have slide or video shows featuring the bride and groom in various stages of growing up, with friends and a couple of travel photos thrown in. Al and Charlyn had that, except their friends include the likes of Regis Philbin and Morgan Fairchild, and their travel pictures featured not only the usual photos of Vegas and Disneyland, but Amalfi, Venice, St. Tropez and Berlin.

In spite of the showy spectacle, the couple was sweetly reverential in their appreciation of their friends and guests who shared the evening with them.

The 6 p.m. wedding ceremony began on cue, a Masini trademark, on the hotel's Ocean Front Lawn. The groom wore a tuxedo with a black bow tie sitting over a slightly larger white one for a distinct contrast.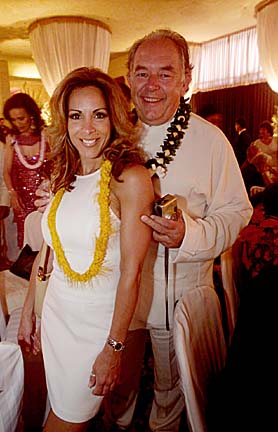 DENNIS ODA / STAR-BULLETIN
"Champagne and caviar" man Robin Leach showed up
with his date, Tatiana Anderson.
---
Two flower girls -- Honda's preteen nieces -- dressed in traditional Japanese kimonos, spread pink and white rose petals over a white linen carpet bordered by more pink rose bouquets across the lawn to a stage surrounded by silk orchids and lilies.

Honda, wearing a halter-front white satin gown designed by Takeo (she would change into a white cheong-sam, also by the designer, for the reception), white pearl earrings and silver rhinestone shoes, was accompanied by her tuxedoed father, Walter, 72, a retired general contractor.

Honda walked to the stage carrying a rose bouquet while a recording of Andrea Boccelli singing "Con Te Partiro" announced her arrival. During the nondenominational ceremony performed by the Rev. Arthur Pacheco, a Boccelli and Celine Dion recording of "The Prayer" was enjoyed by invited guests and a hundred beach-goers gathered on nearby Waikiki Beach watching the event.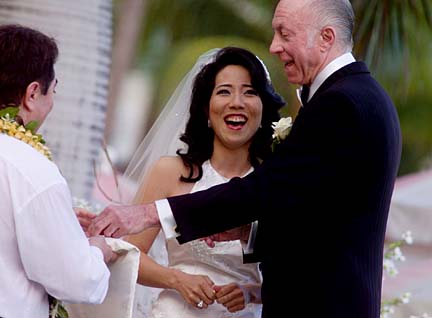 DENNIS ODA / STAR-BULLETIN
The couple shared a laugh during the wedding ceremony.
---
During the brief vow exchange, the two, who have known each other for three years, professed their love for one another. Honda slipped into nervous giggles during her soliloquy until emotion drove her to tears. Masini kissed her on the cheek, then realized his faux pas.

"I know I'm not supposed to do that so soon, but I couldn't resist," Masini told the crowd.

"I love you, Al," Honda whispered, forgetting for the moment that they were wearing microphones.

Following the exchange of vows and rings -- Honda's is a 4.5-carat diamond surrounded by 32 more diamonds, a recording of Arthur Fiedler and the Boston Pops' "Love Is a Many Splendored Thing" played as the newlyweds marched under a shower of more rose petals.

The real party was to be in the redecorated Monarch Room, where the piercing sounds of taiko drummers guided the throng from lawn to the festivities.

Each of the room's dozen pillars was wrapped in white fabric that ballooned to the ceiling, matching the linen-covered tables that sat 10 guests each. Centerpieces were sterling silver candelabras with six white candles. A disposable camera on each table was for guests to photograph one another.

Singer Danny Couch opened by singing "You Are the Best of My Life" and later would sing "Have You Seen These Islands" and "I Love Hawaii." Na Leo Pilimehana sang "When I Think of You," "Hawaii Nei," "Right Before My Eyes," "Saving Forever," "Waikiki," "The Rest of Your Life," "Loving You," and "E' Ho'i Mai Ia'oe." Five Tihati dancers also performed.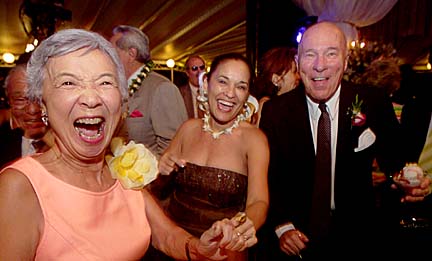 DENNIS ODA / STAR-BULLETIN
Jean Honda, actress Elizabeth Lindsey and C. Brewer
President Doc Buyers have fun on the dance floor.
---
Jim Nabors and Emma Veary, who sat at the table with Gov. Ben Cayetano and first lady Vicky Cayetano and Judge Jim Burns and wife Emme Tomimbang, performed "The Hawaiian Wedding Song" in Hawaiian.

Cayetano, Nabors, Robin Leach (host of "Lifestyles of the Rich & Famous") and Dean Nakagawa, Honda's brother-in-law, toasted the newlyweds.

Leach joked that he had attended many grand weddings -- "most of them Al's -- but this by far is the most splendid." (This is Masini's fourth marriage, Honda's first.)

Most tables were a who's who of Hawaii's social and business people. Former Gov. George Ariyoshi and wife Jean shared a table with newspaper billionaire Barbara Cox Anthony. Big Island rancher and newsmaker Larry Mehau sat at an adjacent table with daughter and son-in-law Tony Vericella, head of the HVCB. KHNL honcho John Fink and wife were with former Playboy playmate Barbi Benton. Also attending were Continental Airlines honcho Ron Wright; Jack and Cha Thompson; University of Hawaii Law School Dean Larry Foster and wife Brenda, Cayetano's executive assistant; Carole Kai and Eddie Onouye; and Al Tomonari of Neiman Marcus with his wife, Joyce.

The three-course meal included seared scallops with truffle shavings, roasted Pacific onaga, beef tournedos topped by foie gras and, for dessert, a chocolate sampler.

Outside the Monarch Room was a 25-foot-long ice cream bar, representing Masini's favorite treat.

Longtime Masini friends Marilyn McCoo and Billy Davis, formerly of the Fifth Dimension, performed a medley of nine songs, including "Age of Aquarius," "Up Up and Away," "Wedding Bell Blues" and two special dedications, "I Believe in You and Me" and "You Don't Have to Be a Star."

The event then took a traditional path with the couple slicing a spectacular six-tiered cake, a Cake Couture creation featuring dozens of lifelike, handmade sugar roses by Carmen Emerson. The couple refrained from shoving cake in each other's faces, gently delivering small forkfuls instead.

Anita Hall, backed by Nueva Vida, sang "Because You Loved Me" as the newlyweds shared the first dance. They were soon joined by most of the guests on the dance floor.

The entire event was videotaped, including all "major" complete setups inside and outside the Monarch Room.

The cost of the event? No one's saying, but sources in the wedding business estimated it to be as much as $250,000, including air fare and accommodations for out-of-town guests from as far as New York and the Philippines.

---

Nadine Kam contributed to this report.





Click for online
calendars and events.
E-mail to Features Editor
---
---
© 2001 Honolulu Star-Bulletin
https://archives.starbulletin.com