CLICK TO SUPPORT OUR SPONSORS

---

---
Tuesday, May 29, 2001



[PREP BASEBALL]
---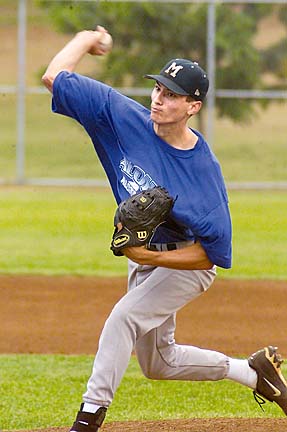 FL MORRIS / STAR-BULLETIN
Mid-Pacific Institute's Ricky Bauer of the Aloha All-Stars
hurled a pitch during the Sugar Mill Senior Classic All-Star
game at Hans L'Orange Park in Waipahu yesterday.
---
Aloha stars
bombard
Sugar Mill foes


The baseball team, made up
mostly of ILH players, blanks the
public-school stars in
prep all-star game

---


By Jason Kaneshiro
Star-Bulletin

The state high school baseball championship may belong to the public schools this year, but seniors from Oahu's private schools made a statement yesterday in the Sugar Mill Senior Classic at Hans L'Orange Park.

The Aloha All-Stars, composed of Interscholastic League of Honolulu players and six neighbor island stars, trounced the Hawaiian All-Stars, 14-0, in the third annual showcase for the state's top high school seniors.

Eight Aloha All-Star pitchers combined to keep the Hawaiian All-Stars, featuring Oahu Interscholastic Association seniors and five neighbor islanders, off the scoreboard. But the final score was secondary to the opportunity the game provided for players to display their talents before the professional and college scouts in attendance.

"I think any time you can have an all-star game, the benefits outweigh any negative you can have," said Coop DeRenne, a former University of Hawaii assistant coach and head coach of the Aloha All-Stars. "It gives the local players another chance to be exposed. There are college coaches from the mainland here; professional scouts are here. I'm hoping some day this thing becomes as big as what they do in California, Texas and Florida.

"When I was coaching, these kinds of games would help me recruit," he added. "I could see the best against the best under pressure. ... In a game like this, as fun as it is, when you go up there one-on-one, there's some pressure there."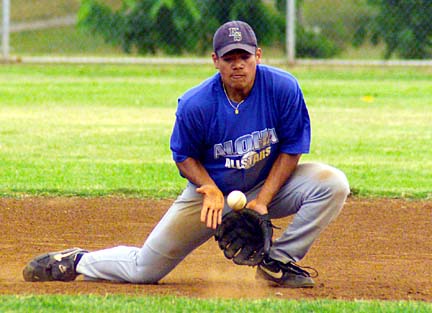 FL MORRIS / STAR-BULLETIN
Jherell Miller from Kamehameha, playing third base, fields
a ground ball. He made the play to first for the out.
---
Nine days after Kailua claimed the state title for the OIA, the Aloha All-Stars took advantage of seven errors by the Hawaiian All-Stars and 10 walks en route to the rout. Kamehameha's Bronson Sardinha, Iolani's Blaine Umeda and Brad Takamori and Mid-Pacific's Dane Marcouiller recorded run-scoring singles in a seven-run, first-inning outburst, as the Aloha All-Stars took control early.

Marcouiller went 2-for-3 at the plate and recorded the game's only extra-base hit with a double down the third-base line to lead off the third inning.

Hilo's Kaine Charleston turned in the defensive play of the game with a sprawling snag of a line drive to right field off the bat of Kauai's Mark Rodrigues.

Sardinha, who expects to be selected in the Major League Baseball draft June 5, raised his stock yesterday. The shortstop went 3-for-4 and used a wooden bat in preparation for professional ball. He also launched several shots over the right-field fence during batting practice.

"My goal today was just to get better and try to get ready just in case I sign after the draft," said Sardinha, who has been contacted by the New York Yankees, Cleveland Indians, Atlanta Braves, Minnesota Twins and Chicago White Sox. And if the draft doesn't go to his liking, Sardinha has already signed a letter of intent to attend Pepperdine University.

"I'm hoping I get drafted high enough so I can start playing professional baseball," he said. "That's been my lifelong dream, and if I get drafted high enough, I'll be living it."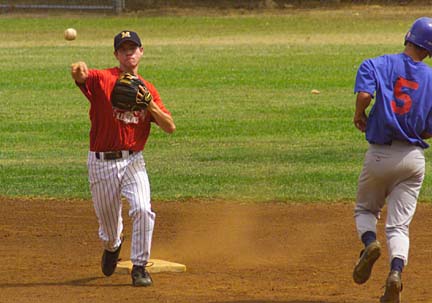 FL MORRIS / STAR-BULLETIN
Hawaiian All-Stars' Cy Donald from Mililani throws to first
to complete a double play. Aloha All-Stars runner
Ryan Kitamura was called out.
---
For Rodrigues, the game presented a chance to not only be seen, but to test his abilities against the best in the state.

"I just wanted to see who had what," said Rodrigues, who caught a flight into Honolulu from Kauai early yesterday morning to play in the game. "I heard about everybody, so I came out and it was amazing. These guys are pretty good."

Rodrigues got the most work of the 15 pitchers who took the mound yesterday afternoon, throwing the final three innings for the Hawaiian All-Stars. The left-hander, whose fastball approaches 90 mph, has received interest from the Cincinnati Reds and Kansas City Royals, and also hopes to be selected in the draft. If not, he'll attend a junior college.

"They told me to stay home on June 6 and they may give me a call," Rodrigues said.

But for most of the 44 players who participated, the contest represented a chance to take the field a final time as high schoolers, and share a dugout with players they competed against throughout their careers.

"We're just having fun out here, playing our best," Sardinha said. "We all get along good and we know what we have to do. It's a lot better playing with these guys. You're more relaxed."

At Hans L'Orange Park

| | | | | | | | |
| --- | --- | --- | --- | --- | --- | --- | --- |
| Aloha All-Stars | 711 | 003 | 200 | -- | 14 | 14 | 1 |
| Hawaiian All-Stars | 000 | 000 | 000 | -- | 0 | 5 | 7 |

Hubert Pruett, Ricky Bauer (3), James Onaga (4), Kea Kometani (5), Corey Yamamoto (6), Kelii Correa (7), Reid Matsushima (8), Peter Phillips (9) and Kurt Suzuki, Travis Mitsuda (5), Kwinton Estacio; Chad Bailey, Lance Fujii (2), Casey Onaga (4), Daniel Kawahakui (5), Scott Oshima (6), Ryan Hanohano (7), Mark Rodrigues (7) and Jay Baptista, Gavin Concepcion (4), Richard Killen (7). W--Pruett. L--Bailey.
Leading hitters--Aloha: Bronson Sardinha, 3-4, RBI; Dane Marcouiller, 2-3, 2B, RBI; Royce Fukuroku, 2-2, RBI; Spencer Kam, 3 RBIs.
E-mail to Sports Editor
---
---
© 2001 Honolulu Star-Bulletin
https://archives.starbulletin.com