CLICK TO SUPPORT OUR SPONSORS

---

---
Tuesday, May 29, 2001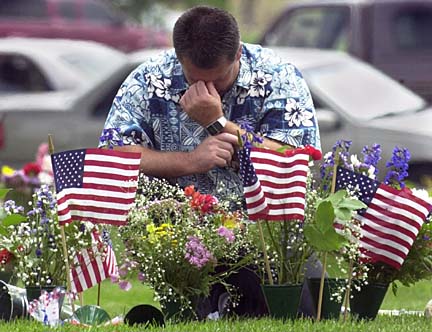 ASSOCIATED PRESS
Clayton Montgomery of Hesperia, Calif., visited the grave of his
brother, Army Warrant Officer Gregory I. Montgomery, yesterday
in Riverside, Calif. The soldier died in February in a helicopter
crash during a night flight on Oahu's North Shore.
---
Not just in
war do GIs serve
and die


A general remembers
soldiers who lost lives on
peacetime missions

---

By Treena Shapiro
Star-Bulletin

On a day established to pay tribute to those who died in war, the state adjutant general, Maj. Gen. Edward L. Correa Jr., made a point to remember those who died serving their country in peace.

Speaking yesterday at the governor's annual Memorial Day ceremony at the Hawaii State Veterans Cemetery, Correa said, "Whether in peace or war, the profession of arms is a dangerous one."

Using examples dating to the helicopter crash in Kahuku on Feb. 12, Correa pointed out that 43 American servicemen have died in less than three months.

There are also nine Vietnamese who died cooperating with the United States to locate men missing from the Vietnam War when a helicopter crashed on April 7.

"Most, with the exception of family, friends and their services, don't make the connection (that Memorial Day should honor) those who served and died in peacetime. It happens -- and it happens all too often," Correa said.

At other Memorial Day services yesterday, tribute was paid to men whose contributions had been overlooked and those who have been able to walk away from the battlefield.

At the USS Arizona Memorial, two men previously overlooked were added to the Remembrance Circle Exhibit, which lists the names and locations of military personnel and civilians killed in the 1941 attack on Pearl Harbor.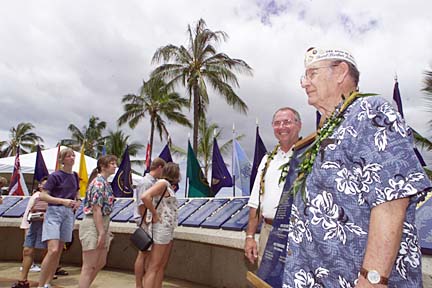 RICHARD WALKER / STAR-BULLETIN
Elmo Rash, right, who was aboard the USS Shaw during the
Pearl Harbor attack, and Jimmy Porter, nephew of Ernest
Porter Jr., who died on the Shaw, stood together
yesterday at Pearl Harbor.
---
Ernest C. Porter Jr., EM2C, received critical injuries when the destroyer USS Shaw was bombed, and later died in a California hospital.

His name was finally included on the casualty list at the memorial yesterday, after his shipmate Elmo Rash worked for years to correct the omission.

Virgil P. Rahel, a federal government employee at Hickam Field who had been killed by machine gun fire, was added to the civilian section of the exhibit after his omission was noted by Roy Emory, Pearl Harbor Survivors Association state chairman.

At the National Cemetery of the Pacific at Punchbowl, Mayor Jeremy Harris paid tribute not only to the war casualties, but also the soldiers who had sacrificed years of their lives to serve their country and the families who supported them.

"Those who survived the hell of battle gave years of their lives that might have been spent in college, building a career or starting a family. Some of them had to abandon their dreams when they returned from war with disabilities or wounds that would not heal," he said.

Harris said Memorial Day was a time to honor all men and women with the willingness to serve their country, even if it meant the loss of their lives.

"Every man or woman who has served in America's military -- in peacetime or in war -- deserves our heartfelt gratitude."
E-mail to City Desk
---
---
© 2001 Honolulu Star-Bulletin
https://archives.starbulletin.com