CLICK TO SUPPORT OUR SPONSORS

---

---
Island Images



Saturday, May 26, 2001
---
IMAGINE THE 'BLUE DANUBE'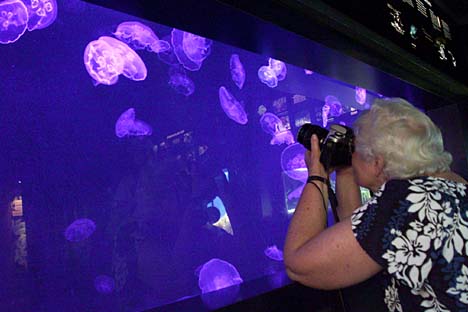 CRAIG T. KOJIMA / STAR-BULLETIN
Visiting the Waikiki Aquarium with her husband, Ron, Irene Holman
snapped off a few photos of the new jellyfish exhibit Thursday.
---
SPECIAL OLYMPICS BEGINS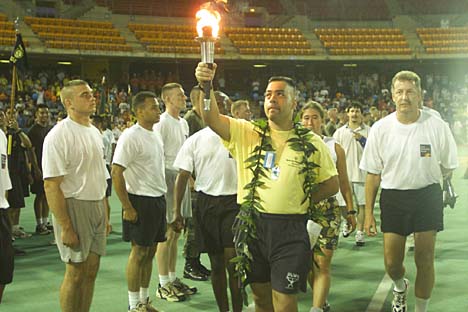 GEORGE F. LEE / STAR-BULLETIN
Special Olympian Ray Donager brought the flame of the Troy Barboza
Law Enforcement run, a Special Olympics fund-raiser named after
a Hawaii policeman killed in the line of duty, to Rainbow Stadium
last night for the Olympics' opening ceremonies.
At right is City Prosecutor Peter Carlisle.
---
BOMBS AWAY!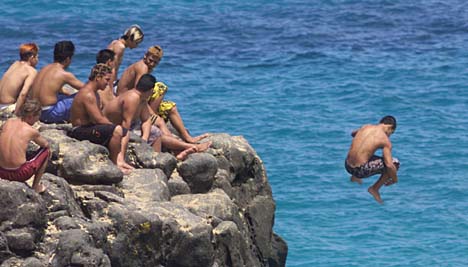 CRAIG T. KOJIMA / STAR-BULLETIN
Jeremy Miner of Ewa Beach took a cannonball dive into some surf
Wednesday at Waimea Bay. It is a 40-foot drop into the ocean.
---
E-mail to City Desk
---
---
© 2001 Honolulu Star-Bulletin
https://archives.starbulletin.com