CLICK TO SUPPORT OUR SPONSORS

---

---
Saturday, May 26, 2001
HAWAII ARMY AVIATOR
BURIED AT ARLINGTON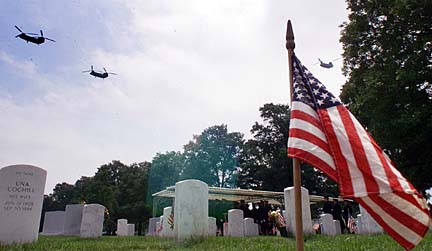 DOUG MILLS / ASSOCIATED PRESS
Chinook helicopters flew over Arlington National Cemetery, above, in Arlington, Va., yesterday during funeral services for five members of a helicopter crew that died in Vietnam on Oct. 28, 1968.

One of those killed aboard the helicopter, nicknamed Freight Train 053, was Warrant Officer Henry "Hank" Knight, who attended Waipahu High School as a junior in 1960 but spent his senior year at North High in Bakersville, Calif. He later enrolled at the University of Hawaii, where he spent two years studying marine biology before he was drafted. The doomed flight was Knight's first mission in Vietnam.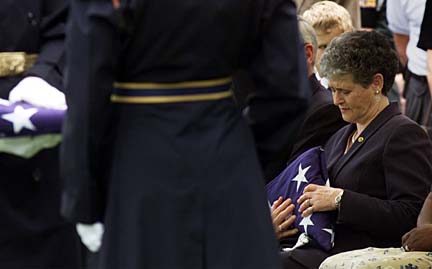 DOUG MILLS / ASSOCIATED PRESS
Above, Sandra Bridges, sister of Staff Sgt. Jerry Bridges, held the flag that draped Bridges' casket during the service. At bottom, Challenger, a bald eagle, performed a flyover at the cemetery, marking the first time an eagle was used for a funeral at Arlington.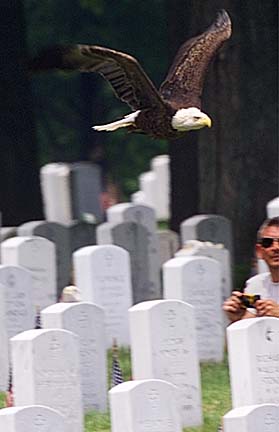 DOUG MILLS / ASSOCIATED PRESS
---



E-mail to City Desk
---
---
© 2001 Honolulu Star-Bulletin
https://archives.starbulletin.com