CLICK TO SUPPORT OUR SPONSORS

---

---
Saturday, May 26, 2001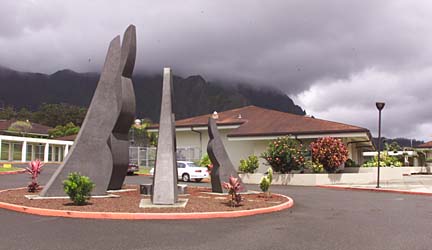 KEN SAKAMOTO / STAR-BULLETIN
The state hospital in Kaneohe sits at the foot of the
Koolau Range, below the elevated H-3 Freeway.
---
State Hospital
problems spark visit
by lawmakers

---

By Lisa Asato
Star-Bulletin

Three state lawmakers visited the Hawaii State Hospital yesterday, prompted by increasing federal oversight of the Kaneohe facility, as well as a series of escapes.

House Health Chairman Dennis Arakaki, who led yesterday's contingent, said a lot remains to be done to tackle critical issues of patient care, staff retention and safety.

"Facility-wise, we're on the right track," said Arakaki (D, Kamehameha Heights-Kalihi Valley). "We have state-of-the art buildings, but it's the people who make the difference in what kind of treatment we have and how the patients are treated. There's still a lot of management issues that have to be addressed."

Problems at the hospital stem from its struggle to comply with a 10-year-old consent decree that requires it to meet federal laws and standards in patient treatment and services.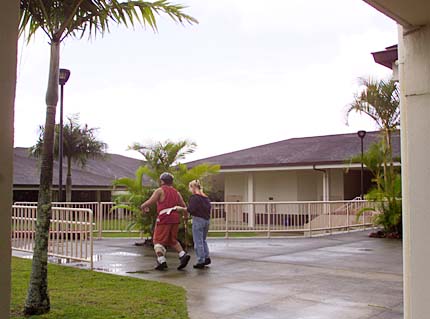 KEN SAKAMOTO / STAR-BULLETIN
One lawmaker says management issues need to be addressed
at the Hawaii State Hospital, which has been struggling to
meet federal laws and standards in patient care.
---
On May 17, U.S. District Judge David Ezra stepped up federal oversight by appointing a special master to oversee the hospital's improvements.

Recently, two escapes or "unauthorized leaves" occurred in one week. One patient, Leonard Moore, escaped twice in two months and eluded authorities for 39 days.

After Moore's second escape and more than a month on the loose, Honolulu police caught him in the Kahala area, where he is a suspect in a series of burglaries and auto thefts.

Kaneohe Rep. Ken Ito said he was concerned for the community's safety, adding he would work with the state departments of Public Safety and Health to expand facilities at Oahu Community Correctional Center to ensure a safer, securer facility for the hospital's criminal patients.

---



E-mail to City Desk
---
---
© 2001 Honolulu Star-Bulletin
https://archives.starbulletin.com