CLICK TO SUPPORT OUR SPONSORS

---

---
Saturday, May 26, 2001
[ ON FAITH ]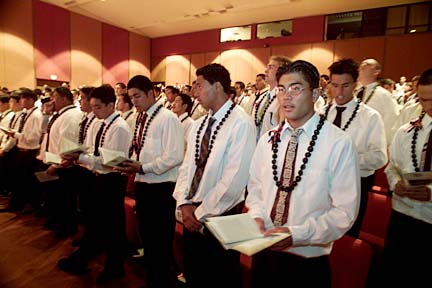 DENNIS ODA / STAR-BULLETIN
St. Louis School graduating seniors sang Wednesday at the
beginning of their baccalaureate Mass at Mamiya Theatre.
---
Church schools'
seniors look to God
at graduation


Tributes to parents, teachers
and each other round out
the ceremonies

---

By Mary Adamski
Star-Bulletin

Damien High School seniors wrote letters to their parents during a spiritual retreat earlier this month. They were to present them today during a baccalaureate Mass at St. Augustine Church.

When the Hawaii Baptist Academy graduating class gathers at 3 p.m. tomorrow at the First Baptist Church of Pearl City, they will hear Beth Fukumoto give testimony about her relationship with God.

Lutheran High School's Class of 2001 last year chose "I can do all things through God, who strengthens me," a verse from St. Paul's letter to the Philippians, as their theme. It will be reprised in a 4:30 p.m. June 3 worship service for the 35-member class, family and friends at Our Redeemer Lutheran Church. Graduation will be June 8 at Kaimuki High School.

In counterpoint to the state's sensitivity about keeping religion out of public-school events, the island's church-connected schools have traditions of sending graduates forth into the world with prayers and blessings.

Retired Catholic Bishop Joseph Ferrario was to preside at the Damien service at 10 a.m. today, and that is also a tradition, said Brother Greg O'Donnell, principal of the Catholic boys school. "It's a highly emotional time," he said, as each boy presents his letter and a flower to his mother. The Damien graduation weekend was to continue with an awards breakfast today and the 11 a.m. commencement tomorrow at Blaisdell Concert Hall. The 100 "young men will graduate in tuxedos. ... There is nothing casual about our graduation," O'Donnell said.

The 100 Hawaii Baptist Academy seniors "are very much aware this will be their last experience of worshipping together," said senior counselor Martha Harless.

The students asked their math teacher Dawn Dang to speak. Sarah Murphy and Yoshimi Sukumura will tell the story of the good Samaritan in a Christian hula, backed by singers and musicians from the class. They will graduate next Saturday at Blaisdell Concert Hall.

Unlike the crowd of friends and family expected at the Sacred Hearts Academy graduation tonight at Blaisdell Concert Hall, the Catholic girls school kept its Thursday night campus baccalaureate Mass "more intimate and private" with only parents of the 130 seniors invited, said Principal Betty White. She said class advisor Karen Muramoto would speak "not on academic accomplishments, but on development of their spiritual dimension."

In contrast, the St. Andrew's Priory baccalaureate at 3 p.m. tomorrow at St. Andrew's Cathedral is open to all comers, but the June 3 graduation is limited to ticket-holders. Episcopal Bishop Richard Chang will preside at the liturgical service; the 30 senior girls will participate by reading Scripture and singing. The graduates wear holoku and, in a school tradition, are presented with cords they wear like a lei. A red cord indicates an honors student, silver is worn by the class prefects, and girls who have attended the school since kindergarten or first grade are given white cords indicating they are "daughters of the Priory."

Senior Mia Evaimalo, who has served as "keiki kahu" or spiritual leader of the 434-member Kamehameha Schools class at events all year, will join the Revs. David Kaupu and James Fung as a speaker at the school's service at 8 a.m. tomorrow at Kawaiahao Church. The class, which has blended voices in annual song competitions and regular campus chapel services, "knows this is the last opportunity to sing together," said spokesman Kekoa Paulson. "Sail On, Oh My Soul" is a hymn always sung at the baccalaureate. Commencement is at 7 p.m. tomorrow at Blaisdell Center.

When the 415 seniors of Punahou School and their parents fill Central Union Church tomorrow morning, there will be no need to make room for a choir. The students have sung together at weekly chapel services, including a special senior chapel earlier this week. Seniors Lisa Burns and Adrienne Leduc composed a song, "First Flight," and the theme is carried through by the program illustration by John Chock. It will be sung along with the traditional "Queen's Prayer." The keynote speaker is a teacher selected by the students, whose identity is held secret until the service. The young men and women will wear suits and holoku, which is also the dress for graduation Saturday night at Blaisdell Center arena.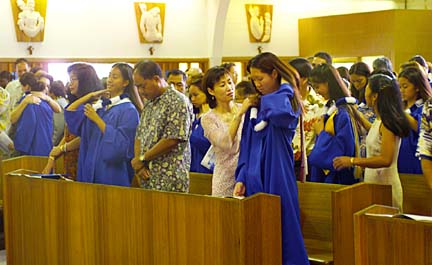 KEN SAKAMOTO / STAR-BULLETIN
St. Francis High School seniors adjusted their leis last
Saturday prior to a baccalaureate Mass at St. Pius X
Catholic Church in Manoa.
---
Mid-Pacific Institute marks its missionary roots when senior girls traditionally sing the Hawaiian song "Kawaiahao" about the Manoa campus building, which is named for the first Congregational church on Oahu. Seniors will share in the Scriptural readings at their 6:30 p.m. service June 1 at Central Union Church. School alumni will host a reception for the 143 graduates afterward. Graduation is June 2 on campus.

Some schools use the year-end services as a ceremonial way to pass the torch to the next graduating class. Hawaiian Mission Academy juniors will be the honor guard for the 47 graduating seniors at an 8 p.m. Friday consecration service at the Central Honolulu Seventh-day Adventist Church, 2313 Nuuanu Ave. Graduates present flowers as a tribute to their parents during the service.

In a tradition shared by most schools, the Mission Academy youths chose a motto: "Give the world the best you have, and the best will come back to you." Principal Josue Rosado said parent Lisa Haina will issue a spiritual challenge to carry through on education that aimed "to prepare them for a life of service lived by Christian values."

Maryknoll High School seniors will "turn the school over to the juniors" in a one-to-one candle-passing ceremony at Class Night June 7 at Hawaii Theatre. At the end, only the juniors are left onstage. Alumna Yvonne Morris said another tradition, which she said used to be done in secret, is painting the banyan tree on the Makiki campus. The juniors will replace the intricate designs done last year by the seniors.

The full weekend for the 130-member Maryknoll Class of 2001 will begin with a 9 a.m. June 7 baccalaureate mass at Sacred Heart Church, followed by breakfast prepared by the sophomores, and conclude with the 5 p.m. commencement June 8 at Blaisdell Concert Hall.

Parents participated in the St. Francis High School Mass last Saturday, placing the caps on their daughters and blessing them before they marched into St. Pius X Church.

Eighty girls graduated in the commencement Sunday at Hawaii Theatre.

Tomorrow will be the first baccalaureate and graduation at the St. Francis Kauai campus. Graduating are 17 boys and girls.

St. Louis School boys participated as lectors and altar servers in the baccalaureate Mass celebrated by the Rev. Allen DeLong, school president, Wednesday at Mamiya Theatre.

The 142 seniors were to graduate in a 1:30 p.m. celebration today at Blaisdell Center Concert Hall.

---




RELIGION
View from the Pew
by Mary Adamski
E-mail to City Desk
---
---
© 2001 Honolulu Star-Bulletin
https://archives.starbulletin.com