CLICK TO SUPPORT OUR SPONSORS

---

---
Saturday, May 26, 2001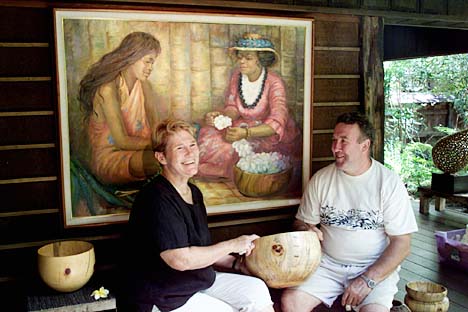 CRAIG T. KOJIMA / STAR-BULLETIN
Daisy Holzman and Bryan Carter sit outside their Kahaluu
gallery with some of the treasures that will be sold
there this weekend.
---
A parcel in paradise


Kahaluu estate opens to the
public for Memorial Day
weekend art and plant sales

IN THE GARDEN

---

By Suzanne Tswei
Star-Bulletin

It's impossible to talk about Daisy Holzman's garden without talking about her home, her art gallery, the family dog (a Shar-Pei named Zell), the aviary or her husband, Bryan Carter. They're all a complete package on a 1-acre estate in Kahaluu, known as the Gallery & Gardens LLC.

"We have been very happy here. It's a special place. It's really been a slice of paradise," Holzman said.

Nestled under the Koolaus in Kahaluu, the property has been a quiet tourist attraction since it was first built by artists Hiroshi Tagami and Richard Hart in 1977. The two artists wanted a place where they could live, paint, create ceramics and display their work.

The exotic animals -- lemurs and a lion cub that Hart adored -- are long gone now. Zell, who has the full run of the place, and a variety of birds are the resident mascots now.




SPRING ART AND PLANT SALE
THE GALLERY & GARDENS LLC

Place: 47-754 Lamaula Road, Kahaluu
Time: 10 a.m. to 5 p.m. today, tomorrow and Monday
Admission: Free
Call: 239-8146




Holzman and Carter, who had managed wilderness lodges in Papua New Guinea, bought the unusual property in 1997. They have maintained it as a gallery and spruced up the large garden filled with rare tropical plants.

This weekend, the couple is hosting an art and plant sale, which is open to the public. The art includes paintings, jewelry, ceramics, and glass and wood pieces.

Admission is free, and visitors are welcome to roam the grounds for a close-up view of the garden.

Among the plants for sale are voodoo lilies, colorful ti plants, hybrid day lilies and Chinese magnolia trees, which have a discreet creamy flower that smells like piña coladas.

If you're interested in a Chinese magnolia, better get there early. There will be only two plants for sale, each going for about $50.

If you see a plant you like that isn't for sale, simply ask the couple to make you a cutting. Carter is used to cutting large staghorn ferns right off the tree to please plant-seekers.

"Very often, people want exactly what they see. We like to have them look around and tell us what they want," Carter said.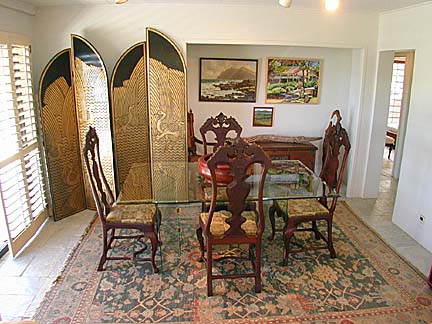 CRAIG T. KOJIMA / STAR-BULLETIN
The Gallery & Gardens LLC interior has art-gallery appeal.
---
Day lilies with their elegantly colored blossoms attract a lot of attention, and visitors always want a particular plant because of the blossoms, he said. If you want one in particular, Carter will put your name next to it, and after it finishes flowering, he'll dig it up and divide a plant off the parent plant for you.

(By the way, day lilies aren't just pretty to look at as color accents in the garden or as ground cover when they aren't flowering. The blossoms also are edible. The petals are delicate, sweet and velvety in texture, kind of like a fragrant butter lettuce. Even Zell likes them.)

"He's pretty much in charge of the garden," Holzman said of her husband, who is not a gardener by training or hobby. Carter grew up on a farm in New Zealand and knew about plants in general but had to learn about maintaining the property on the job. He's made the best use of the signs his wife has put up identifying the plants.

"People always think I'm a botanist, but I'm not. What they don't know is, I can read signs while they are looking up at the tree. I can be very impressive when I read the signs," Carter said.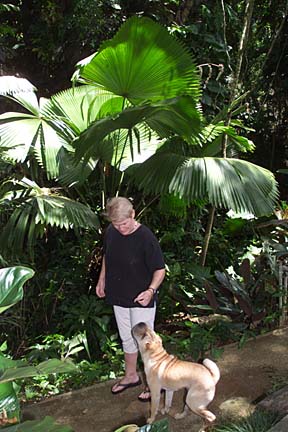 CRAIG T. KOJIMA / STAR-BULLETIN
Daisy Holzman romps in the garden with
family Shar-pei Zell.
---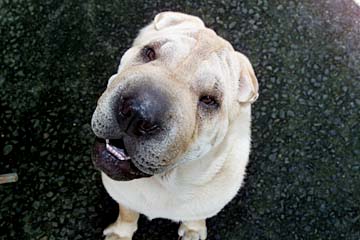 CRAIG T. KOJIMA / STAR-BULLETIN
Zell mugs for the camera.
---
Carter can be a very impressive wood-turner as well, another hobby that he began on the Windward property. He bought a lathe and taught himself to turn large wood bowls. (He injured two fingers recently but isn't the worse for wear.) His work is included in the art sale.

"As you can see, he's central to the operations here," his wife said. Carter is the daily handyman who maintains the grounds, cares for the plants and birds, creates art and keeps up their two-bedroom home, gallery spaces and other buildings on the property.

This is a piece of cake for Carter, who was a logistics coordinator for the United Nations in war-torn Bosnia. The couple met in Papua New Guinea when their offices were across the street from each other.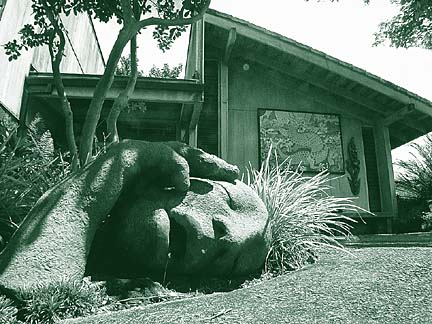 CRAIG T. KOJIMA / STAR-BULLETIN
Sculpture is part of the landscape at The Gallery & Gardens LLC.
---
Holzman keeps house, runs the gallery, does the bookkeeping and helps Carter with his chores. They have maintained the place mainly by themselves and made a number of improvements.

As much fun as it has been for them, Holzman and Carter have decided to sell the property to allow them greater freedom for travels. The property is listed for sale at $930,000 through Realtor Rita Wong.

The property includes a two-bedroom home that serves as the couple's private quarters, an office that can be used as guest quarters, two gallery buildings, a party pavilion, a greenhouse, a workshop, an aviary, a sauna and hot tub, and views of the ocean and the Koolaus.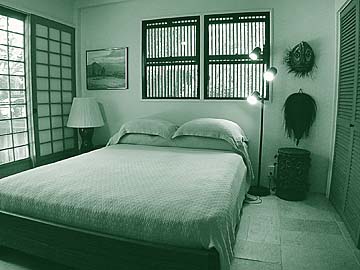 CRAIG T. KOJIMA / STAR-BULLETIN
The bedroom at the Kahaluu property mixes Asian and modern
motiffs. If you see a plant that isn't for sale, ask the Daisy
Holzman or Bryan Carter for a cutting.
---
The property has a conditional-use permit that allows the operations of the gallery. The couple also opens the grounds to the public on weekends and for groups holding special functions. Call 239-8146 for more information.

"This place is our private home, but it also is a place where we work. It's also a public place, and I have to keep that in mind all the time," Holzman said.

The advantage is that there's no commute, but the downside is that everything must be spick-and-span at all times, especially when it's open to visitors.

"I have to have my private time, and I have to make sure I set the boundaries," Holzman said.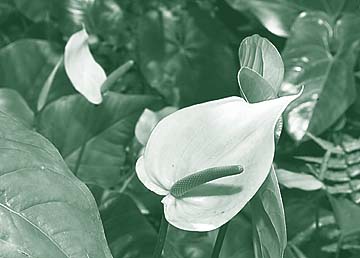 CRAIG T. KOJIMA / STAR-BULLETIN
Anthuriums are scattered throughout the garden.
---
She's religious about putting up the "closed" sign at the front door when she's not open for business. And having their private quarters separate from the gallery is a plus. At the end of the working day, she can shut the door, walk a few steps to her home and forget about work, she said.

Despite the size of the property and the number of buildings that the couple must maintain, their life at the Gallery & Gardens has been a breeze compared to managing wilderness lodges in Papua New Guinea.

"We are talking about wilderness, WIL-DER-NESS. We had to get our electricity from a generator and our water from the river. This place is really vacation for us," Holzman said.





Click for online
calendars and events.
E-mail to Features Editor
---
---
© 2001 Honolulu Star-Bulletin
https://archives.starbulletin.com