CLICK TO SUPPORT OUR SPONSORS

---

---
Island Images



Friday, May 25, 2001
---
WE'D BETTER GET OUT
BEFORE THE TIDE ROLLS IN!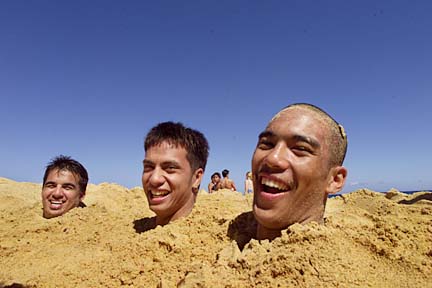 DENNIS ODA / STAR-BULLETIN
Moanalua High students Jeremy Kam, from left,
Kapono Haynes and Jon Bareng dug a pit in the
sand and were buried in it by their friends at
Sandy Beach on Wednesday.
---
RAISING THEIR VOICES
TO A HIGHER BEING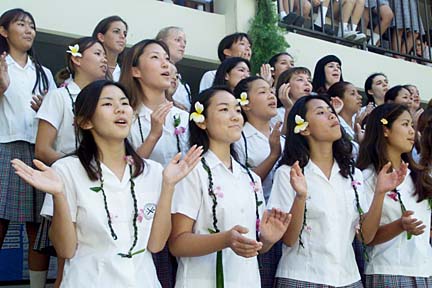 CRAIG T. KOJIMA / STAR-BULLETIN
St. Andrew's Priory School junior and senior girls serenaded
each other as part of Ascension Day festivities yesterday.
The celebration marks the day Christ ascended to heaven
as well as the day the school was founded in 1867 by
Queen Emma. Tiffany Young, left, Erica Yamashiro
and Vivian Hignite were among the juniors singing
for the seniors.
---
ICE IS NICE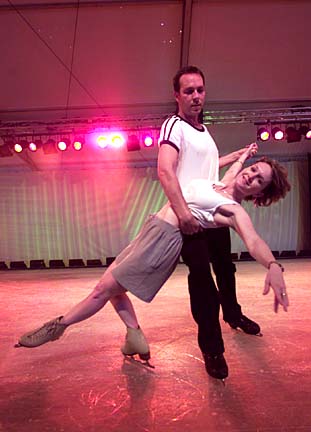 KEN IGE / STAR-BULLETIN
Jennifer Ward and Todd Clark practiced their
performance yesterday for the Celebration on
Ice show at the 50th State Fair, which starts
today at Aloha Stadium. A 60-by-36-foot ice
rink was specially made on site for the event.
---
E-mail to City Desk
---
---
© 2001 Honolulu Star-Bulletin
https://archives.starbulletin.com