CLICK TO SUPPORT OUR SPONSORS

---

---
Friday, May 25, 2001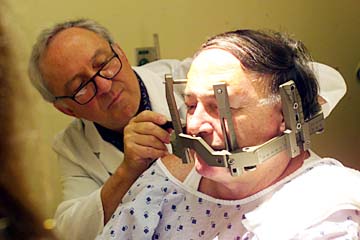 FL MORRIS / STAR-BULLETIN
Dr. Maurice Nicholson, left, adjusted the head frame on
patient Gary Frost prior to Frost going into the machine
at the Gamma Knife Center of the Pacific at St. Francis
Hospital.
---
New 'knife' lures
cancer patients to
Hawaii for care


Doctors at St. Francis have
been marketing the service online

---


By Helen Altonn
Star-Bulletin

New Zealander Gary Frost didn't come to Hawaii to see the scenery, but to avoid having his skull cut open.

The 66-year-old man underwent treatment for a brain tumor yesterday in the Gamma Knife Center of the Pacific at St. Francis Medical Center.

No cutting is done or blood shed with the Leksell Gamma Knife. It's surgery without a scalpel.

Frost left the hospital saying he was "ready to run a marathon."

"I've never run a marathon and I'm not likely to either," he added. "But I feel pretty good. I'll be back to normal by tomorrow."

The center's medical director Dr. Maurice Nicholson, who helped bring Hawaii's only Gamma Knife here, said it isn't a knife at all but a radiosurgical device that treats brain tumors with 201 sources of precisely focused radioactive cobalt 60.




Gamma 'Net chat

Star-Bulletin staff

Dr. Eric Oshiro is scheduled to host a live chat on the Gamma Knife from 2 to 3 p.m. today, entitled "Facial Pain (Trigeminal Neuralgia) & Gamma Knife Treatment." The monthly Gamma Knife chat is part of an effort by the Gamma Knife Center of the Pacific to expand its market to Australia, New Zealand and Canada.

To participate, log on to www.stfrancishawaii.org or its sister site at www.americasdoctor.com.

The chat is free and accessible around the world.

To visit the Gamma Knife Web site, go to www.gammaknifehawaii.com.

For those unable to participate, a transcript of the chat will be posted in the library archive of AmericasDoctor.com




The ultraprecise device is used for very small tumors and those close to the optic nerve or critical brain structure.

Conventional open-skull brain surgery involves five to seven days recovery in the hospital with at least one day in the Intensive Care Unit, which is very expensive, Nicholson said. "And if there is any kind of complication with surgery, the patient could be in the hospital for weeks, with rehabilitation and everything."

Gamma Knife is a one-day outpatient procedure that allows the patient to return to normal activities the next day, he said.

"So Mr. Frost can spend his recovery period at the beach."

With winter coming in New Zealand, Frost said he and his wife, Stasia, plan to stay in Hawaii another week and "just enjoy the climate."

Nicholson said more than 200 patients have been treated with the Gamma Knife since St. Francis acquired it about two years ago.

"That's 200 people who avoided having their head opened up," he said.

"We're very happy with performance of the machine, and we're happy with the interest by local neurosurgeons," he added, noting that about seven are trained in using it.

Nicholson said there are only about 40 Gamma Knifes in the United States and about 128 in the world because it's a big investment and not something commonly needed.

There are no Gamma Knifes in New Zealand, Australia or Canada, and the St. Francis center is trying to draw more patients from those areas. The center also is looking to Alaska for patients.

"A lot of people in Alaska like to come to Hawaii," Nicholson said. "Why not come here if they have to have Gamma Knife?"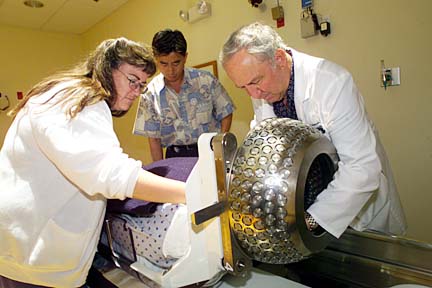 FL MORRIS / STAR-BULLETIN
Frost is readied by Michelle Thomas,
Hong Guo and Nicholson for the procedure.
---
Frost, who has acoustic neuroma, a type of benign brain tumor, learned of the Gamma Knife and the Hawaii facility on the Internet. When diagnosed with the slow-growing tumor about five years ago, he said he was encouraged to have an operation while it was small.

But he was reluctant to have surgery after looking into it, he said. He found a small percentage ended up with paralysis and opening the skull poses risks of infection and other problems, he said.

He said that other than a little loss of hearing, his tumor wasn't affecting him, so he looked on the Internet for an option to surgery. He got the Acoustic Neuroma Association's home page and read case studies of people who had brain operations and Gamma Knife.

Exploring the Gamma Knife further, he said, "It seemed to make a lot of sense to me." Nicholson said the success rate for Gamma Knife treatment for Frost's type of tumor has been 98 percent.

The treatment consists of four phases: fixing a frame to the patient's head, making an image of the head, planning treatment for the tumor, and treatment itself.

The patient lies on a couch with the head fixed immobile in a frame. The frame then is placed in a helmet that has 201 pinholes for 201 cobalt-60 radiation beams that attack a tumor.

The total treatment time beginning with fixing the frame varies from 2.5 to six hours, depending on the tumor, Nicholson said.

The time in the Gamma Knife itself can range from 30 minutes up to two hours, with the patient in and out of the unit while adjustments are made.

For those who watch the TV drama "ER," Gamma Knife was one of the treatment options discussed for Dr. Mark Green, a major character on the show portrayed with a brain tumor.

Nicholson said the center receives many inquiries about Gamma Knife.

"We're doing a lot of Internet chats. We have Web sites. That's been really our major marketing for the international area."

He has been asked to give talks in Canada, which he will try to do later this summer, and he may go to Sydney, Australia in the fall.

The Gamma Knife Center has had a wide range of patients, including teens, but most are probably over 40 years of age, Nicholson said.

"My wife and I were both impressed with the people there, their professionalism," said Frost, part-owner of a small electronics company that exports systems and software in Auckland. "I can recommend it." Nicholson said he still gets a letter every six months from the first patient, who also had an acoustic neuroma. She has moved to the mainland and is "doing great," he said.

"She actually said, 'Thank God for the Gamma Knife.'"
E-mail to City Desk
---
---
© 2001 Honolulu Star-Bulletin
https://archives.starbulletin.com