CLICK TO SUPPORT OUR SPONSORS

---

---
Friday, May 25, 2001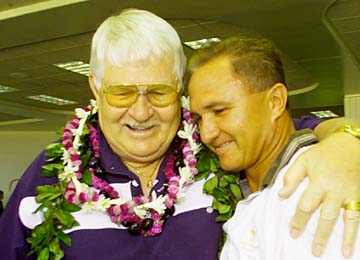 KEN SAKAMOTO / STAR-BULLETIN
Donald Johnson met his son Shay Johnson yesterday
for the first time in 43 years. The resemblance between
the two is evident when comparing photos of them
decades apart.
---
After 43 years,
it's a father and
son reunion


The son finally made contact
after hearing a sermon about Jesus

---

By Lisa Asato
Star-Bulletin

It was a long, hushed and tearful embrace between two strangers bound by the ties of father and son.

It was a hug 43 years in the making.

As the Hawaiian Airlines flight from Portland, Ore., pulled into gate 33 of the Honolulu Airport yesterday morning, Navy Chief Petty Officer Shay Johnson shifted anxiously in his rubber zoris, sniffling softly. The last time he and his father had been together was in 1958, when Shay was six months old.

After Donald Johnson and his wife, Betty, deplaned, Donald made his way to his son, brown-haired and tanned, a spitting image of himself as a young father. Then the two held each other, eyes tightly shut, in a way that said neither wanted it to end.

"God, you look good," his father said.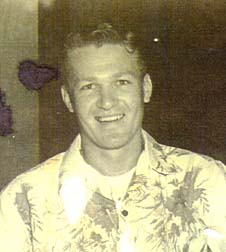 Donald Johnson senior in 1957
---
Another strong hug and the two 6-footers settled into airport seats. Donald stretched his arm around Shay's seat and Shay leaned in a little closer to his dad.

"I'm shaking," Donald said, raising his trembling hands. "I feel wonderful, I feel tremendous. It's been a long time coming."

Shay, 43, and his father, Donald, 71, never had contact until about two years ago. Shay was raised in Haleiwa by his grandmother and his aunt on his mother's side.

Through the years, neither father nor son had made any effort to reach the other.

"It's not that I didn't want to meet him, I didn't think he wanted to meet me," Shay said.

As Donald tells it, he had been an Army staff sergeant in 1957 from O'Neill, Neb., stationed at Schofield Barracks. He had married Shay's mother after the two met at Waikiki Sands, where she danced hula.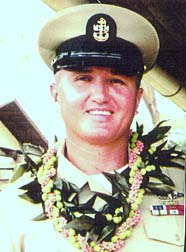 Shay Johnson in 1998.
---
The next year, Donald said, he was transferred to North Carolina, intending to bring Shay and his mother along later. But a classified mission kept him away for "the better part of a year." And when he returned he found that Shay's mother "didn't want to join me. The reason, I don't know why," he said, adding, "I don't want to stir up old memories and bad things."

Stirring up bad memories is something Shay has had to overcome.

"To never have that, to never know what a father-son relationship is all about, and that maybe I'd be something else today (if he had been around)," Shay said. "Who knows? You never know where life will take you."

Shay said it was about four years ago that he first learned his father's phone number and address. A cousin he had never met, who had moved to Hawaii with her husband, called and asked to meet him.

She told Shay about his dad, and that started a string of letters between the two families. In one of those letters, Donald revealed that he had battled prostate cancer over several years and wanted Shay to know about his family's health history.

But it was another two years before Shay wrote a letter to his dad, pouring out a lifetime of feelings and concluding with a forgiving statement of love.

"I told him I didn't blame him for what he did, and told him I love him," Shay said.

The turning point, he said, came when he heard the sermons of Pastor Wayne Codeiro of New Hope Christian Fellowship.

"He let me know Jesus forgave us, so I can forgive my dad for what he did. It's not his fault ... He did the best he could for me at that time, and I came to accept that."

Shay, who is stationed on the USS Fletcher at Pearl Harbor, was joined at the airport yesterday by his wife, Brenda, and his 18-year-old daughter Litasha.

Another daughter, Daesha, 11, did not attend the reunion because her mom thought it would be too emotional.

"I have a great deal of love for him and his family," Donald said later.

"I guess there was a lot of wasted years, but I think things are meant to happen in a certain way ... I think it has worked out very, very wonderfully."

"I can see my features in him," he said.

"There is a definite resemblance. I can see myself in Shay when I was younger. His daughter Litasha said we have the same nose."
E-mail to City Desk
---
---
© 2001 Honolulu Star-Bulletin
https://archives.starbulletin.com