CLICK TO SUPPORT OUR SPONSORS

---

---
Thursday, May 17, 2001
Council budget approval
stalls over Luana Hills
Country Club

The Council is divided
over whether to buy the
Maunawili course

By Gordon Y.K. Pang
Star-Bulletin

Approval of the $579.3 million capital improvements budget has been stalled because City Council members cannot agree if the city should purchase the Luana Hills Country Club.

The Council's Budget Committee yesterday deadlocked on whether to designate up to $9 million for purchase of the 18-hole golf course in Maunawili Valley.

Budget Committee members Steve Holmes and Duke Bainum support buying the site, while members Romy Cachola and John DeSoto promised to vote against it.

Councilman John Henry Felix, who has also raised objections to the purchase, was in Europe and did not attend the meeting.

Proponents of the plan say the purchase would ensure the Windward parcel remains open space. Opponents say the golf course will cost too much to maintain.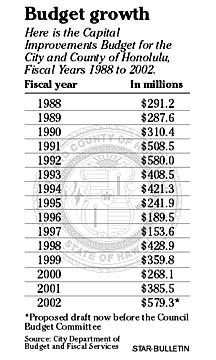 Keith Kurahashi, a planner representing owner HRT Ltd., further stated that his clients have no immediate plans to develop housing over the golf course.

Holmes, who heads the Budget Committee, recessed the meeting indefinitely around 10 a.m. as he and his colleagues attempted to resolve the issue behind closed doors. A disappointed Holmes returned at 3:30 p.m. to announce the meeting was being continued until next Wednesday.

"At that point we may still end up deadlocked," Holmes said.

If so, the Council may need to postpone a scheduled vote on the CIP budget on May 30 and be forced to push the budget season into June, he said.

If the Council fails to adopt a budget by June 15, the original budget submitted by Mayor Jeremy Harris in March becomes law.

But that is a prospect neither the administration nor Council members want to see because they all support a majority of the roughly $57.2 million in additional projects that have been added to the CIP budget since then, Holmes said.

This year's CIP budget is among the largest in recent years.

---



E-mail to City Desk
---
---
© 2001 Honolulu Star-Bulletin
https://archives.starbulletin.com