CLICK TO SUPPORT OUR SPONSORS

---

---
Wednesday, May 16, 2001




[ HAWAII BOXING ]

---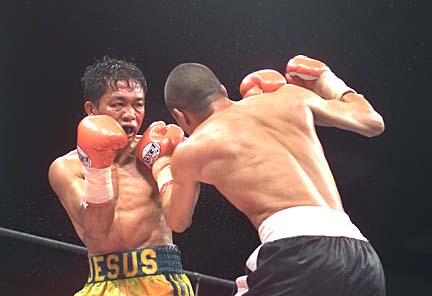 DENNIS ODA / STAR-BULLETIN
Jesus Salud was backed against the ropes by Fernando Velardez
last night. Soon after, the fight was stopped and Velardez
declared winner by TKO.
---
Salud suffers
first loss in
the islands


The referee stopped the
fight 41 seconds into the eighth
round against Velardez

---

By Paul Arnett
Star Bulletin

BRIAN VILORIA's first night out may be best remembered as the final fight of Jesus Salud's storied career.

After securing a unanimous fourth-round decision over Ben Jun Escobia in Viloria's professional debut, he returned to ringside just in time to see his hero fall to Fernando "Bobby Boy" Velardez on an eighth-round technical knockout.

Referee Abe Pacheco twice asked the ringside physician to examine a cut over Salud's left eye he suffered in the opening moments of the seventh round. Both times, Dr. Wayne K.F. Lee said Salud was good to go.

But 41 seconds into the eighth round, Pacheco had seen enough. He stopped the fight, handing Salud his first professional loss in 36 fights in Hawaii. Even if he hadn't stepped in, Salud would have needed a knockout to secure a win in the scheduled 10-round bout. He trailed 69-63, 69-62 and 69-64 on the judges' cards.

"I told him after his loss to (world champion) Marco Antonio Barrera that he should retire," longtime Salud manager Bobby DePhilippis told the Star-Bulletin after yesterday's nationally televised bout on ESPN2's Tuesday Night Fights.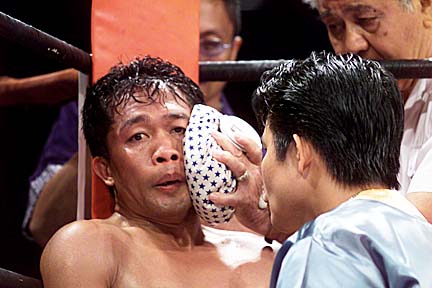 DENNIS ODA / STAR-BULLETIN
A corner man attends to a cut near Salud's left eye
near the end of last night's fight.
---
"He would have killed a guy like this a few years ago," DePhilippis said. "He wasn't that good. Jesus is 38. He didn't look very good today. We'll talk and see where it takes us. But hopefully, Jesus will think about getting out before he gets hurt bad. He's had a great career."

Salud gave no indication he was ready to hang up the gloves for the final time.

The Nanakuli resident was more upset with Pacheco. Several times in the locker room Salud said the decision was a bad one, even asking Lee -- who closed the cut with five butterfly stitches -- if he could have continued.

"It wasn't that bad of a cut," said Salud, who had his right eye closed by Barrera. The referee stopped that championship bout in Las Vegas last December in the sixth round. "I could have kept going. I could see. The guy head-butted me."

Pacheco didn't see it that way. He said Velardez landed a chopping right that caused the cut. Velardez eventually knocked Salud to his knees later in the round, prompting Pacheco to keep a close watch on the former world champion.

"He couldn't see punches coming from that direction," Pacheco said. "I had to stop it before he got seriously hurt. I know he didn't want me to. But he'd had enough."

Viloria said after the crowd thinned out that he hated to see Salud lose and fall to 62-11 lifetime. This was supposed to be a celebration, not a wake, for the two fighters who wore the gold and green of the Waipahu Boxing Club.

"Yeah, that was intentional," Viloria said. "We both came out of that gym. I felt it was appropriate to honor Jesus and our club by wearing the colors.

"I remember watching Jesus since I was little. I wanted to grow up and be just like him. It was an honor for me to begin my career on a card with Jesus. He has been a great champion for Hawaii for many years."
E-mail to Sports Editor
---
---
© 2001 Honolulu Star-Bulletin
https://archives.starbulletin.com