CLICK TO SUPPORT OUR SPONSORS

---

---
Wednesday, May 16, 2001




[ HAWAII BOXING ]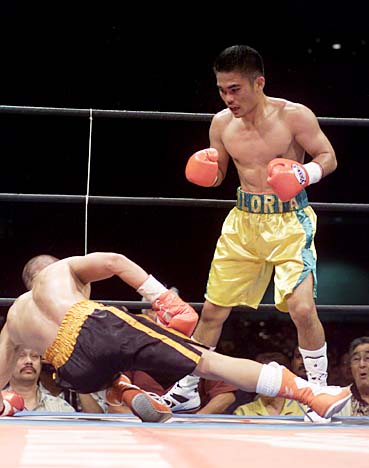 DENNIS ODA / STAR-BULLETIN
Brian Viloria knocked down Ben Jun Escobia twice on the way
to a four-round unanimous decision last night at the
Hawaii Convention Center.
---
Viloria victorious
in debut


He beats Escobia by
unanimous decision in
his first pro fight

---


By Dave Reardon
Star-Bulletin

The 2,500 loyalists at the Hawaii Convention Center -- and, presumably, the thousands watching on national television -- wanted a knockout yesterday.

But the only ones they got to see in this fight were the ring girls.

Brian Viloria and his handlers know winning by decision in his professional debut is better in the long run for the 20-year-old flyweight from Waipahu.

"It was a good learning experience," Viloria trainer Freddie Roach said. "You can't rely on (knockouts). Guys get in bad habits when they start looking for knockouts."

Viloria clearly dominated against scrappy Ben Jun Escobia (13-14-3) of the Philippines, knocking him down twice in four rounds. All three judges scored the fight 40-33 in favor of Viloria in the 10-point must system.

"I wanted to go in there and get the work and come out with a 'W'," he said. "I didn't care if it was going to be a knockout or by decision."

In the main event, Fernando "Bobby Boy" Velardez of San Bernardino, Calif., stopped another local boy, Jesus Salud, at 41 seconds of the eighth round by TKO. Salud, a 38-year-old former world champion from Nanakuli, did not look sharp in the junior featherweight fight. (See page A1.)

Viloria knocked down Escobia twice with powerful lefts, once each in the first and third rounds.

After the first knockdown late in the first, Escobia, 30, jumped to his feet at the count of seven.

"I felt his whole head on my fist, and he got up," Viloria said.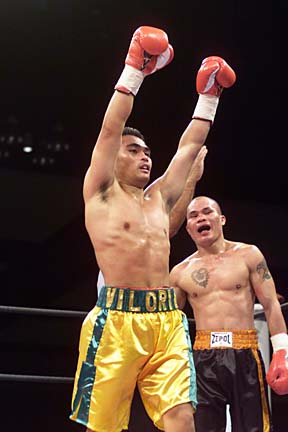 DENNIS ODA / STAR-BULLETIN
Brian Viloria raised his arms in triumph when the bell
sounded at the end of his four-round bout with
Ben Jun Escobia.
---
Escobia rallied in the second round, and appeared to hurt Viloria briefly.

"He came prepared. He was tough. He took some of my best blows," Viloria said. "I got a little careless and told myself to tighten it up a little bit.

"Anyone turning pro, keep your guard up," he added.

But with the boisterous crowd behind him, Viloria went right after Escobia and knocked him down again early in the third round.

Escobia began to concentrate on protecting his head, and Viloria adjusted by peppering Escobia with effective body shots.

"Our game plan was work on the head first and go to the body if it wasn't there," Viloria said.

A relatively uneventful final round ended with Viloria's arms raised in victory.

"I had to calm down a little bit and not let the crowd fight the fight for me and just do what I have to do," Viloria said.

Escobia, a pro since 1994 who lost to Olympian Ivan Calderon on April 29 in his last fight, said Viloria is one of the best he's been up against.

"He has a lot of potential," Escobia said.

Promoters, managers, and matchmakers think so, too.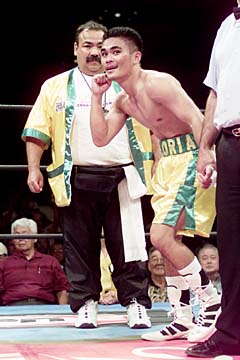 DENNIS ODA / STAR-BULLETIN
Brian Viloria tenses as the announcer calls the fight results.
---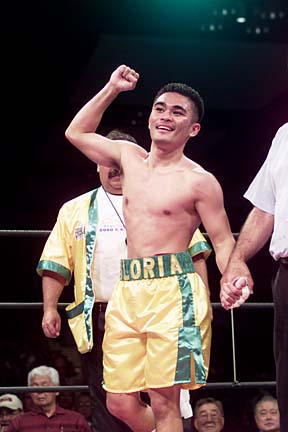 DENNIS ODA / STAR-BULLETIN
Waipahu's Brian Viloria made his professional boxing debut
yesterday by punching out a four-round decision over Ben Jun
Escobia of the Philippines. Later, Jesus Salud of Nanakuli
lost by technical knockout in the eighth round.
---
Viloria manager Gary Gittelsohn said the boxer is "tentatively set" to fight June 23 in Las Vegas on a card headlined by Oscar De La Hoya. Another option is a second ESPN fight in late June. No opponents have been booked yet.

Roach said Viloria will fight one more four-round fight before moving up to six rounds.

Gittelsohn said he is also trying to book an HBO Boxing After Dark appearance, which would allow Viloria to fight in Hawaii at a later time than 3 p.m.

"We'll come back early and often," Gittelsohn said.

Local promoter Tom Moffatt was also pleased.

"If we can get this kind of crowd at 3 p.m. on Tuesday, think about what we could do on a Saturday night," he said.

In other preliminaries yesterday, Jose Navarro scored a TKO over Carlos Zambrano at 1:38 of the third round in a junior bantamweight bout, and Ann Wolfe decisioned Vienna Williams in a 10-round fight for the IFBA junior middleweight women's championship.
E-mail to Sports Editor
---
---
© 2001 Honolulu Star-Bulletin
https://archives.starbulletin.com