CLICK TO SUPPORT OUR SPONSORS

---

---
Business Briefs
Reported by Star-Bulletin staff & wire

Wednesday, May 16, 2001
---
Barging back home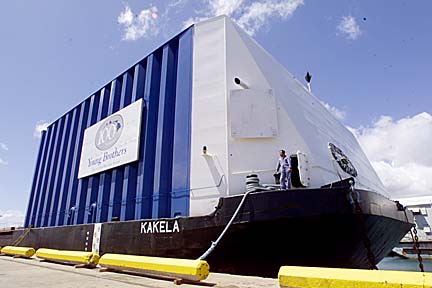 KEN IGE / STAR-BULLETIN
The Young Brothers Ltd. barge Kakela returned to
Honolulu recently after a three-month overhaul in
Seattle. The 285-foot Kakela was built in 1982 and
underwent renovations to its structure, deckhouse
and internal tanks, as well as getting a new paint
job and additional container capacity. The work
cost more than $2.3 million.
---

Goldman Sachs sale lifts estate's revenues 18.7%

The Kamehameha Schools said today that its revenues increased 18.7 percent last year, thanks to the sale of its stock in Goldman Sachs Inc.

In a tax filing with the Internal Revenue Service today, the estate said its revenues rose to $995.9 million during its fiscal year ending June 30, 2000, up from $839 million in the 1999 fiscal year.

The Kamehameha Schools -- which was founded in 1894 to educate children of native Hawaiian ancestry -- also said that it spent $132.7 million last year on its educational programs, a 2.8 percent increase.

"Our strategic plan mandates increasing the number of children we serve and Kamehameha is doing that," said Hamilton McCubbin, the estate's chief executive officer. "We're ahead of where we were last year in terms of spending and our programs are expanding on every island."

A total of 4,862 students were enrolled in the Kamehameha Schools kindergarten through 12th grade, according to McCubbin. The Kamehameha Schools also serviced 5,955 students in trust-supported programs in the Department of Education.

The estate said it received $567.9 million from its subsidiaries and outside investments. Those revenues include the sale of millions of shares in its stock in Wall Street investment banker Goldman Sachs.




E-mail to Business Editor
---
---
© 2001 Honolulu Star-Bulletin
https://archives.starbulletin.com