CLICK TO SUPPORT OUR SPONSORS

---

---


Gathering Places
SAM LEE
Tuesday, May 15, 2001
---
Census tells
misleading story
about Hawaii's
population growth

Recently released results of the 2000 Census shows that the population of Hawaii grew by 9.3 percent for the decade compared with 13.2 percent for the rest of the United States.

That growth rate for Hawaii, however, is misleading.

Broken apart, the census shows that Hawaii has gained 13.3 percent in civilian population over the decade, or just about the national average. Where the islands have lost population is in the military contingents stationed here, partly due to the overall reduction in U.S. military forces since 1990.

Consequently, as Military Appreciation Week opens here this week, the people of Hawaii should pay more attention to our military neighbors, helping to improve the quality of their lives and accepting them into the community as an established and important segment of our population and economy.

If the census figures are carefully scrutinized, the 9.3 percent growth for Hawaii rate understates the increase. Excluding military personnel and their dependents, the civilian population of Hawaii rose from 991,013 in 1990 to 1,125,826 in the year 2000.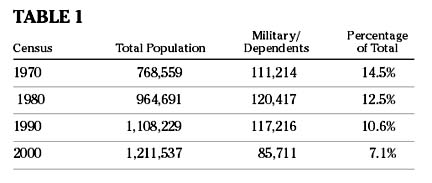 Table 1 shows that the proportion of military people and their dependents dropped to 7.1 percent of the total population from 14.5 percent 30 years ago. The table gives the overall number of people here, the components of military people and their dependents, and the latter's percentage of total population. The 2000 figure for military and dependents is the Census Bureau's estimate for 1999, the latest data available.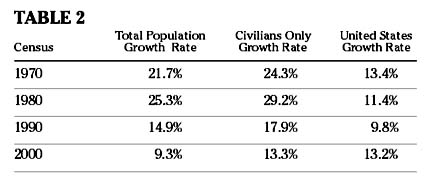 Table 2, which excludes the the military component, shows that the rate of population growth in Hawaii is just about the same as the national average. Except for a small naval missile range at Barking Sands on Kauai and scattered individuals on Maui and Hawaii, almost all of the 85,711 military people are on Oahu.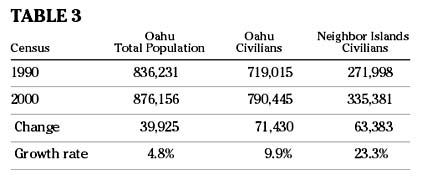 Table 3 excludes this military group, and the rate of growth in the civilian population changes on Oahu and the Neighbor Islands, with Oahu falling below the national average and the Neighbor Islands rising well above it. The percentage of population growth is naturally larger whenever the base is small. In absolute numbers, the civilian growth on Oahu of 71,430 is larger than the combined 63,381 for Hawaii, Maui and Kauai.

The military has always been a part of Hawaii since its incorporation into the United States. It has played a vital role in community activities, and on Oahu provides the emergency air ambulance service at a great savings for the civilian gov- ernment. Conversely, the state furnishes educational and many social services to the military population.

Both the military and the state have worked conscientiously to integrate both communities.

That should continue.

---

Sam Lee is a former Democratic
representative in the state Legislature.
E-mail to Editorial Editor
---
---
© 2001 Honolulu Star-Bulletin
https://archives.starbulletin.com