CLICK TO SUPPORT OUR SPONSORS

---

---
Sunday, May 13, 2001
[ SUNDAY TRAVEL ]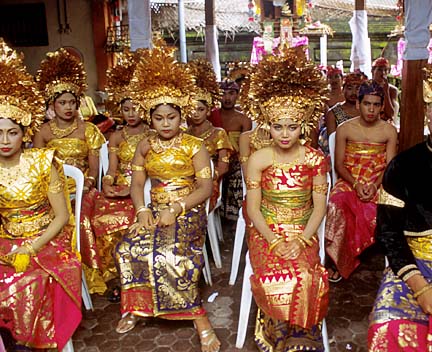 RICK CARROLL / SPECIAL TO THE STAR-BULLETIN
Young women dressed in traditional sarongs and fairytale
headdresses, wait to have their teeth filed during
an elaborate ceremony.
---
Festive Bali


Observing a full moon in one of
the world's most beautiful spots
is an adventure not
soon forgotten

---

By Marcie Carroll
Special to the Star-Bulletin

WAYAN KANTUN takes you on trips to Jimbaran village that are not soon forgotten. We are present for the especially auspicious Eighth Full Moon Festival of the Balinese year, in February, as guests at Kantun's family temple. Full moon festivals are a regular part of life here. We just stumbled into this special one.

The family accepts us as part of his official program as Cultural Pathfinder for the Ritz-Carlton, Bali, designed to give visitors an inside view of the vibrant culture for which Bali is famous. Most tourists only read about it, or if they're lucky, get a glimpse in the streets of men carrying a Hindu shrine on their shoulders or women balancing offerings on their heads. We are there, in the temple, to peer into the ritual heart of Bali.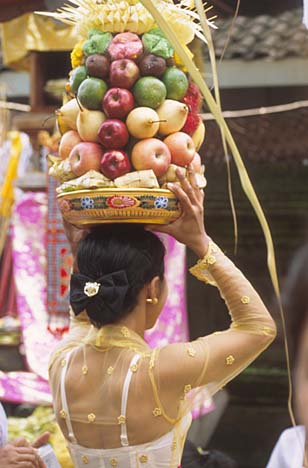 RICK CARROLL / SPECIAL TO THE STAR-BULLETIN
A Balinese woman carries an offering of fruit and bamboo-leaf
baskets filled with rice, leaves, flowers, seaweed
and salt on her head.
---
Full-moon doings at the temple complex, a series of open-air, tiled prayer platforms with soaring thatch roofs enclosed within ancient mossy carved rock walls, are in full swing by noon and will carry on until midnight and resume the next day for tooth-filing ceremonies and again later, for the grand finale, public cremations. Half the village is crammed in the temple's steamy confines to pray and present god-appeasing gifts, to gather and visit in their ceremonial finest.

Women of all ages wear colored lace blouses, with bustier and corsetry visible underneath, and brilliant-hued sarongs and sashes.

Their elaborate hairdos are accented with gilt and flower ornaments, sometimes trailing bees. The men wear shirts and sashes over one or more sarongs. The children wear sarongs over their clothes, as do we.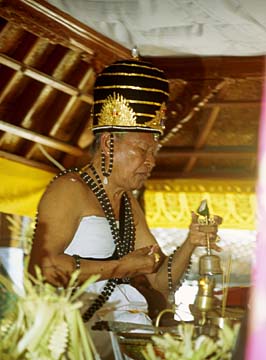 RICK CARROLL / SPECIAL TO THE STAR-BULLETIN
A Hindu priest calls the gods to the temple by ringing a bell.
---
Kantun has draped his visitors in proper temple attire. Even as the offerings pile up by the altar, we guests make our own, in an envelope. The extended family checks out the handful of westerners. Some smile shyly, make room to sit on the crowded tile steps, try a few words in English over the din. Then a man of stature brings the ultimate welcome gift: ice-cold bottles of Coke. With straws.

We regard the main altar, crowned by tall canes hung with lacy decorations of young coconut leaf, fanciful examples of the everyday art practiced by all Balinese. The pliable leaves are sold in sheaves at the market and crafted every morning into small baskets for daily offerings called canang, the hallmark of Hindu Darma, Bali's unique religious culture.

THE UBIQUITOUS BASKETS, filled with rice, leaves, flowers, seaweed, salt, and other items pleasing to the gods, are tucked into bamboo shrines, tree limbs, under eaves, in the pigeon-hole slots of the Ritz-Carlton business center, or most often, under foot. Bali travelers rapidly learn to skirt them in the doorways, stairways and driveways of every home and business.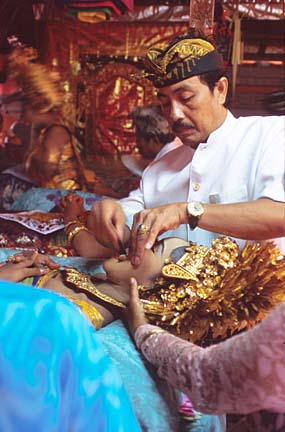 RICK CARROLL / SPECIAL TO THE STAR-BULLETIN
A priest files the teeth of a teenage girl during the metatah.
---
Women usually create the offerings, but Kantun knows how, and he fiddles with a coconut leaf for a moment to produce a delicate, palm-sized woven fish, hollow inside so that it may be filled with rice, steamed and added to the gifts.

Towers of apples, tangerines and other fruit, and orange and pink-colored chips of cake in rosette patterns already flank the temple altars. Sometimes barbecued chickens are woven in. Spills of red chicken blood spot the floor, and three squawking chickens are tied together by the leg on a bamboo tray awaiting their fate. Colorful fringed Balinese silk umbrellas, sometimes stacked two or three to the pole, flank the altar, along with tall staffs crowned by hanks of horsehair.

A gong reverberates continuously, and a squad of gamelan players plunks bamboo autoharps, while on a separate platform a group of elder men sings a monotonal chant. A temple bell rings to punctuate non-stop prayers by a high priest. The super-heated air is smoky with incense.

The overall effect is mesmerizing. The moon will rise in style.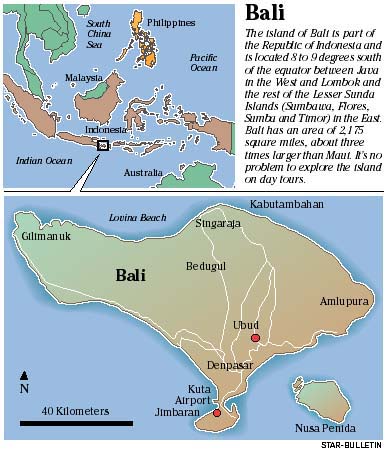 Preparations for these ceremonies took two months and hard-earned contributions equaling a couple thousand dollars, Kantun says, much of it lavished on the metatah, or tooth-filing ceremony. This rite of passage is staged for 43 skittish village teenagers. All wear ceremonial faces -- pale makeup, bright lipstick and exaggerated dark eyes, red dots on their foreheads -- and rented gilt: fairytale headdresses, gold-trimmed royal blue and deep magenta sarongs and tightly wound bodice tops, glittering gold earrings, bracelets and rings. Many of the boys have traditional kriss swords tucked against their backs.

The honorees are marched up to the altar to pray and be blessed with a sprinkle of flower water and cooked rice. Then they go to a platform with an elaborate bed, covered with bright cloths and mats and jammed around with anxious onlookers. Two or three at a time, they recline while a priest files the edges off their front teeth, creating a short, hopefully even row.

Figuratively, Kantun explains, this removes unpleasant human traits and cleanses the soul. They sit up, look in a silver-backed mirror to check the tooth job and make as graceful an exit as they can, in the tow of proud parents. Tooth filings are collected in baby coconuts and carried off in silver baskets to be buried with the family ancestors.

Simultaneously, elsewhere in the temple, clowns are drawing titters and belly laughs from a large crowd. As we leave, we are startled to find loud speakers broadcasting the guffaws and music out past the portable shrine parked out front and into the crowded market street.
E-mail to City Desk
---
---
© 2001 Honolulu Star-Bulletin
https://archives.starbulletin.com