CLICK TO SUPPORT OUR SPONSORS

---

---
Sunday, May 13, 2001
[AT YOUR SERVICE]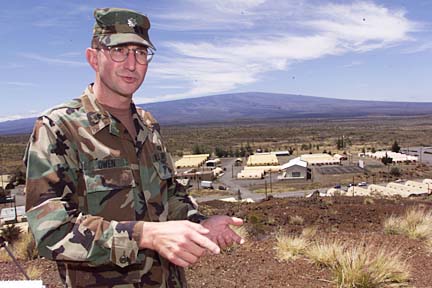 KEN IGE / STAR-BULLETIN
Lt. Col. Dennis Owen, Pohakuloa Training Area commander,
stands last month above the little town of Quonset huts.
---
Big Isle site is
base for heavy
Army training

Pohakuloa Training Area
allows for large-scale training
that the Army cannot
do on Oahu

---


By Gregg K. Kakesako
Star-Bulletin

POHAKULOA, Hawaii >> As the debate rages over the future of Makua Valley as the site of the Army's small-unit live-fire training range, its other major training area is still being heavily used, with up to 18,000 soldiers and Marines deployed to this remote site annually.

The Pohakuloa Training Area, located 36 miles east of Hilo between Mauna Kea and Mauna Loa volcanoes, also is considered a major emergency medical asset to the Big Island.

Thirteen miles of Saddle Road -- considered one of the worst roads in the state -- bisects the Army installation.

"We've had four traffic accidents in the past three weeks, and one was fatal," said Lt. Col. Dennis Owen, Pohakuloa commander, "and we were the first responders to the accidents by providing medical and ambulance service."

There are always federal fire and military ambulance crews on duty around the clock at Pohakuloa. Another federal fire station is maintained at the Kilauea Military Reservation in Volcanoes National Park.

Although state and federal highway officials are working on realigning and upgrading Saddle Road, Owen said there still will be a need for the Army's emergency services. By the summer of 2004, Saddle Road will no longer will run through the Army reservation but will follow the utility lines along its boundaries.

The Army considers the Pohakuloa Training Area too expensive to replace Makua Valley.

Military planners consistently use Pohakuloa and the nearby deep draft harbor at Kawaihae, 50 miles to the west on the Kailua-Kona side of the Big Island, as part of a major deployment scenario.

"When you deploy to PTA, it can be like deploying to a Third World country or to a conflict area like Somalia and Kosovo," Owen said.

"A commander can plan to bring his troops into Kawaihae and then move them into our base camp or into the training areas, where he can pitch his tents and run his operations."

Base camp -- which is mainly World War II Quonset huts -- includes 154 buildings, 60 of which are barracks that are normally empty until a training operation is under way.

The 108,975-acre facility is used mostly by soldiers from the 25th Infantry Division at Schofield Barracks in Wahiawa and Marines from the 3rd Marine Regiment at Kaneohe Bay, Owen said.

Training at Pohakuloa typically involves six-week exercises by Army or Hawaii National Guard soldiers. The training facility can support up to one light infantry battalion of 2,400 soldiers for a four- to six-week period.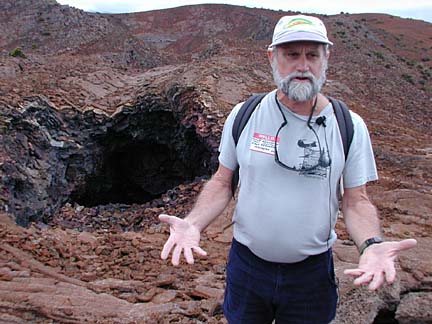 KEN IGE / STAR-BULLETIN
Scott Henderson, field resource manager at
Pohakuloa Training Area, stands in front
of a collapsed lava tube on a tour.
---
At Makua the maximum limit set there by the Army under a proposed environmental assessment now being drafted is a company of up to 150 soldiers. The training proposal is also being reviewed by a federal judge under a lawsuit filed by the Earthjustice Legal Fund, which is pushing for a more detailed and more expensive environmental impact statement. The Army has a May 29 deadline to comply with the court's requirements.

Under maximum conditions, Pohakuloa can support the increased training demands for a larger military force -- like a light infantry brigade task force accompanied by a division command element of about 4,000 soldiers -- for two to four weeks.

"Here, the Army and the Marine Corps can fire every weapon in their inventory, at their maximum range," Owen said.

"It's critical for the Army because we can do large-scale and combined arms training that you can't do on Oahu."

But it is also more expensive to transport troops to Pohakuloa to train and takes a great deal of preparation, Owen said.

Of the 108,975 acres at Pohakuloa -- which means "long stone," Owen said -- 35,000 acres of lava fields are not suitable for any type of use. Of the 108,975 acres, 22,971 acres are leased from the state.

Scott Henderson, field resources manager, said the Army has tried to minimize the impact on the environment by separating its 23 training ranges, where soldiers can fire weapons ranging from rifles to mortars and artillery cannons.

The 23 ranges are located on the northern and eastern regions of Pohakuloa and are about 1,000 acres apiece. Besides the bombing and gunnery ranges, there are six drop zones for parachute and special operations training located south of Bradshaw Air Field. The runway at Bradshaw Field can accommodate propellor-driven C-130 cargo planes and, on one occasion, has been able to handle the much larger C-17 jet transport.

In the center of Pohakuloa lies the impact area, which accounts for 47 percent of its total area and is used for helicopter gunnery and bombing practice. Aircraft as large as B-52 bombers have dropped their loads there.

The Army has operated PTA since 1956 when the Hawaii National Guard, which ran Pohakuloa from 1946 to 1956, relinquished control.

Owen said he does not see a need to expand Pohakuloa beyond its current maximum capacity of 2,400 soldiers.

"But it is the key to the training success of the Army and the Marines here in Hawaii," Owen said.

---

Gregg K. Kakesako can be reached by phone at 294-4075
or by e-mail at gkakesako@starbulletin.com.
E-mail to City Desk
---
---
© 2001 Honolulu Star-Bulletin
https://archives.starbulletin.com