CLICK TO SUPPORT OUR SPONSORS

---

---
Sunday, May 13, 2001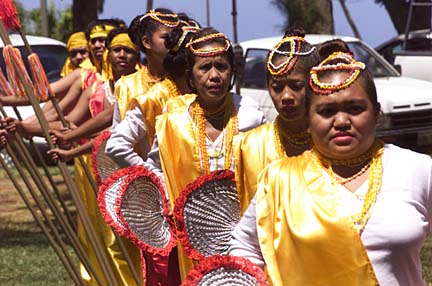 KEN SAKAMOTO / STAR-BULLETIN
A dance group from Cebu, Philippines performed yesterday
at the Filipino Fiesta and Parade at Kapiolani Park.
---
Filipino festival
celebrates community's
varied cultures


Thousands join Kapiolani Park
event to enjoy the festivities

---

By Leila Fujimori
Star-Bulletin

Adorned in a fine pale yellow lace dress, Dominga Ramos celebrated her 84th birthday and her 40th year in Hawaii at the Filipino festival yesterday at Kapiolani Park.

Ramos watched members of the Secretaria family, young and old, in saffron and red satin Muslim costumes, dance a Cebuano ritual drama to the rhythmic beat of drums.

The Visayan woman came from Cebu in 1961 and has seen the Filipino community change over the years.

"Before they don't get along, the Visayans and the Ilocanos," said Ramos.

"I'm glad everyone getting together nicely. They're cooperating together. "

An estimated 15,000 to 20,000 people, mostly Filipinos, attended the 9th Annual Filipino Fiesta held yesterday at Kapiolani Park.

Filipinos come from a country of thousands of islands, some 300 language groups and belong to different organizations, noted Eddie Flores, organizer of the Filipino Fiesta.

"Back in the old days, there used to be a split (within the Filipino community), especially during Marcos' time," Flores said.

"Now we are one. The whole community is united.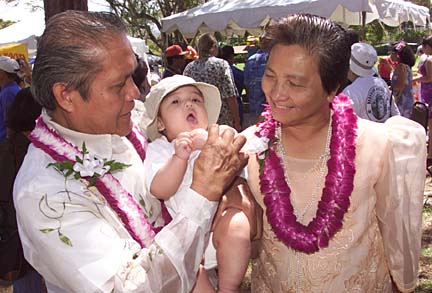 KEN SAKAMOTO / STAR-BULLETIN
Claudio and Rigolette Baraquio, parents of Miss America,
Angela Baraquio, held their grandson Zachary. The Baraquios
were grand marshals of the event along with Ben Villaflor,
World Boxing Association junior lightweight
champion from 1972 to 1976.
---
"There's still a lot of negative perception and stereotypes about Filipinos," he said.

So the festival has served to educate the greater community as well as the local Filipino community about the different cultural and language groups by sharing their culture through crafts, dance, song and food.

Rep. Felipe Abinsay Jr. (D, Moanalua-Kapalama) says the festival and the efforts to build a Filipino Community Center have strengthened ties among the different Filipino groups.

"We can set aside our differences in a spirit of working together, celebrating our good fortune," Abinsay said.

For third-generation Bonnie Aleviado and her two sisters, the fiesta means getting back to their Filipino roots. The three were eating plates of pancit, a noodle dish, yesterday. Raised on the Ewa Plantation where lots of different ethnic groups got along, Aleviado, a Visayan, noted that "Ilocano cooking was the best."

"At Rizalde (an annual celebration), all the Filipino ethnic groups would come and celebrate on the plantation," she recalled. "I don't remember seeing anybody being hostile. Plantation people were more simple and worked together."

The festival has infused a sense of cultural pride for Adelaida Lutao, 57, whose grandfather emigrated to Hawaii in 1922.

She said over the past nine years, she has seen the number of participants at the festival increase.

"We really feel so proud," Lutao said. "We have strong ties, strong bonds. We're proud to be a part of the Hawaii community."
E-mail to City Desk
---
---
© 2001 Honolulu Star-Bulletin
https://archives.starbulletin.com