CLICK TO SUPPORT OUR SPONSORS

---

---
Sunday, May 13, 2001



Governor's
approval plunges

A statewide poll finds the
recent strikes hurt Cayetano's
job performance ratings

---

By Richard Borreca
Star-Bulletin

The education strike last month dropped Gov. Ben Cayetano's job performance rating to its lowest level in nearly three years, according to a new statewide poll of likely voters.

The teacher's strike, however, did not appear to influence the beginning gubernatorial campaigns of Honolulu Mayor Jeremy Harris, Lt. Gov. Mazie Hirono and Republican Party chairwoman Linda Lingle, who all appeared to be holding their positions from the last Star-Bulletin poll in January.

The latest survey shows that Cayetano's ratings collapsed with the state's first statewide public education shutdown. The teachers and faculty unions waged a strong public opinion campaign before and during the strike. Cayetano also had television and newspaper ads to explain the state's side in the negotiations.

But Cayetano's popularity and job performance scores were victims of the strike.

His unfavorable rating went from 28 percent in January to 44 percent in May, a dive of 57 percent.

Cayetano's job performance score was down just as far. In January, 17 percent said he was doing a poor job as governor, but this month more than a quarter of the state, 27 percent, rated his job performance as poor.

CAYETANO SAID he was not surprised by the results.

"I had to make some tough decisions which upset many people," he said.

"I don't worry about polls, I just do what I think is right," Cayetano added.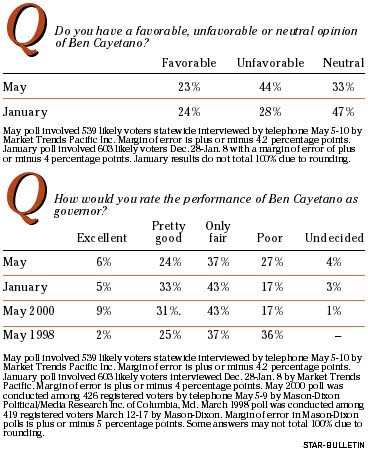 The poll was conducted May 5-10 by Market Trends Pacific, a professional survey research center in Honolulu, for the Star-Bulletin and KITV-4 News. A total of 539 people were surveyed. The poll has a margin of error of plus or minus 4.22 percentage points.

Wanda Kakugawa, Market Trends Pacific, president said the new negative numbers were directly related to the teachers and university faculty strikes.

"He was blamed for the fact that it even happened. People view it as something that should have been avoided," she said.

Previous polls have shown the public supporting the teachers' demands for pay raises. The public reacted negatively to the strike.

"It is not a question of the actual outcome of the strike, but they are focusing on the fact that it happened at all," Kakugawa said.

On the question of who the public views most favorably, two of the three major candidates for governor, Democrat Harris and Republican Lingle appear to pick up nearly the same amount of support.

Lingle is slightly ahead, as 45 percent of those surveyed have a favorable opinion of her, while Harris picked up a 44 percent rating. Lt. Gov. Mazie Hirono, the other Democrat in the field, holds a 30 percent favorable rating.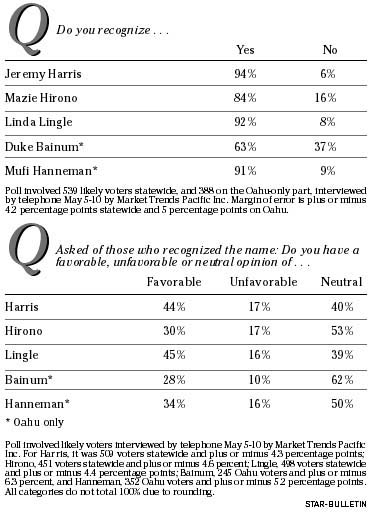 Hirono said campaigning as lieutenant governor makes it difficult to attract media attention.

"The media coverage for the lieutenant governor's office is really not there; I don't think it has been for any lieutenant governor," she said.

Harris noted that the figures show "the citizens approve of the way we are running the city."

He added that his campaign organization has taken its own polls, which he said show him ahead of Hirono by 22 percent and ahead of Lingle by 5 or 6 percent.

Lingle, who is teaching a course on politics in Indonesia, was unavailable for comment. But Micah Kane, executive director of the state GOP, called Lingle's results impressive, because she is the only one of the three that is not a sitting office holder.

"Being that Harris has already announced that he is a candidate and is the sitting mayor, it shows he has some weakness in his support base," Kane said.

The poll also asked if voters had a favorable or unfavorable opinion of two possible candidates for Honolulu mayor, City Councilman Duke Bainum and former Councilman Mufi Hannemann.

Bainum is recognized by 63 percent of the voters on Oahu. Of those who do recognize him, 28 percent have a favorable opinion, 10 percent unfavorable and the majority, 62 percent, are neutral.

Hannemann enjoys a much broader name recognition -- 91 percent. He has run unsuccessfully for congress and mayor.

He also has a higher favorable rating, with 34 percent of those surveyed saying they had a favorable opinion of him. Sixteen percent they had an unfavorable opinion and the remaining 50 percent were neutral.




>> Tomorrow
How voters viewed last month's strikes by public teachers and college faculty
>> Tuesday
Was the just-concluded legislative session a success or a dud?
>> Wednesday
The Navy's actions after the Ehime Maru sinking are scrutinized



E-mail to City Desk
---
---
© 2001 Honolulu Star-Bulletin
https://archives.starbulletin.com