CLICK TO SUPPORT OUR SPONSORS

---

---
Sunday, May 13, 2001
[ MAUKA-MAKAI ]

The Strip Show: Guru Gecko By Dave Thorne

It's time for the
Hawaii 'Strip Show'

DRAWN & QUARTERED

---

By Burl Burlingame
Star-Bulletin

IN THIS WEEK'S "DQ" we're introducing a new feature, "The Strip Show." OK, the idea of running comic strips in a newspaper isn't exactly new and, with any luck, what we get will be highly irregular.

Fact is, the comic strip is one of the best methods of storytelling ever devised, a marriage of words and pictures that strikes a balance between the two. It's very pure. Everything from language to pop culture to music to filmmaking has been affected by the stylistic flourishes of the comic strip. But in newspapers, where the medium was born, the comic strip has been largely relegated to "gag" cartoons -- including political commentary -- and daily "strips" featuring continuing characters, like a kind of two-dimensional, paper sitcom or soap opera.

The potential of the comic strip is being squandered, alas, auwe and bummer.

So here's "The Strip Show." Every week, we'll run a comic strip submitted by our readers or staff. The idea is to use the medium to explore what it's like to live in Hawaii. That's the only criterion -- it has to be about or influenced by Hawaii or the Pacific or Polynesia.

It doesn't have to be funny or cute. It can be dead serious, adult-oriented or even abstract. But we have to print it in a family newspaper!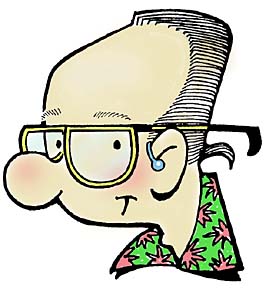 "I was with the University of Hawaii
for 23 years before retiring last semester.
Cartooning and teaching, did them both;
and had the time of my life!"
-- Dave Thorne

---


Think outside the box. Other than the Hawaii connection, the subject field is wide open. If we get a lot, we'll have to get picky.

You don't have to be a professional cartoonist. And a good thing, too, because we're not paying anything for these, not yet. Just bask in the awesome prestige for the time being.

The reprint size is roughly 8 inches wide by 3 inches tall. Give it a title, which we'll add to the top. Most times, the strip will run in black and white, but give us color notes in case we get the opportunity. We'll color it for you.

We don't need original artwork; we're not mailing anything back without a SASE. Good, clear Xeroxes are fine. But it must be original and signed by the artist or artists. We'll also accept e-mailed scans; send 300-dpi JPEGs to bburlingame@starbulletin.com and include a return e-mail address.

Also include a thumbnail sketch of yourself and a two-line "bio." Nothing fancy.

It's appropriate that we kick off this thing with a submission by Dave Thorne, Hawaii's jedi master of cartooning, who has single-handedly kicked off more cartooning careers in Hawaii than anyone else. An artist with the Department of Education for decades, Dave's now retired and does only free-lance work. His huge contribution in Hawaii, however, has been as an educator and instructor of comic art. Every cartoonist of repute in the United States trembles in the presence of the Mighty Dave. (Not!)

"Guru Gecko" is a character suggested by Windward neighbor Jackie Young, Dave reports. The gag is his, and a prime example of Dave's classic "funny animal" groove.





Click for online
calendars and events.
E-mail to Features Editor
---
---
© 2001 Honolulu Star-Bulletin
https://archives.starbulletin.com